Lately, the manufacturing of biomass briquette machines is finished. They were ordered by one of our customer in Pakistan. He is planning to start a small charcoal briquettes making business by recyling biomass wastes, the capacity should be 500kg per hour. (Related Project: 2 Ton Biomass Briquette Plant Delivered to Lebanon)

ABC Machinery's latest GCBC Series biomass briquette machine is based on the design of the screw briquette press. It can transform wastes of biomass materials into hollow briquettes that can be used as a source of fuel. The briquettes can be further carbonized into charcoal briquettes which is a type of fuel that is very popular in Asia, India, and Africa. (Related Products: Making Solid Briquettes with Stamping Briquette Machine)
Equipment List of the Biomass Charcoal Briquettes Prodcution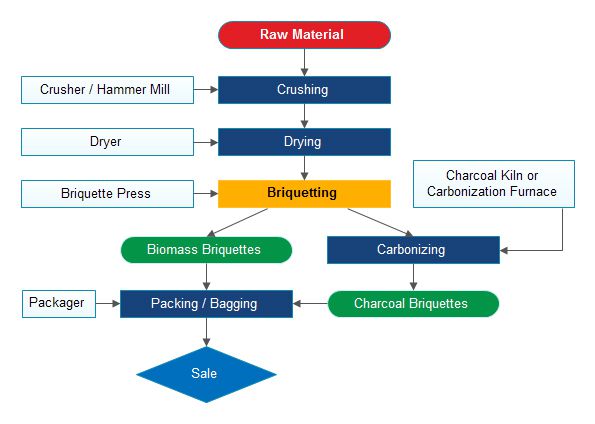 Biomass Charcoal Briquettes Making Process
| Equipment | Model | Quantity |
| --- | --- | --- |
| Belt Conveyor | PDSS-A | 1 |
| Rotary Screen | SJ-02 | 1 |
| Screw Conveyor | LSS | 2 |
| Rotary Drier | GC-DR-1100 | 1 |
| Briquette Machine | GCBC-II | 2 |
Spare Parts List
| Spare Parts | Quantity |
| --- | --- |
| Screw Shaft | 2 |
| Heater | 1 |
| Seal Ring | 2 |
| Alloy Wleding Rod | 10kg |
| Sensor of Kiln | 6 |
| Thermo Meter of Kilns | 6 |

Advantages of Our Bioamss Briquette Machine
Some of the features of the machine include a heating section with two heat collars fashioned from ceramic and thick copper wiring, a lubrication system that keeps the gearbox well lubricated, and an exhaust outlet that regulates the air pressure inside the machine.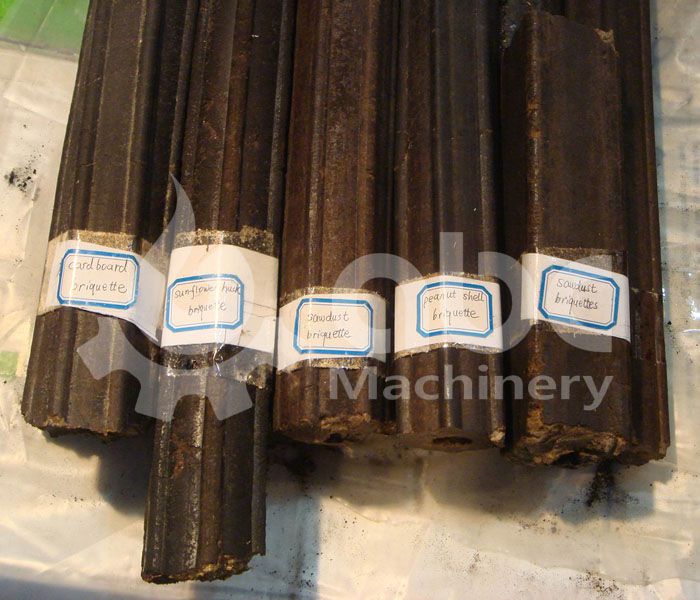 Briquettes Produced from Card Board, Sunflower Husk, Sawdust, Peanut SHell
The GCBC Series wood briquette machine is particularly advantageous for a number of reasons. The use of a waterjet cutting system in its construction has resulted in a much smoother inner surface, which infinitely increases its energy efficiency. Furthermore, the construction of the long-life screw shaft from a high-hardness steel alloy reduces the number of errors that emerge during the shafting process. Other key advantages of the GCBC Series biomass briquette making machine include:
The addition of a movable plate at the bottom that is useful when clearing jams and when cleaning the machine.
An auto-cutting system that ensures the biomass briquettes are cut in uniform lengths.
Biomass Materials for Briquetting
Commonly used waste materials include wood and agricultural wastes such as sawdust, and farm waste such as rice husks, coconut shells, palm fibers, peanut shells, and dried stalks.