Project Name: Complete Wood Pellet Factory
Production Output: 3.6~4.5 ton per hour.
Project Location: Morocco
Raw Materials: Wood blocks, wood shavings and sawdust (local wood).
Process Flow: Wood chipping,drying,pelletizing,cooling,packing and storage.
Included Machinery: Wood Chipping Machine, Storage Bin (wet material stock bin and dry material stock bin), Cylinder Dryer, Screen Sieve, Elevator, Pellet Machine (BPM508), Pellets Cooler, Bagging Machine, etc.
Equipment Cost: If you are interested in knowing the cost details of the project, please click the button below to send us an inquiry at any time!

4.5 ton/h Wood Pellet Factory Equipment Installation and Commissioning Photos
This was a turnkey business plan for a medium scale wood pellet factory. It was made for one of our client in Morocco. Some photo of the project is displayed below for your reference. (Similar Project: 5ton per hour Wood Pellet Manufacturing Plant in Vietnam)
ABC Machinery has an independent factory and technical research and development team, which provides customers with one-stop service from equipment research and development, design, production, installation, commissioning, after-sales, etc., and the factory's comprehensive manufacturing strength is strong.Its wood pellet processing equipment has the advantages of stable performance, reliable operation, exquisite manufacturing technology, and durable equipment.Our wood pellet project has been installed and debugged in Vietnam, Malaysia, Pakistan, Portugal, Romania, Italy and other countries and regions. If you want to start a pellet production business at low cost, don't hesitate to contact us!

How Much Does It Cost To Build A Wood Pellet Factory?
At present, with the increasing requirements for reducing expenditure and protecting the environment, the demand for alternative energy is growing. Today, many environmentally friendly energy sources have been developed. In this case, wood pellets are one of the most popular fuels. Compared with oil, natural gas or coal, wood pellets are indeed relatively cheap and environmentally friendly. Therefore, some investors started to develop their own pellet business. If you have an entrepreneurial spirit, this is obviously a business opportunity you should take advantage of, and the main question is how much investment is needed to build a wood pellet factory? Therefore, you need to figure out the cost of building a wood pellet plant.
Estimating What It Will Cost To Start Wood Pelletizing Business
To come up with a good estimate you need to put the following factors into consideration when you are planning for start your own business of making wood pellets:
This will depend on the raw material you plan to use. This is because pellet machines differ depending on the type of feedstock you wish to use. Softwood, for example, needs a higher compression ratio than hardwood .For that reason each of the types of wood requires different types of equipment. (If you just need a mini or small scale production, our small pellet making unit maybe what you are looking for!)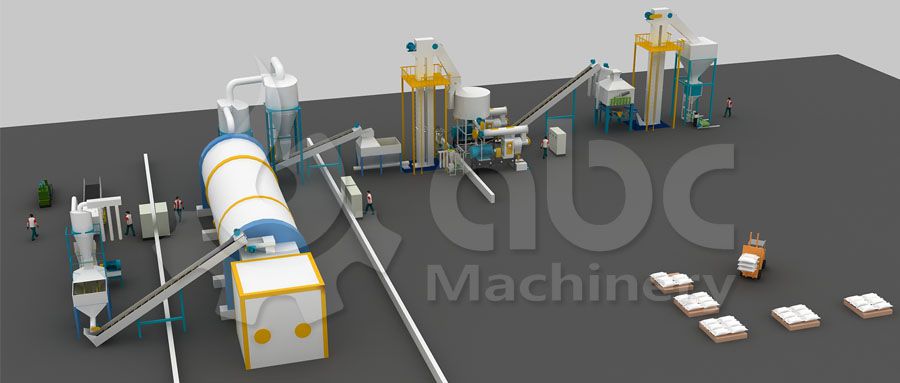 Turnkey Biomass Pelletizing Solutions
You should also consider the size of raw material you plan to use. If you plan to use logs you should purchase a hammer mill since an ordinary mill cannot process that size of material. Another factor is the amount of raw material you would like to process at ago. If you plan to produce large amounts of pellet then you should buy larger and more advanced equipment
Once you have decided on the equipment you must also calculate the cost of raw materials you will need to get your business started. The cost here is determined by the type of feedstock you plan to use. Decide on whether you will be using wood as your material or virgin fiber. Virgin fiber is substantially more expensive with a ton going for $70 to $80. Wood on the other hand goes for $55 to $ 65 per ton.
You should also consider the processing cost when estimating the raw material cost. Raw materials have differing production costs depending on their moisture content. Feedstock usually has 40 to 60% moisture in them. The higher the moisture composition the higher the production costs since they need much more time and energy to dry. Wood has a much lower percentage of moisture than virgin fiber and hence is much cheaper to process.
This is another factor to be considered. It costs about $10 to process one ton of feedstock. This, however, varies depending on location. Energy costs will be higher in European countries than in the USA and Canada.
Machine Repairs and Maintenance
According to Deloitte this is another important figure to include in your estimate. You will incur about $5 worth of maintenance costs for every ton you process.
Loading and Shipping Costs
These vary depending on your business' location and working model. Before you get started you must have budgeted for this as well or else you will not be able to make your deliveries. It costs roughly $2.5 to load a ton of pellets on to rail for shipping. You should also consider the cost of rail road infrastructure when you make plans for transportation.
In addition there are several other costs that are determined by your plant's capacity. These are:
The Cost of Grinding On Site
Cost of Storage
Labor Costs
These are can be reduced using economies of scale for example if you produce 150000 tons of pellets per year your labor costs will be $10 for each ton. If your output is 100000 tons the cost of labor will be $15 per ton.
Last but certainly not least is the total cost of building your wood pellet plant. The total construction cost of the wood pellet plant also depends on the area. Compared with the United States and Canada, European countries are higher because of the significantly higher energy costs in European countries.This is an important cost and it should also be factored in when pricing your products.
In short, the construction cost of a wood pellet factory includes several factors. These include different types of raw materials (its size, moisture content, etc.). It has an impact on the price of raw materials and the type of equipment required. In addition, other factors must be taken into consideration, such as the expected production capacity of the factory, basic capital costs, labor, maintenance, storage and transportation.
(Other project for reference: 2ton/h Biomass Pellet Production Plant in Sri Lanka)

Working Video of Complete Wood Pellet Production Line by Abc Machinery
This list should get you started on your journey to profitable pellet production and selling. You should also consult an expert in the industry. They will not only explain the points above in greater detail but also give you insider information about the industry.Therefore, for those who want to invest in wood pellet mills, a better way to inquire is to provide your suppliers with enough information so that they can give you a complete quotation. This information can be raw material conditions, your estimated output, the capital budget you can invest, and so on. We hope that this information will help you on your wood pellet factory business plan!