Small Scale Wood Pellet Production Line
Capcity

: 300 ~ 600kg/hour
Process Designed: Crushing, Drying, Pelletizing and Cooling
Equipment Consisted: Crusher, Dryer, Flat Die Wood Pellet Mill, Cooler

Suitable Biomass Materials

: Wood Chips, Wood Shavings, Sawdust, Oak, Pine, Eucalyptus, Bagasse, Corn Stalk, Corn Cob, Coffee Shell, Peanut Shell, Rice Husk, etc.
It is more affordable than industrial ring die pellet machine, has a smaller footprint, and is simple to use. Additionally, its pelletizing process is smoother and continuous. It is ideal option for small scale wood pellet manufacturing at home, on farms, and for commercial wood pellet making business. Continue reading to learn more about the small-scale wood pellet production. (Latest order: Small Pine Wood Pelletizer Exported to Armenia >>)

Small Scale Wood Pellet Production Plans
The demand for alternative energy sources is currently increasing as the need to cut costs and protect the environment grows. Wood pellets are one of the most widely used fuels in this situation. Wood pellets are actually relatively inexpensive and environmentally beneficial when compared to oil, natural gas, or coal. Especailly after the Ukraine crisis, there are rapid increasing demand for wood pellets in European countries and America Countries. And more and more people are interested in biomass wood pellets making, like how to make wood pellets? which machines are needed to make wood pellets? and how much will cost to setup a wood pellet production plant?

ABC Machinery is a leading provider of wood pellet plants and wood pellet making machines. We offer a range of plans to suit different customer needs, including small scale wood pellet production. Our plants are designed to meet the highest standards of quality and safety, and our wood pellet maker is backed by a team of experienced professionals. Contact us today to learn more about our small scale wood pellet machine and get latest price list!
Small Wood Pelletizing Plant for Sales
Designed for Different Needs

Features of Small Wood Pellet Production Unit
Wide suitability of materials, like wood waste and agricultural wastes.
Stable performance, high output and low power consumption. Simple maintaining, low failure rate, easy operation.
The small pellet mill in this small unit is casting as an integer with firm structure and long life span, motor-driven pellet press or diesel engine-driven pellet press are available for choosing according to the clients requirements.
High temperature heat treatment of flat die and compressing rollers, lower cost of high resistance spare parts.
High ratio of molding and high density of pellets.
Diameter of pellet are ranged from Φ6 - Φ12, according to customers requirements


Various Dies for Wood Pellet Manufacturing
Working Video: Wood Pellet Machine for Home Use
Mini/Small Wood Pellet Machine - Core Unit for Biomass Pellets Making
As the core equipment for small scale wood pellet manufacturing, flat die pellet machine has many outstanding features that make it ideal for home use, farm use or small scale wood pellet production. (Read more: Wood Pellet Business Plan >>)

Small Wood Pellet Making Machine for Sales
Small scale pellet mills are generally divided into D-Type and R-Type.

What are the differences between D-type pellet mill and R-type pellet mill?
The D-type pellet mill, is technically called rotating die type, while the R type, is called rotating roller type. The D type is starkly different from the R type, primarily due to the difference in its motion pattern of die and roller and its transmission components. But that's the mechanics. In terms of price, the D type is relatively cheaper that the R-type (with similar specifications like capacity, power, etc). R-type is more expensive as it comes with smarter ergonomic designs during wood pelletizing process, plus a better-equipped gear-box. But the quality of the final pellets is top notch, from both the D-type and the R type.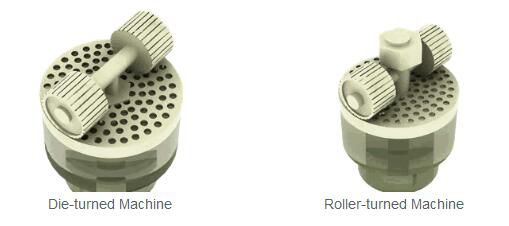 The engineering of the machine is done so as to prevent rotating die plate. Instead, the two rollers rotate themselves simultaneously but through a single central driven shaft. This greatly amplifies the positive force with which the raw material is mixed and pressed. The sturdiness of the central shaft gives the machine a strong and stable counterforce. This enables the R type pellet mill, to be used on a wider range of materials. Hardwood can be easily processed in the R-type due to its central shaft designing.

D-type and R-type pellet mill, which is suitable for me?
Both the pellet mills are extremely capable of making quality pellets from a plethora of raw materials. The difference lies in the needs of the user. D-type pellet mill is a basic pellet mill and can be called as a standard model. For starters, this is a perfect choice, for its easy design and functionality. It is well suited to make quality biomass pellets.
The R type is more of a high-end pellet mill with added features and applications. It's smarter die and roller movements are well suited for pellets with specific quality requirements. It also uses a modern and powerful new gear box. Though it costs more it is totally worth it for its improved functions and features. People who have special demands about pellet quality and is flexible on their budget can consider the R type (Read more: Mini Pellet Plant with R-type Pellet Machine Setup at Low Cost >>).
Do I have to go to your factory for a tutorial on learning how to operate a pellet mill?
Our expert engineers and service team is ever ready to answer every query related to our pellet producing equipment. The 24*7 customer service that we offer through emails and phone calls is more than sufficient. It lets users learn about the machine, at their convenient time and place. We offer unparallel guidance regarding terms of installation, trial running, lubrication, parts replacement and so on.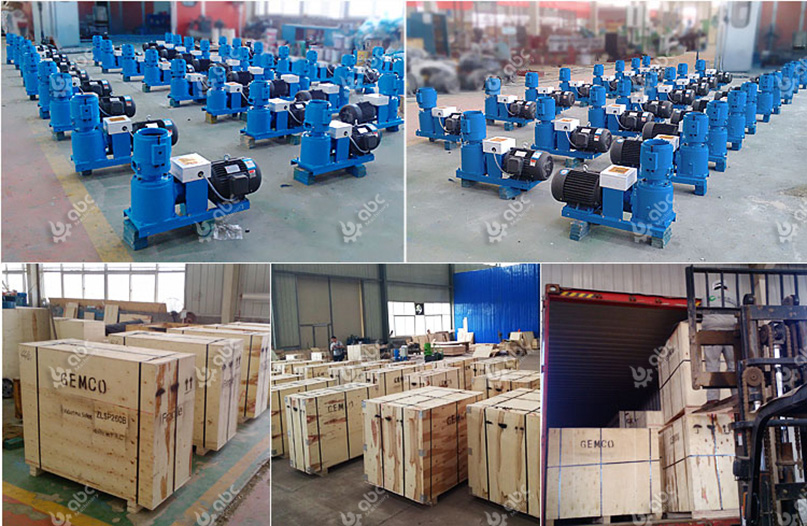 Small Pellet Mill Factory
What are the terms of warranty and spare parts?
Answer: This small pellet making unit comes with an assured 1-year guarantee on quality. Regarding the spare parts replacement, there are basically three major spare components of the unit - die, roller and bearings. It's important to understand that the kind of raw materials you use in pellet making will directly affect the frequency of spare parts change. Generally, wood pellets would need more servicing than say, straw pellets. ABC Machinery assures its clients of the availability of spare parts, at a moment's notice. Kindly, call our sales representative for spare parts. Alternatively, you can write to our support team for help.

Sufficient and Factory Price Spare Parts
Product Recommended: Movable Mini Pellet Plant
This mini pellet plant is designed with crushing, conveying, pelletizing and pellet cooling machinery, making the plant more automacit and efficient. The pellet mill of thsi plant is R-type. (Related order: Movable Pellet Plant to Canada >>)

Mini Portable Wood Pellet Plant (crushing, conveying,pelletizing, cooling)

Operation of The Small Pelletizing Unit
It is extremely important to read the following guidelines to understand the characteristics of the small flat die wood pellet mill. Before one can operate this machine successfully, it's important to know about its structure, design, installation, application, usage, maintenance and debugging.
The first step is to crosscheck if the ground cable is working fine or not. It has to be connected to the machine before switching the power on. As a note of caution, never start the pellet mill before checking in on the ground cable.
Before any kind of inspection or replacement of live cables, make sure to turn the power supply off, as it can cause serious injury by electric shock.
During maintenance of the pellet mill by servicemen, it is important to cut off all electric supply. Place a warning sign on the switchboard to avoid any accidental injury.
The bearing of compression rollers present in the small pellet mill should be lubricated regularly after every 12 hours of operation. This reduces friction and inner corrosion.
When the wood pellet mill is being manually operated by hand, electricity should be completely cut off. The rotating compression rollers and flat die shouldn't come in contact with any object. Please don't put your hand inside them during operation.
The distance the compression rollers and the flat die should be below 10 mm. But too small a clearance between the two will cause wear and tear and overheating. It can also damage the pellet mill as a whole, so be careful while setting the clearance distance between the compression rollers and the flat die.
The lubricants used in the machine freezes at temperatures below 10℃. Make sure to warm up the pellet mill above 10℃, before starting it.