Recently, a small scale commercial wood pellet making machine line is produced and exported to one of our customer in Canada. The below photos are about the equipment packaging and loading.
Small Commercial Wood Pellet Making Machine for Sale
Are you wondering how to generate high-quality pellets? Well, if so, then worry not as we bring you the best and highly efficient small scale wood pellet making machine for commercial use.

This pellet making machine line, unlike other plants in the market, has an integrated system which enables it to perform different activities which lead to the production of up to standard and high-quality pellets. This machine is energy efficient and cost effective.
| Model | Capacity(kg/h) | Pellet Diameter(mm) | Power(kw) | Size(mm) |
| --- | --- | --- | --- | --- |
| MPL300 | 250-350 | 6-12 | 41.25 | 3500*1960*3500 |
| MPL400 | 350-450 | 6-12 | 49.25 | 3500*1960*3500 |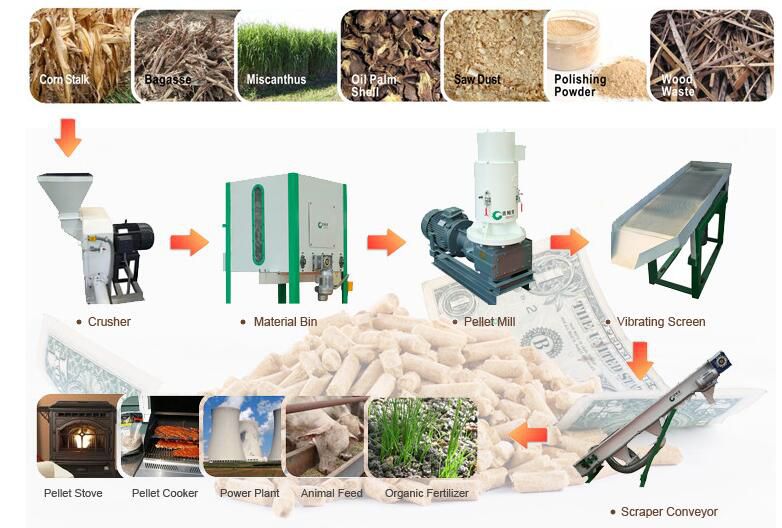 It has a unique separation and pneumatic handling system, hammer mill, mixture feeder and a conveying system that enhances its effectiveness.
The exterior parts of the small pellet machine line are well and uniquely designed to adapt to various environmental conditions and enhance sufficiency of the work done to meet customer needs at all time. The plant passes the raw materials fed into it through several stages, to produce high quality, high density and smooth pellets.
This machine set uses an advanced technology which put into consideration all aspects of sufficiency, quality and speed of production.
It utilises waste material and residues from sawmills, wood processing factories, furniture factories and other related factories in the wood industry. Some of these residues include sawdust, tree branches, wood chips, logs, just but a few to mention.
Advantages of The Small Batch Wood Pellet Making Equipment
The mobile pellet machine has so many advantages accompanied with it. Some of these advantages include;
Reduced labour costs as it can be operated by one person;
The component parts that form the wood pellet plant are from trusted companies like Schneider and hence are very reliable and durable;
The plant is flexible and can easily be moved from one place to another;
The final products of the mini pellet plant are used as biofuels in electricity and heating industries;
Reduced waste due to the efficient and effective cooling and conveying systems;

FAQs of the Small Biomass Pellet Making Machine Line
Due to the unique and advanced technology of the small biomass pellet making production line, many questions have been asked concerning the plant. Some of these questions include;
What type of motor does the plant use?
The plant uses the Pellet press with Electric motor.
---
How will I know how the pellet machine set is operated?
To know how the machine operates, get a video DVD which has the guidelines of how to operate the systems right from crushing raw materials up to the production of raw materials.
---
Must the machinery be purchased as a whole?
well, this might depend on the situation at hand, but this mini wood pellet plant is usually sold as a complete set. If you want to make a lot of money from wood residues, then this compact pellet making machine line is what you need!!