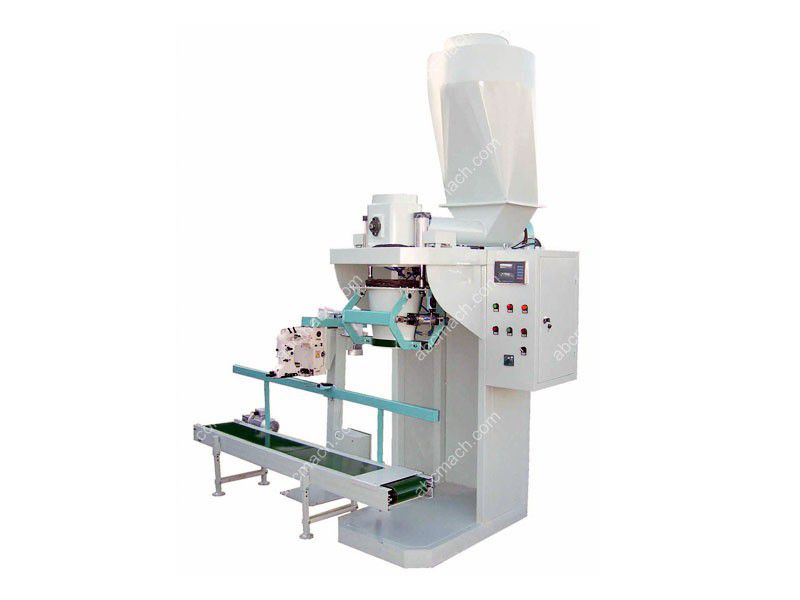 LCK type quantitative flour bagging machine is a complete set of packing system for wheat grinding and flour milling production, which includes both weighting and packing. It can be used for packing flour and other powder. It is featured of adjustable feeding speed and high feeding accuracy. This is a no hopper scale. The bag itself is a scale. It can overcome the buffer hopper problem, to ensure the measurement accuracy of the filling material. Using Chinese LCD controller to overcome the inverter noise sound interference on the impact of the controller, also it is convenient for users to operate the machine. This adopts automatic thread trimmer device, thus the operator does not need to step on the pedal, even though it has the manual switch.
Yes! I am Interested!
Ask for Price
Details:
| Type | Weighting (kg) | Speed(bag/h) | Accuracy | Power(kw) | Gas resource | Size(mm) |
| --- | --- | --- | --- | --- | --- | --- |
| LCK-5 | 1-5 | 300-500 | 7.5g | 3.5 | P≥0.6MPa,Q≥1.2m3/h | 960*972*2499 |
| LCK-10 | 2.5-10 | 300-500 | 2%0 | 3.5 | | 800*935*2790 |
| LCK-25 | 20-25 | 200-240 | 2%0 | 3.5 | | 800*1060*2790 |
| LCK-40 | 30-50 | >200 | 2%0 | 3.5 | | 800*1160*3080 |
ABC machinery has decades of experience in flour processing equipment. We are specialized in turn key flour milling project and we can offer wheat cleaning machinery, flour mill, flour packing machine and all kinds of accessory machinery. We can provide perfect pre-sale, and after-sale service! Send us an inquiry and you can get a quick answer in one business day!
This bagging machine for sale is widely applied to wheat grinding and flour milling production. It works well with wheat grinder and grain mill machine. Below is some articles about wheat flour you might interested in.
---
What is Whole Wheat Flour?
Whole wheat flour is featured of high nutritional value, rich in vitamin B1, B2, B6 and nicotinic acid. It is grinding from the wheat with bran by wheat grinder. Since the milling process doesn't sieving the bran, 100% whole wheat flour has low gluten degree. The bread made of whole wheat flour is smaller and the organization is coarse. Eating too much whole grain flour can aggravate the burden of our digestive system. So it is suggested to add some high gluten flour to improve the taste.
How to Choose Grain Mill or Wheat Grinder?
When choosing flour milling machinery such as grain mill or wheat grinder, many customers might be confused. There are plenty of flour machine manufactures in the international market. Some of them are reliable, some are unqualified small workshops. Because of low quality, their price is also cheap. Facing the cluttered market, how to choose good grain mill with reasonable price?
Do not consider the price at first! Pay more attention to the grinder quality, after service, and other consumption from long-term perspective. Cheap ones might have short service life, high raw material and energy consumption, as well as maintenance costs. All these factors could greatly increase your costs for the flour processing plant in a whole life cycle. So buy a cheap but low quality grain mill is foolish. Consider from economic viewpoint, it is wise to choose the flour processing machine with the best quality within your budget.
Get In Touch
24/7 Support
We receive enquiries in English, Español (Spanish), Русский язык (Russian), Français (French) and العربية (Arabic) . Our professional team will reply to you within one business day. Please feel free to contact us!