Project Name: 250~500TPD Wheat Flour Mill
Client Company: Sarl Meunerie Freres Sidi Athmane
Processing Grain: French wheat, Australia wheat
Year of Construction: 2011
The workshop size of the mill:
5 floor building. 40m*10m*4m of each flour.
Cost of the Flour Mill (Machineyr Only): Around 550,000 USD
Power: About 700KW, power consumption per ton wheat: 65KW.H.
Adopts 8 sets of 100mm style double mills, 4 sets of 1250mm style double mills
Capacity: 250 Tonnes wheat per day
Flour extraction rate: 70-75%
The number of the workers:
It needs 3 shifts per day; every shift needs 6-8 workers.
---
The owner of this flour mill plant is very familiar with wheat flour grinding and wheat flour market. He is a flour distributor in Algiers for more than 20 years. He choose to cooperate with us after visiting more than 5 wheat flour mill manufacturer in China. Final Flour is used for bread making.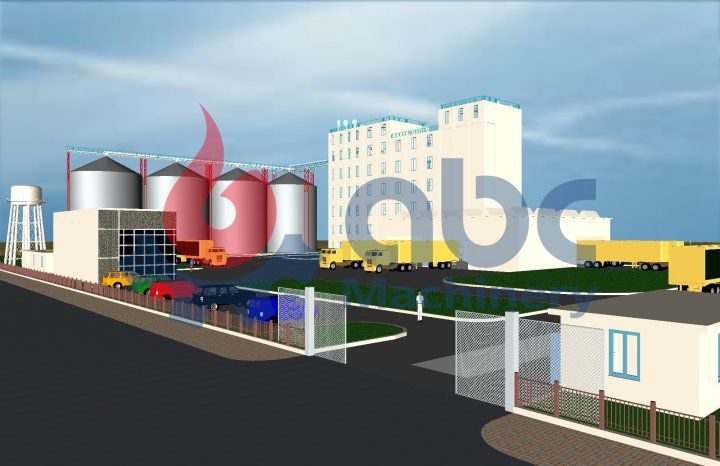 Choose Reliable
Wheat Flour Mill Manufacturer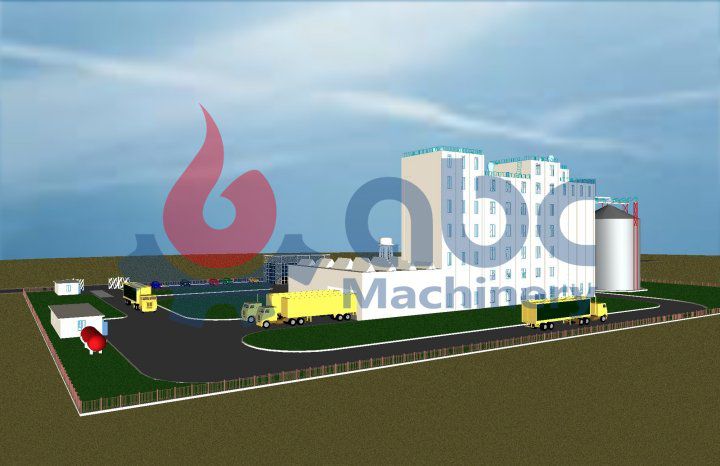 Get A BEST Turnkey Business Plan for Your
Flour Mill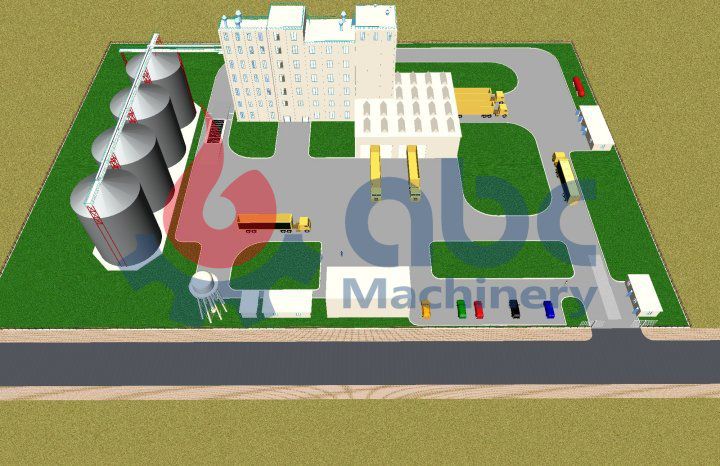 Planning Map for Complete Automatic Wheat Flour Mill

After 2 month on machinery manufacturing, about 1 month of shipping, 3 month of installation, the flour mill started to run formally in March of 2011, and now customer Ismil have larger market than before, the wheat flour is not enough for selling, he is considering to buy another 500 ton/d processing machine from us next year. Contact us now if you are interested in knowing more about this flour making project!
We at ABC Machinery have taken pride in being one of the best wheat flour mill manufacturers in the world having around 8 decades of prowess and proficiency in providing our customers with the ideal customized flour milling / grinding plan for all their needs. All our wheat and corn flour mill projects are with all the industry standards and norms all the while using the latest in Quality Control Technology.
Process of Wheat Flour Mill?
lt's very easy to determine when wheat is to be harvested. When the heads of the grains get heavy due to the heavy kernels, this means that indicates that the time has come. The kernels are then ground into flour but first they need to be separated from the stalks and chaff. Now depending on the part of seed and the endosperm, the flour is classified into various categories.
Delivery of Wheat
We import the most of our wheat directly through imports from wheat traders situated in various countries. We make sure that quality is maintained from the first stage itself. At the ports, the supplier certifications are verified and quality check and sample analysis is carried out by our in-house laboratory team. Only when our team has verified the details, the wheat is moved to our company silos. As premium wheat flour mill manufacturers, our company silos are the best in their class. The wheats are unloaded from the silos when the milling process starts.
Pre-Cleaning
The raw material has a lot of unwanted foreign objects such as dirt, straw, stones and metals which needs to be removed before the milling actually starts. This is done with the help of special cleaning machines and magnets (Grain Cleaning & Hulling Machine). The next part of the process requires the removal of the bran as well as any impurities that may be stuck to the kernel. This is done by simply brushing it and then it undergoes moisture conditioning which softens the bran layer.
Cleaning Part 1
Now to produce the final flour product, batches of different types of wheat are mixed. This is done with the help of dispensers which are present in the silos holding the wheat. To effectively accomplish this, any minor impurities such as seeds and broken wheat are removed by simply cleaning it. The outer layer is removed by brushing it and a de-stoner is used to get rid of any remaining stones. A specific humidity level is required for processing the wheat and to achieve this, it's disposed into a hydrating machine which has water in it. The wheat is then made to absorb this humidity by storing it in tempering silos of a specified amount of time. This is known as wheat tempering.
Cleaning part 2
Now before the flour milling process begins, the wheat has to reach the required humidity level. Once this is accomplished, it undergoes cleaning for the last time to make sure that our wheat is 100% squeaky clean.
Wheat Flour Milling
Milling or grinding of the wheat is a multi-stage process. lt's carried out in our Wheat Flour Milling Plants. Firstly, the wheat needs to be separated into bran and endosperm chunks, this is done by passing it through break rolls. (read more: pneumatic flour mill)
Then a process of repetitive reducing and sieving is carried out to produce finer particles up until the point on which the bran and endosperm are completely separated. Different types of flour and semolia are produced using the endosperm. The bran and the fine Bran are both used to create feed stuff.