Offer Groundnut Oil Processing Plant with production output 10~5000 ton/day
Just feel free to contact us if you're interested in our groundnut oil processing machine, or need any help on start your groundnut oil business in Nigeria, India or other countries, or have any questions about edible oil extraction and refining process. Send your inquiry to info@abcmach.com. Don't hesitate to get in touch with us! We are always ready to serve you!
Groundnut Oil Manfuacturing Machine for Sale

Small Scale Groundnut Oil Pressing Unit / Machinery
This is one of our HOT SALE oil processing unit. If is featured of low price, high output, low labor cost, less space demand, short cycle of installation and construction, easy operation. Besides, this smal scale oil extraction unit is not only suitable for peanut, but also applicable to other raw materials, such as sunflower seed, soybean, canola/rapeseed, cottonseed, castor, mustard seed, copra, palm kernel, corn germ, sesame, flax seed, and so on. We could design special oil processing for each customer according to the different features of the different raw materials. It is seen as the best choice to enter into groundnut oil making business. If you are interested in fragrant peanut oil production, you can read about how to improve the fragrance of peanut oil here. (Related Project: 10 ton/day Peanut Oil Mill Plant in Togo)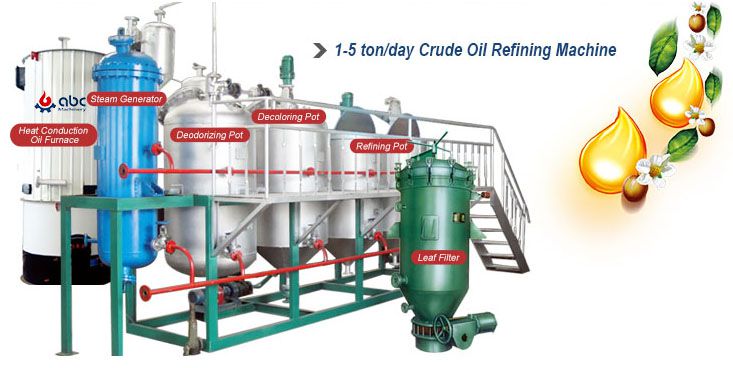 Small Crude Oil Refining Machine for Processing Cooking Oil
This is a mini physical refining plant which belongs to batch oil refinery unit which is commonly used in small scale edible oil refinery, the production capacity ranges from 1 tons per day to 20 tons per day. If you want to built a large oil refining line with the capacity over than 20 ton/day, you should choose Continuous Oil Refinery Plant or Semi-continuous Oil Refinery Plant. Contact us if you are interested in our equipment or need more detailes about continuous or semi-continuous refining process, the related equipment and costs.
Groundnut Oil Mill Projects
How to Open a Groundnut Oil Mill Plant?
If you are planning to start your first oil processing factory and don't know where to start and wonder how much the approximate investment could be, here is some basic steps you can follow and also some references on cost: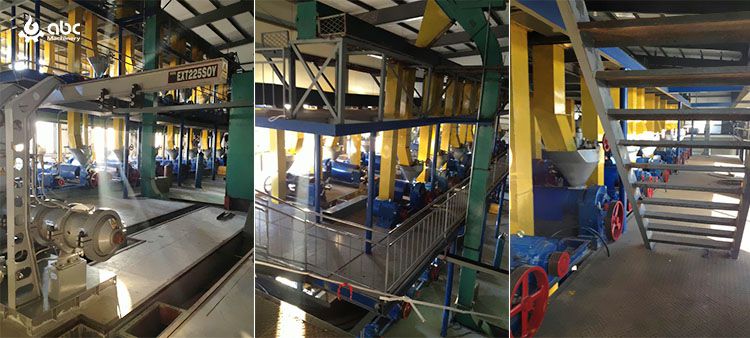 Industrial Scale Peanut Seeds Oil Processing Plant
The groundnut, which is called the earthnut or peanut as well, is botanically a member of the Papilionaceae, largest and most important member of the Leguminosae. It is generally acknowledged that the peanuts mainly originate from the temperate climates. What is very important is that the groundnuts form a valuable dietary protein composition in the absence of meat. It is a very essential food crop and oil seed around the all world due to its highly nutritional values.
Video: Running of Groundnut Oil Mill
Production Output: 10 ton/day
Oilseeds to be processed: Groundnut and Soya beans
Location: Togo, Africa
This is the running video of one of our groundnut oil pressing and refining project setup in Togo, West Africa. In this project, our client has two common oilseeds for oil extraction. So this oil mill is designed for processing both groundnut and soybean. Contact us now for details of the project.
How Much Does It Cost to Start a Groundnut Oil Plant?
Referring to the investment cost of investing groundnut oil processing business, there are site rental fees, workshop decorate cost, equipment cost and accreditation fees. As the cost will vary greatly from region to region, the following data are for reference only. (Related Post: How to start groundnut oil manufacturing business in Nigeria? )
Site Rental Fees: Generally, 80m2 factory is needed. The cost is about $735 per month. If you want to buy a mini groundnut oil processing unit for starting business with a small capital, as a self-employee, it will better to find an unused room at home and separate it out to be the workshop, so that you can save a lot of money.
Decorate cost: The decoration of oil processing mill is simple - just paint the walls and make the company signboard. About $700 is needed.
Equipment Cost: 5 ton/day oil production plant for example, about $7000 ~ $8000 is needed for purchasing the groundnut oil mill machinery.
Accreditation Fees: Investor still needs to go to local related department deals with some related management certificates such as business license of industry and commerce, wholesome license, etc. Cost about $150.
In general, opening a small groundnut oil extraction plant cost about $80,000 ~ $10,000. We believe that this kind of small capital investment project should be a good choice for start-up business.
Business Ideas for Running a Groundnut Oil Factory
Then, what you should take into consideration when operating an oil factory? Here are some basic business ideas:
Opening a small oil plant is a good choice for starting a business. In terms of operation, two business modes can be selected to coexist: one is wholesale to agents, and the other is to retail to nearby residents.
Wholesale to agents
Retail to nearby residents
Wholesalers have broader customer resources and they normally order a large number of bottled oil at a time, which can save promotion expenses of the oil production plant itself. If you choose to sale to the nearby residents, make the price a litter lower than the same quality of oil sold in nearby supermarket, so that to continuously accumulate consumers. (Read more about small scale soybean oil plant cost >>)
Complete Physical Groundnut Oil Extraction Process (Screw Pressing)
There are 4 main processes for commercial large scale cooking oil production line to extract oil from oilseeds such as soybean and groundnut: seeds cleaning, shelling, cooking and oil extraction. The purpose of cleaning, shelling and cooking is to facilitate oil extraction and improve oil yield and quality.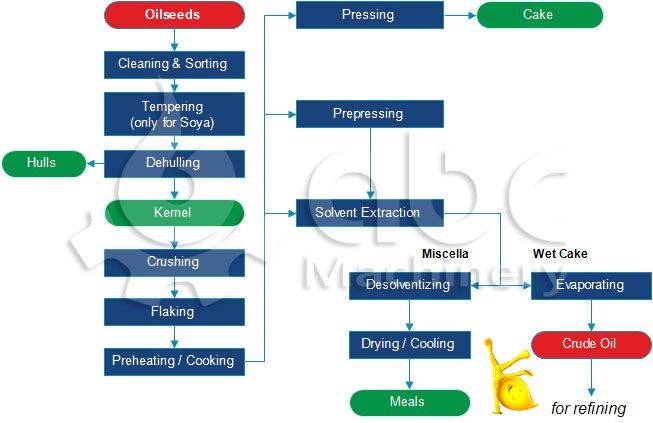 Complete Oil Seeds & Nuts Processing Flow Chart
​
There is generally not much investment for seeds storage in small groundnut oil plant. But for large scale groundnut processing factory, to avoid moldy, heat preservation warehouse with mechanical ventilation equipment is suggested.
The groundnuts entering the oil plant inevitably carry some impurities such as stems, leaves, soil, grass seeds, etc. These impurities can not only affect the quality of oil and oil cake, but also will absorb part of the oil and reduce the oil yield of oil press machine. Moreover, if there is sand, stone, metal, hemp rope or so in the groundnuts, it will cause wear and tear of the parts of the screw peanut oil expeller, even lead to production accident. Therefore, in order to ensure the smooth production of groundnut oil, impurities must be removed as far as possible. There are many methods of cleaning, which can be used according to the situation of impurities.
If the groundnuts have high moisture content, drying is necessary for the convenience of shelling process.
The next step of groundnut oil extraction is to remove the shell. The shelling process can be done manually by labor, or by use of peanut sheller to reduce the manpower and shorten production time. The purpose of shelling before oil pressing is to reduce the absorption of oil by the shell, increase the oil yield, improve the processing capacity of groundnut oil processing machine and reduce the equipment wear and tear. It can also improve the quality and added value of oil cake.
Cooking is one of the most important steps in groundnut oil production process. Cooking is the Iconic process of hot pressing technology, while cold pressing means extraction oil without cooking.
Screw pressing is the most common used oil extraction technology for groundnuts. The production process of screw oil pressing keep the original flavor of groundnuts. The produced groundnut oil is a kind of pure natural green food, featured of mellow fragrance, rich in nutrition ingredient, long shelf life, and without any additives, solvent residue and soap content. Also, the value of peanut cake is also high.
| Oilseeds | Oil Yield Efficiency (%) | Residual Oil in Cake (%) | Impurity (%) | Water Content (%) | Acid Medium (mgKOH/g) |
| --- | --- | --- | --- | --- | --- |
| Peanuts | ≥91 | ≤8.0 | ≤0.20 | ≤0.20 | ≤4.0 |
Market Research: 2018 Groundnut (Peanut) Oil Production by Country
Before starting your goundnut processing business, it is necessary to know about the global groundnut oil production and also do research about your local market carefully. Here are some basic data about 2018 groundnut oil production by Country for your references. As we can see from the following table, China, India, Myanmar, Nigeria and Sudan are the TOP 5 producer of peanut oil. Whenever you need any help on starting groundnut oil business, welcome to send us an inquiry! We are always glad to help you!
| Country | Peanut Oil Production (1000 MT) |
| --- | --- |
| China | 2,784 |
| India | 990 |
| Myanmar | 270 |
| Nigeria | 265 |
| Sudan | 220 |
| Tanzania | 133 |
| United States | 103 |
| Argentina | 83 |
| Burkina Faso | 76 |
| Chad | 64 |
| Brazil | 58 |
| Cameroon | 55 |
I am interested in your product to producing peanut oil. I am looking to explore on this new trend of business in THe Gambia. I may not be able to give you specifics with capacity but something that can be fitted in a simple room to start with. Also to be able to run on diesell fuel generator. I hope it can be of good guess with the number of machines you have to see which is suited for me. It can be a press without the shells.
We can supply you the groundnut oil processing machine with diesel enginee. If convenient could you let us know your budget about the oil press machine then we can supply you the most suitable machine.
Looking forward to your reply. Take care.
I need both the sheller and the oil extractor to do it here myself and sell it. The peanut comes with the shell and so I need an equipment to shell it. The size of machine I need will be One Tonne batch production.
I need both the sheller and the oil extractor to do it here myself and sell it. The peanut comes with the shell and so I need an equipment to shell it. The size of machine I need will be One Tonne batch production. The email attachment is the quotation of peanut sheller and oil press machine. Any needs please feel free to e-mail me.
Inviting quotation for groundnut oil extraction plant.
Location : Pune
Capacity: 5 T/D
include cost for complete package with break-up.
Thanks
Thanks for your attention to our product. Pls confirm:
The peanut with shell or not? If with shell we should match a dehuller.
Looking forward to your reply. Take care.
Hi,am requesting to know how much does a ground nut oil processing machine cost in USD and the capacity of its production.plz send me the information on two categories ie small scale and large scale production machinery.
The peanut oil press machine is no problem. Could you confirm the following information in order to make us supply you the most suitable oil press machine:

1: The groundnut with shell or not? If with shell we should supply the sheller to remove the shell to extract oil.
2: The capacity of single oil press machine: 1--20 tons/24hours Please confirm the capacity you need accoridng the groundnut situation.
Am a youngster tying to set up my own peanut oil company in Africa,advance ideas will be much appreciated,thanks

OK. Our experts will get in touch through your given email for further communication on customized project plan, equipment and cost details soon. Wish you a happy day!