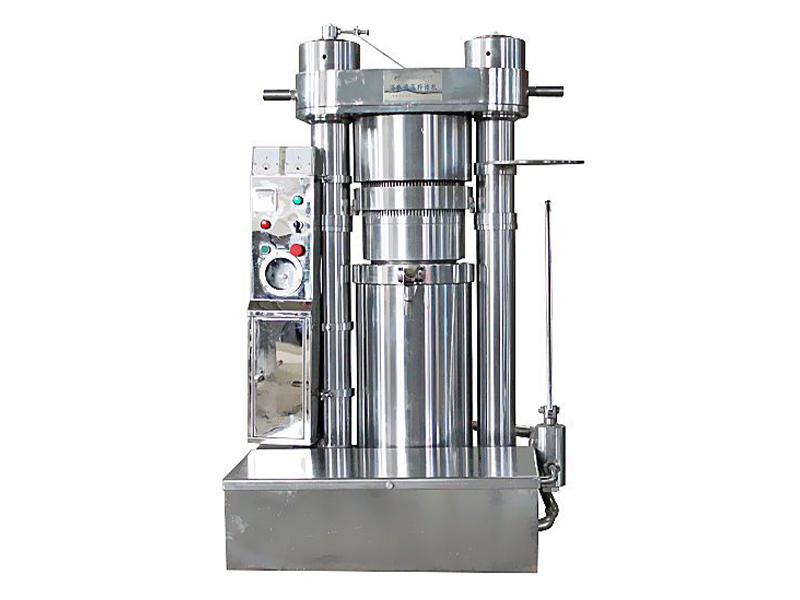 Features of Our Hydraulic Oil Press Machine
Produce High-quality Health & Care Oil / Edible Oil: It is designed for manufacturing high quality edible oil and health care oil, such as sesame oil (toasted sesame oil and cold press sesame oil), walnut oil, pine-seed oil, perilla seed oil, peanut oil, almond oil etc.
100% Physical Oil Pressing Process: Zero damage to the nutrient component of final oil and oil cakes.
High Return on Investment: Due to good market recognition of pressed oil, it is generally able to recover costs within half a year.
Based on Hydraulic Pressing System: Low motor power (single phase electricity is also acceptable), less power consumption, low maintenance cost.
Mechanical and Electrical Integration Design: Simple operation, one person can operate more than one equipment at the same time.
Beautiful Appearance: The host part adopts hard chromium plating process; uniform color, never fade.
Yes! I am Interested!
Ask for Price
Details:
The processing capacity ranges from 8kg to 20kg per batch.
| Items | YZSL-190 | YZSL-220 | YZSL-220B | YZSL-270 | YZSL-270B |
| --- | --- | --- | --- | --- | --- |
| Diameter of Oil Tank (mm) | 190 | 220 | 220 | 270 | 270 |
| Diameter of Oil Cake (mm) | 235 | 248 | 270 | 300 | 339 |
| Height of Material Hopper (mm) | 400 | 470 | 470 | 465 | 465 |
| Capacity per Batch(Kg) | 8 | 10 | 12 | 15 | 20 |
| Working Pressure(T) | 170 | 227 | 227 | 343 | 343 |
| Material Pressure(Mpa) | 41 | 47 | 40 | 48.6 | 41 |
| Size (mm) | 1000*970*1420 | 1150*1000*1600 | 1180*1000*1600 | 1200*1150*1550 | 1250*1200*1550 |
| Weight (T) | 1.05 | 1.4 | 1.45 | 1.6 | 1.68 |
Structure Introduction of Hydraulic Oil Expeller
Main Body

: It is the main parts of the complete machine, composed of bottom plate, pillar, upper panel, cylinder assembly, oil receiving tray, nut and other parts.

Hydraulic Transmission System

: This is the main power source of high oil rate. It is composed of reducer, worm, gear pump, high-pressure pump, overflow valve, manual control valve, cylinder assembly, pipeline joint and other parts. This machine adopts advanced three plunger pump station, featured of low speed, high oil pressure, high temperature resistance when compared with two plunger pump.

Electric Control Part

: It is composed of motor, voltmeter, temperature control and regulation meter, pressure gauge, power supply insurance and other components.
Hydraulic Oil Press Vs Screw Oil Press

For cooking oil manufacturers, screw press is well-known for its wide application (suitable for processing almost all kinds of oilseeds). While hydraulic oil expeller is specially designed for processing high value oils such as almond oil, walnut oil, cold pressed edible oil, etc. Many starters of edible oil production business may have the doubt that buying a screw oil press can do all the work, why do most processers buy hydraulic press even after they own a screw press? The reasons are listed below:
Screw oil press is not suitable for mini scale production.
​
The feeding amount of screw oil press must be more than 50kg each time. For smaller amount production, the earn cannot even cover the processing cost and material loss. While hydraulic oil machine has no such problem. You can process 1-50kg of raw materials per batch by simply one press button. Besides, the energy consumption can almost be ignored.
Peanut oil or sesame oil production for example, the oil rate is 2%-3% higher than screw oil press.
Therefore, seeing these you should know why screw oil press cannot replace hydraulic oil press. If you are interested to get detailed price list and customized cold oil extraction process, or need any guide on walnut oil production, almond oil production or so, don't hesitate to contact us!
How Much Does It Cost to Start Cold Pressed Oil Business?
Any of the items prices are measured by the value of it, as is the equipment cost of cold pressed oil production line. It may include oilseeds pre-treatment machine, oil pressing machine, oil refining machine, and oil filling equipment. The choice of each equipment can affect the total project cost, especially the selection of oil press machine. Referring to equipment selection, in addition to the quality of the equipment itself, high quality service is also what users expect.
As a professional oil machine factory, to stand out in such a competitive market, ABC Machinery do not agree with cutting costs, lower prices. We think the key is quality and service. For each oil mill plant we built, we offer one-one service, on-site installation and operation guide, regular return visit, to help our clients solve all problems in oil manufacturing process in the first time. Our perfect after-sale service is enough to make our clients feel free to choice ABC Machinery. Besides, many customers will actively recommend our equipment to friends who need it, which also makes our brand get the maximum promotion.
How profitable is Oil Mill Plant with Hydraulic Oil Press?
For traditional oil mill using screw oil press, the residue oil cakes can only be used or sold as animal feed. While for advanced oil mill using hydraulic oil press, the oil seeds can still be restored to their original condition to be processed into green food with high protein and low fact. (Read more about groundnut oil processing plant cost >>)
Energy Consumption: When processing 50kg oil-bearing materials, screw type oil making machine need 13kw motor and 1 hour production, while hydraulic press type oil making machine only need 3kw and 5 minutes, save more than 90% of the electricity.
Actual Benefit Analysis: Each hydraulic oil machine can process more than 1 ton of peanuts per day (10 hours), and extract more than 300kg of peanut oil, with a value of more than 3,500RMB. Left pressed peanut 700kg, worth 2400RMB. The procurement cost of peanut is about 4500RMB per 1000 kilo. The processing cost is about 1000RMB. So the monthly profit of a 1ton/day oil mill plant is about 30,000RMB. If the peanuts after oil extraction are further processed into other kinds of peanut food, the benefits are more considerable.
No Material Loss: Ordinary screw expeller adopts spiral extrusion, which produces high temperature and reduces the nutrition of final oil. Besides, the loss of raw material can be about 6%. Hydraulic oil press adopts cold pressing technology, no heating, no loss.