As one of the best cooking oil machinery manufacturer and supplier around the world, ABC Machinery can offer you customized and ideal solution for your small oil processing business! We supply a great number of seed oil making machines including cotton seed oil expeller and automatic oil press for other plant seeds. We also offer turnkey solutions for complete set of oil mill plant, capacity ranging from 1 TPD to 6000TPD. Feel free to tell us your oil manufacturing needs and we will help you make the best plan!
We have help numerous clients set up their vegetable oil business and oil mill projects so far. Some of them are listed below. Welcomt to contact us if your are interested in setting up a cotton seed oil mill or mini oil mill plant for other vegetable seeds and nuts! We are always at your service!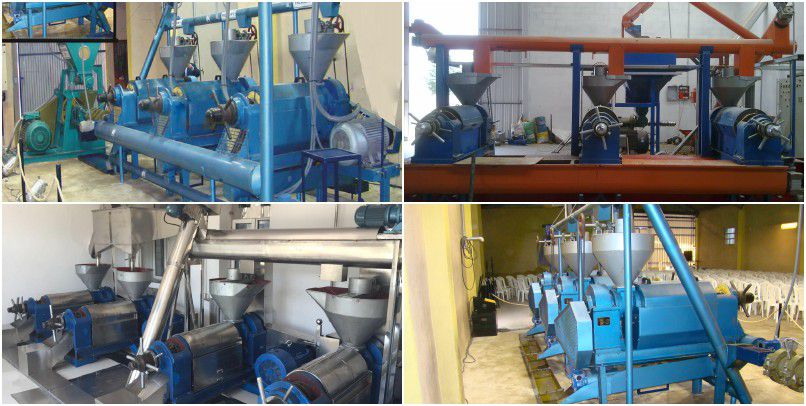 Small Scale Cooking Oil Mill Projects
---
Now, we would like to introduct about cottonseed oil production and processing unit and equipment. Our mini oil processing unit is highly recommend for small scale cotton seed oil pressing business.


Mini Seed Oil Pressing Line
Cottonseed Oil Production
Cottonseed oil is a versatile oil that does not require hydrogenation hence allowing food manufacturers and restaurants to prepare food that is trans-free and healthy. When used in moderation, unsaturated vegetable oils such as cottonseed oil do not harm the heart. Cottonseed oil is a good source of the essential fatty acids.


Cotton Seed Oil Processing
Cotton grown for extraction of oil is one of the largest genetically modified crops are grown around the world next to corn, soy and rapeseed. Farmers and small business owners wonder if it is possible and profitable to add value to their nuts and seeds by extracting the oil. The rise of cotton seed oil expeller have created awareness of cottonseed oil and its health benefits.
Oils such as cottonseed oil are often touted for their unique flavors and health benefits; some can be used in the manufacture soap, hair and body oils, paints and detergents. Some are used to make industrial lubricants. Oilseed processing expands the use of crops such as sunflowers and brings value to cottonseeds, which are normally waste products. Most oil processing in America is conducted on a large industrial scale. Small scale extraction is more popular in other parts of the world. The most useful resource material and small scale machinery for milling come from other countries. Interest in small scale oilseed processing by farmers has grown among farmers.
Cotton Seed Oil Expeller for Sale with Affordable Price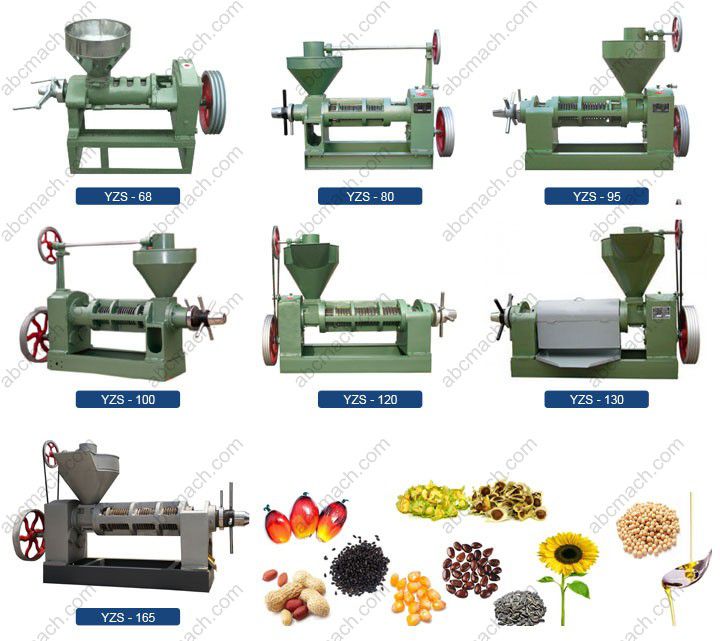 Parameters of The Small Seed Oil Expelling Machine
| Model | Capacity(T/24H) | Power(KW) | Dimensions(MM) | Weight(KG) |
| --- | --- | --- | --- | --- |
| YZS-68 | 0.8-1 | 5.5 | 920*390*750 | 150 |
| YZS-80 | 2-3 | 5.5 | 1540*540*620 | 370 |
| YZS-95 | 5 | 11 | 1920*550*765 | 480 |
| YZS-100 | 4-5 | 7.5 | 1910*610*765 | 550 |
| YZS-120 | 6 | 15 | 1970*700*780 | 680 |
| YZS-130 | 9-12 | 18.5 | 2320 *700 *780 | 820 |
| YZS-165 | 15-20 | 22-30 | 2290*750*1020 | 1600 |
Cotton seed oil expeller are readily available with various companies assembling machines that are well versed for small oil mill of cotton. The expeller come in different size and shapes even for the small-scale producers with limited spaces. Small oil mill factory encourages self-employment as more jobs are generated. Farmers are able to use by-products of their cotton production to use. Here is a brief process of small scale cottonseed oil extraction.
Clean. Dust on the seed is likely to clog the mill. Chaff left in the seed could absorb the oil keeping it from being squeezed from the mill.
The seeds are dried because the moist seed will not yield as much oil as they would if they were dry. The seed moisture content must be about 10 percent.
The hard outer shell of the seed is removed. The seeds are then shaken to separate kernels and hulls. Hulls are processed and sold as livestock feed.
Kernels are processed into thin flakes and heated to 77o C and then pressed to extract the oil by use of cotton seed oil expeller machine.
The oil is vacuumed and deodorized as a part of the refinery process that removes toxics.
Set Up a Small Scale Cooking Oil Business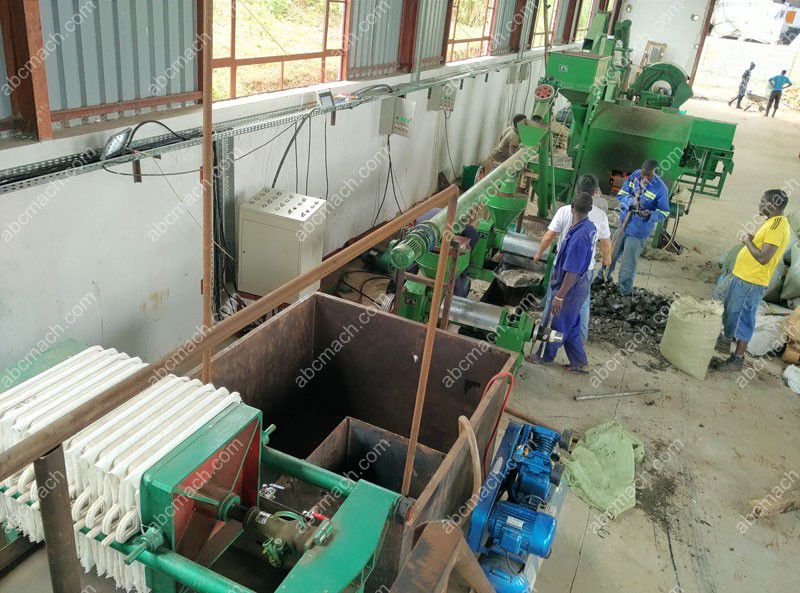 Small Scale Cooking Oil Factory Build in Uganda
Small scale producers of cottonseed oil should feel encouraged because there is an increase in demand for cottonseed oil in the world market. There is an increase in the global production of cottonseed. Thus there are numerous opportunities for small scale producers of cottonseed oil. The consumption of edible oils is increasing annually especially with the improvement of human economic life level. It is time you established your small vegetable oil mill that will satisfy not only your daily consumption needs but also financial needs.
Feel free to get in touch with us if you are interested in cottonseed oil expeller or want detailed equipment list, project solution and latested cost of cotton seed oil processing!
I are interested in cotton seed oil refining plant details in small unit. Need more details.
Glad to receive your inquiry. Pls tell me the capacity you need, I mean how many tons cottonseeds you want to press per day, then I can recommend you the suitable machines. And pls confirm whether your cottonseeds have fiber or not. May I know whether the 3phase voltage is suitable for you, and what is it?
I want to 10 tons or Minimum quantity per day. Please give total cost of refinery unit.
For 10TPD cottonseeds oil mill plant, you can get near 1ton crude oil, may I know whether you need the oil refinery equipments and the filling machine?
If convenient pls email me some information on your side, such as your company name, telephone number, etc, then I can add them on the quotation for you.
Any questions pls tell me freely!
I want know about cotton seed oil & cake making procedure in that required raw materail, machinery & benefit.
Thanks for your attention for our machines.
May I know whether your cotton seeds have fiber or not? And pls tell me the capacity of the machine you need, then I will recommend you the suitable machines.
Pls tell me whether the 3phase voltage is suitable for you, and what is it?
I have seen lot of old cotton seed machinary..now iam seeing this New type machinary. may i known this plant is fitted in india? Is this machinary is only Cottonseed extraction are Refinary is also included in this machinary? May i known the full detail of this machinary.
Thank you for your inquiry about our products. First, our plant is fit in India, because we can make the voltage as per your request. Second, we both have extraction and refinery machine for cottonseeds, so pls tell me your specific needs. Before recommend you the most suitable machines pls answer the following questions:
1. The capacity for the new machine you need? If convenient could you tell me the capacity and some other information of your old machines.
2. Could you tell me whether your cottonseeds have shell or not?

Any questions pls contact us freely.
Need details about the cotton seed manufacturing process and machine.
Glad to receive your inquiry.
May I know the capacity you need, and whether your cottonseed has shell or not?
I am looking for a cotton seed oil press. I would like quotations for an average size machine with the capacity of producing at least 200 liters a day.
Thanks for you inquiry. 200 litres a day is very small capacity. According to my calculation, you only need to process 1ton cotton seed per day. Is it correct? As for raw material cotton seed, where did you get it? could you send me some photos, so i will check the fiber length on the seed
and recommend suitable machine for you.
By the way, will this machine be used in New Zealand, what's the local three voltage and frequency?
Look forward to further discussion with you!