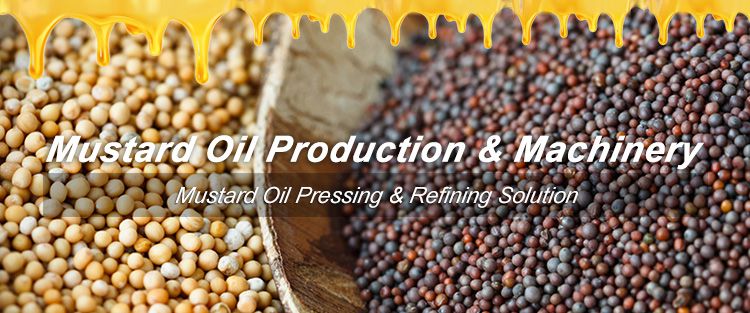 Offer Customized Project Plan for Processing of Mustard Oil
The oil content of mustard seed varies from 37 to 49%. As a common vegetable oil with very big market share, mustard oil is not only edible but also widely used as biodiesel. The seed residue (mustard oil cake) after oil extraction is also popular raw material for animal feed and manure production. The viability of any oil extraction business considerably depends on the sale of high protein oil cake.
Start Small to Medium Scale Mustard Oil Business
Mustard oil is common used edible oil, especially in India. Its consumption is keep increasing with the time. Filtered, double filtered mustard oil and refined mustard oil given new thrust to mustard oil market. Establishing mustard oil plant is definitely a project item to invest in. (Related Post: Profit of Mustard Oil Business)
Small Decentralized Mustard Oil Processing Unit for Sale

Mustard Oil Making Machine / Seed Oil Processing Unit
Can process various vegetable seeds.
Small footprint: Available for small oil making workshop.
Low cost: Offer more opportunities for selfemployment with limited budget.
Easy operation.
This small complete set of mustard oil plant is designed and manufactured to cater the increasing potential of mustard oil market, and needs of small to medium scale vegetable oil production plant, especially mini mustard oil mill.


Multifunction Mustard Seed Oil Press Details (pressing & filtering all-in-one)
India have the largest number of commercial varieties of oil seeds. Oil seed crops occupy an important place in the agriculture economy of India. Mustard oil is one of the main oilseeds for sarso oil or cooking oil processing, especially in northern, eastern and north eastern of India.
Setup Complete Mustard Oil Mill Plant
If you are interested in setting up complete full automatic mustard seed milling/crushing/extraction production plant to achieve high efficiency and lower production cost, or want to set up a your own mustard oil plant, ABC Machinery will be your best counselor on the way to the success of your mustard oil manufacturing business. We customize each oil mill plant depanding on each client's situation and requirement.
Mustard Seed Oil Production Process
How mustard oil is made? Here is introdction of mustard oil processing and machinery.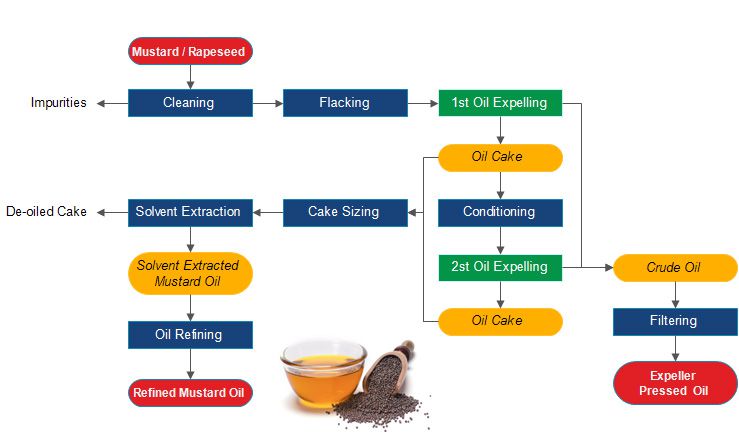 Complete Mustard Oil Manufacturing Process
Seeds Drying and Cleaning: Dry the seeds in sun. Remove dust and foreign materials by using sieving machine.
Cooking: To get the maximum oil yield. Cook the seeds before oil expelling process.
Oil Pressing: Extracted oil from out of the cooked seeds by using screw type mustard oil press. On an average about 35% recovery of oil from the seed is made.
Oil Filtering: Use filter press machine to remove solids from crude mustard oil.
Oil Filling / Bottling: The crude mustard seed oil can be sold in drums. To get more profit, the produced oil is generally packed into retail size bottles. Then after sealing and labeling, they are ready for sale.
Just tell us your requirement on oilseeds, production scale, cost budget and purpose of final oil product, and we will be pleased to organize a consultation to discuss your requirements! You can get a tailor made small mustard oil mill solution. Take action and contact us now!
Project Display: Vegetable Seeds Oil Processing Factory Layout
The following photos are about a mustard oil plant established in India. The oil mill output is 5 tons per day. It is a complete edible oil production line for producing refined mustard oil. Contact us if you need equipment list and cost details of this project.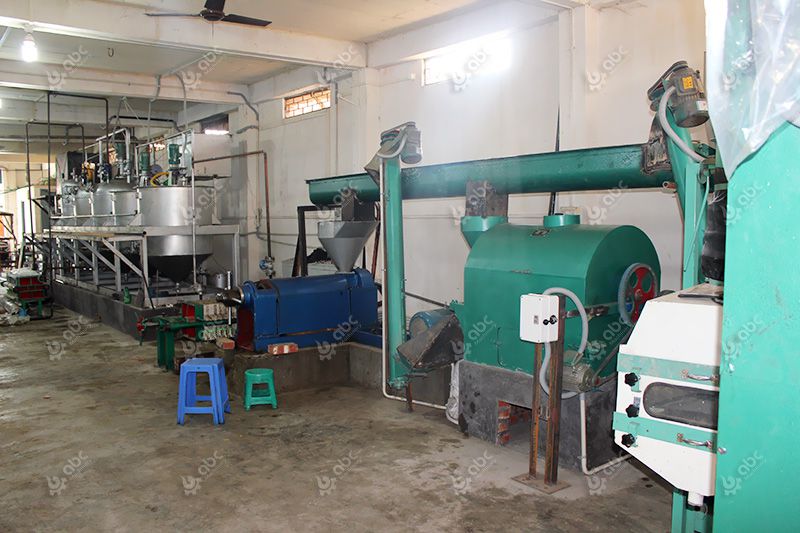 5ton/d Mustard Oil Making Business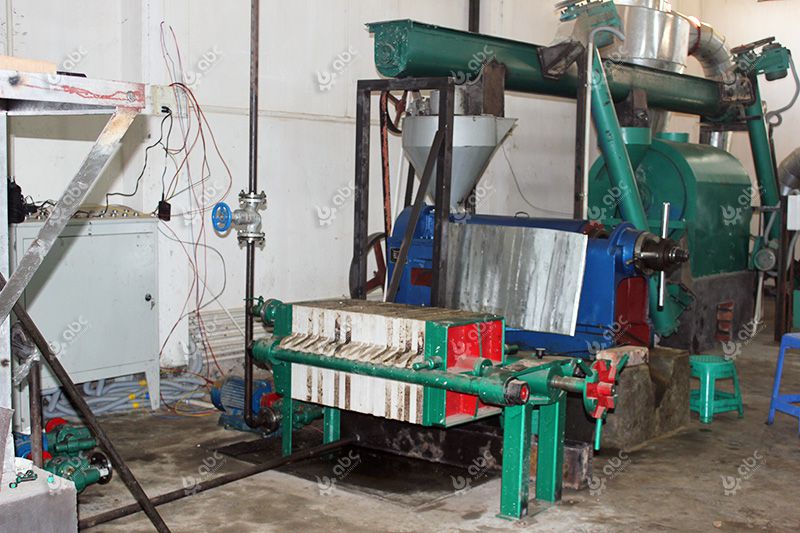 Mustard / Rapeseed Oil Expeller and Filter Press
Market Potential of Mustard Oil Production
Mustard seed oil is the TOP cooking oil in North and East India since ancient times. It is also commonly used as cooking oil in other countries including China, Bengal and Russia.
Wide Application of Mustard Oil Industry
Mustard oil is not only common edible oil, but also widely used as condiment in the manufacture of greases, and the preparation of curries, pickles, hair oils, medicines, etc. In the tanning industry, it can be used for softening leather. The leaves of mustard plant are also good source of green fodder for cattle. The esterified mustard oil can be made into biodiesel, or used as lubricant for jet engines and can be made into biodiesel.


Mustard Seeds & Produced Mustard Oil
There are two varieties of mustard seeds and both yield differing seed oil. The light mustard seed produced yellowish oil with strong smell while the black mustard produces light colored by strong tasting oil. Be sure to seek seeds depending on the taste of your edible oil market.
Differences: Mustard Oil, Canola Oil, Rapeseed Oil
Referring to mustard oil, many people are easy confuse it with canola and rapeseed oil. The flowers of these plants are all bright yellow. These oils all below to the cabbage or mustard family (Brassicaceae /Cruciferae), but are not the same oil. Here is a brief introduction.
Extracted or Pressed from mustard seeds. It comes in 3 types: edible veggie oil (screw pressed), non-edible essential oil (distilled). Edible mustard oil is used more often in India cooking. Mustard plant is much more robust than rape plant. It is more resistant to bad climates especially heat and drought.
Rapeseed is very similar to mustard oil. Some people even think of them as the same oilseed crop. It is the 3rd most important oilseed crops of the world, ranked after soybean and palm oil. View more about equipment for rapeseed oil extraction >>
Canola Oil

(Modified Rapeseed Oil)
Canola is altered plant reared from mustard or rapeseed. It is also know as low erucic acid, low glucosinolates rapeseed oil. Its flavor is mild, making it more popular and healthy as cooking oil when compared with original rapeseed oil. It is also an ingredient for making soap and margarine, and as a lamp fuel (colza oil). The name – "canola" is invented from "Canada+oil+low acid". Read more about canola oil processing >>
Please feel free to contact us in order to obtain details of mustard oil extraction and refinery, and how to start a small mustard oil mill. We are glad to support and help you!
Could please elaborate the process as well as total cost of the small mustard oil making unit including area covered.Thanks
Thanks for your attention of our small scale mustard oil mill plant.
The capacity of this plant is 10TPD oil press line+1TPD oil refinery line and the filling machine. Which includes the mustard seeds cleaning machine, cooker, oil press machine, oil filter, oil refinery equipments and the oil filling machine. The factory needs for this plant will be 18*8*6m. So, what is your raw material? And the capacity you need is? Then we can recommend you the suitable types for you. Besides, pls tell us where you will establish this plant and what is your suitable 3phase voltage.
Thanks for the prompt reply. I want to start new mustard oil mill in West Bengal, India. Since, the Mustard seed is easily available in Local market & also high demand in the city.

Power Supply available: 440V , 50Hz
Raw Material: Mustard Seeds
Capacity Needed: 5 Ton/Hr (Oil) (Series of small machine also acceptable)
What is the difference between Hot Press & Cold Press? (Product Quality wise which one better)
For the oil press plant, the difference between cold press and hot press is whether there is the cooker before oil press machine. If has, it will be the hot press, if not will be the cold press. Crude oil from cold press will be better than the hot press, but the crude oil will be refined, for the refined oil, there won't have any difference. And hot press will increase the oil yield to get more oil.

If you need 5ton/h mustard oil per hour, for daily capacity will be 120ton (For 24hrs), according to the oil content rate and oil yield of mustard seed, the capacity of this oil plant will be near 400MT per day. The capacity is too large for your market, for first business in this field, it will be better for you to start with small capacity, pls confirm.
Thanks for giving me best information. Yes, you are right,the capacity is more than my expectation. Actually we will run the machine for 8-10 hrs a day & capacity of 2 ton/hr is also acceptable. Please send me your quote along with best filter & spares. Please also provide me the catalogue (motor & machine) & brochure of the same. Thanks
For 2ton/h capacity, the daily capacity will be 50TPD, for this capacity, I recommend you to work 24hrs per day. Working several days then take two-three days for total maintenance. If you start and close the machines every day, it won't be cost-efficient.

The total cost of the 50TPD mustard oil mill plant is USD260,000 approx FOB Qingdao. It contains 50TPD oil press related machines, 15TPD batch type refinery equipments. So, pls confirm whether the price is in your budget range, then I will make the proposal for you. For this plant, you will get near 15Ton oil per day. Maybe you can consider whether it can meet your demand or not. Also, this plant will need the steam boiler, pls confirm whether you can offer locally.
What's the function of cooker in mustard oil manufacturing plant?
The function of the cooker is to balance the temperature and moisture rate of raw materials, then it will be pressed at the best condition to get more oil more better pressed cakes. Generally, for large scale oil plant, cooker is the necessary part, if the capacity is small, you can use without cooker.
What's the Guarantee of your mustard oil machinery?
The guarantee of our equipment is 12months after machines delivery, if you need we also can send our engineers to install for you and train your worker until you can operate the plants smoothly. And whenever you have any problems when operating you can tell us freely, we will solve for you through emails, cellphones, etc.
Spare availability in India?
Generally, we will add one year spare parts in the quotation for you, any whenever you need the spare parts we can offer to you.
Is thare any other utilities required other than Electricity before setting up a mustard oil mill plant?
Except for the electricity, you also need the water, steam, coals, etc.