Want to set up a small scale mustard oil mill? ABC Machinery will be your best counselor on the way to the success of your business. We customize each oil mill plant depanding on each clients' situation and requirement. Just tell us your requirement on scale, oilseeds, cost budget and purpose of final oil product, and we will be pleased to organize a consultation to discuss your requirements! You can get a tailor made small mustard oil mill solution. Take action and contact us now!
About Mustard Oil
Here is introdction of mustard oil pressing industry, process and machinery.

Mustard Seeds & Produced Mustard Oil and Oil Cakes
There are two varieties of mustard seeds and both yield differing seed oil. The light mustard seed produced yellowish oil with strong smell while the black mustard produces light colored by strong tasting oil. Be sure to seek seeds depending on the taste of your oil market.
Mustard oil is made by grinding the small mustard seeds and extracting their oil. There are two types of mustard seed oil, the essential mustard oil which is processed by steam distillation of mustard seeds soaked in water and the pure mustard seed which is made by cold compression of the seeds. The oil has different health benefits including acting as an appetizer, anti-inflammatory, as stimulant, hair revitalizer, and antibacterial, antifungal and as a cold and cough treatment method. These uses among many others make it one of the most sought after oils all over the world. However its uses are contradicting depending on the part of the world. For instances in some parts like India, it is very essential part of their meal preparation while in other parts it's considered toxic for consumption.
Small Mustard Oil Processing Plant

Mini Mustard Oil Mill Machinery
With all these benefits, you can be assured that the market for small mastard oil machine is quite large and it would be a wise idea to start your own mustard oil processing plant. The best news is that the machinery doesn't require much capital to start or investment in terms of land to start. A small or mini oil mill can occupy a small space which should enough for you start off. However before starting, there are some important things you need to consider such as; availability of mustard seeds. You need to know the most affordable supplier
for your mill if you are to prosper in this new venture.
You should also ensure you have a market ready to consume your oil; there are many well established brands out there selling their oil and you need to make it, have to get the patronage of your neighborhood. Finally but most importantly, get enough capital to enable you purchase a small milling machine and lease land to put up your machine if you don't own one.
Process of Small Mustard Oil Mill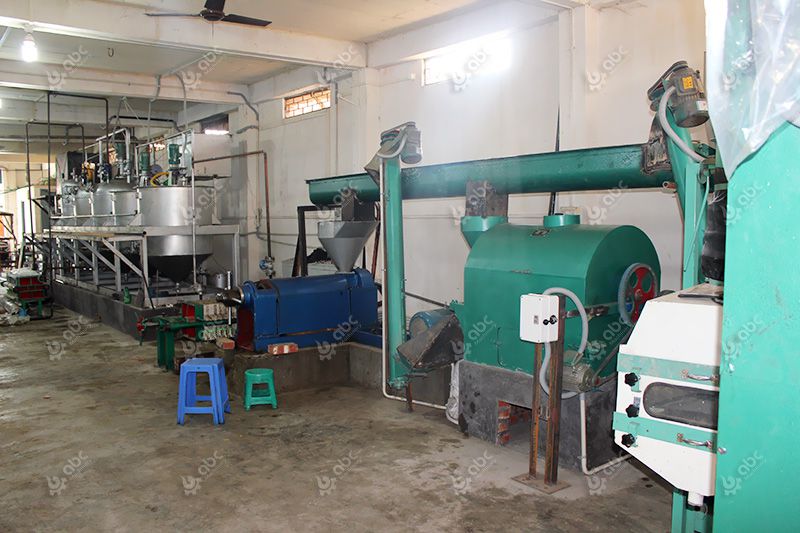 Please feel free to contact us in order to obtain details of mustard oil extraction and refinery, and how to start a small mustard oil mill. We are glad to support and help you!
To get finest quality of mustard oil, you have to ensure your seeds were properly stored. Oil processing starts by preparation of the seeds. Cleaning is the first step to ensure the oil to be produced is not contaminated by any foreign materials. Some of the cleaning methods involved include hand picking of sand, stones and any rotten seeds. If the seeds are too dirty, you can opt to wash although this is rarely recommended. The final preparation stage involves heating the seeds to ensure all present enzymes are destroyed.
After cleaning, the seeds are fed into a crushing machine whereby they are crushed for approximately one hour. This yields about 24% of the oil in the seeds. The residual are further fed into an expeller (screw oil press) which uses high pressure to extract oil. This achieves approximately 6% of the oil extraction. The residue is fed from one expeller to another until all oil from the residual is extracted. After mechanical oil extraction process, the unfiltered oil is stored in storage tanks while the by product is sent into solvent plant. This by product is used for making oil cakes which usually have very little percentage of oil.
Could please elaborate the process as well as total cost of the small mustard oil making unit including area covered.Thanks
Thanks for your attention of our small scale mustard oil mill plant.
The capacity of this plant is 10TPD oil press line+1TPD oil refinery line and the filling machine. Which includes the mustard seeds cleaning machine, cooker, oil press machine, oil filter, oil refinery equipments and the oil filling machine. The factory needs for this plant will be 18*8*6m. So, what is your raw material? And the capacity you need is? Then we can recommend you the suitable types for you. Besides, pls tell us where you will establish this plant and what is your suitable 3phase voltage.
Thanks for the prompt reply. I want to start new mustard oil mill in West Bengal, India. Since, the Mustard seed is easily available in Local market & also high demand in the city.

Power Supply available: 440V , 50Hz
Raw Material: Mustard Seeds
Capacity Needed: 5 Ton/Hr (Oil) (Series of small machine also acceptable)
What is the difference between Hot Press & Cold Press? (Product Quality wise which one better)
For the oil press plant, the difference between cold press and hot press is whether there is the cooker before oil press machine. If has, it will be the hot press, if not will be the cold press. Crude oil from cold press will be better than the hot press, but the crude oil will be refined, for the refined oil, there won't have any difference. And hot press will increase the oil yield to get more oil.

If you need 5ton/h mustard oil per hour, for daily capacity will be 120ton (For 24hrs), according to the oil content rate and oil yield of mustard seed, the capacity of this oil plant will be near 400MT per day. The capacity is too large for your market, for first business in this field, it will be better for you to start with small capacity, pls confirm.
Thanks for giving me best information. Yes, you are right,the capacity is more than my expectation. Actually we will run the machine for 8-10 hrs a day & capacity of 2 ton/hr is also acceptable. Please send me your quote along with best filter & spares. Please also provide me the catalogue (motor & machine) & brochure of the same. Thanks
For 2ton/h capacity, the daily capacity will be 50TPD, for this capacity, I recommend you to work 24hrs per day. Working several days then take two-three days for total maintenance. If you start and close the machines every day, it won't be cost-efficient.

The total cost of the 50TPD mustard oil mill plant is USD260,000 approx FOB Qingdao. It contains 50TPD oil press related machines, 15TPD batch type refinery equipments. So, pls confirm whether the price is in your budget range, then I will make the proposal for you. For this plant, you will get near 15Ton oil per day. Maybe you can consider whether it can meet your demand or not. Also, this plant will need the steam boiler, pls confirm whether you can offer locally.
What's the function of cooker in mustard oil manufacturing plant?
The function of the cooker is to balance the temperature and moisture rate of raw materials, then it will be pressed at the best condition to get more oil more better pressed cakes. Generally, for large scale oil plant, cooker is the necessary part, if the capacity is small, you can use without cooker.
What's the Guarantee of your mustard oil machinery?
The guarantee of our equipment is 12months after machines delivery, if you need we also can send our engineers to install for you and train your worker until you can operate the plants smoothly. And whenever you have any problems when operating you can tell us freely, we will solve for you through emails, cellphones, etc.
Spare availability in India?
Generally, we will add one year spare parts in the quotation for you, any whenever you need the spare parts we can offer to you.
Is thare any other utilities required other than Electricity before setting up a mustard oil mill plant?
Except for the electricity, you also need the water, steam, coals, etc.