Complete oil and fat solvent extraction plant/line commonly consists the flowing steps:
Preparation of raw material;
Process of extraction;
Desolventization of extracted material;
Distillation of miscella;
Solvent recovery by absorption;
Meal finishing and packing;
Solvent Extracting Process
Oilseed solvent extraction is a process of solid-liquid extraction, by means of non-polar solvents. It is widely applied in oil extracting of low oil content materials and pre-pressed oil cakes of high oil content materials. Solvent extraction plant is featured of high yield of oil recovery. The capacity of solvent extraction plant ranges from 300kg to 100MT. The oil grade after refined can reach to Grade 1, Grade 2, Grade 3, and Grade 4 Oil etc.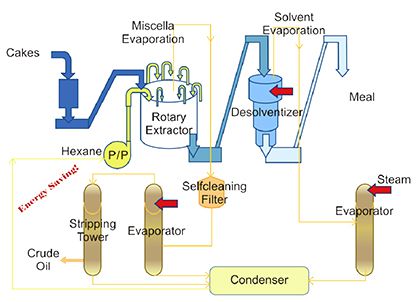 The Process of Solvent Extraction
Solvent Extraction Machinery
Extractor: Includes batch extractor (oil extractor) and continuous extractor (rotary extractor, loop type extractor, crawler type extractor)
Desolventizer: SeparatIing solvent from wet meal.
Evaporator: Separating the solvent from miscella.
Solvent Recycling System
Recycling of the solvent could reduce the consumption of the solvent and cost of production, ensure the safety of the production, and improve the quality of the products. It mainly includes the cooling of solvent steam, solvent & water separation recovery and the recycling of the solvent in the exhaust gas.
With decades of experience in oil processing industry, ABC Machinery have become the leading manufacture of oil pressing machine, oil extraction machine and seed oil extractor. We are specialized in designing & installing turn-key oil milling, oil refinery and oil extraction plant for various oil seeds and nuts. Our oil extraction machines and oil presses are known for its high quality and competitive price. Possessing state-of-the-art solvent extraction technology, a technical team of experienced professionals, and skilled labor, we can ensure both quality and after service. Feel free to contact us if you are interested in our solvent extraction equipment or other oil pressing machines. We are always at your service!