Buying quality mustard oil machine from reliable edible oil machine manufacturer is the very first step of starting your cooking oil business. With years of designing and manufacturing experience of edibole oil making equipment, ABC Machinery should be your best choice! We manufacture and export a wide range of oil machinery. Besides, we are also good at offering customized turnkey seed oil business plan for mini / tiny oil mill, small edible oil factory, medium oil mill company and large industrial oil mill plant.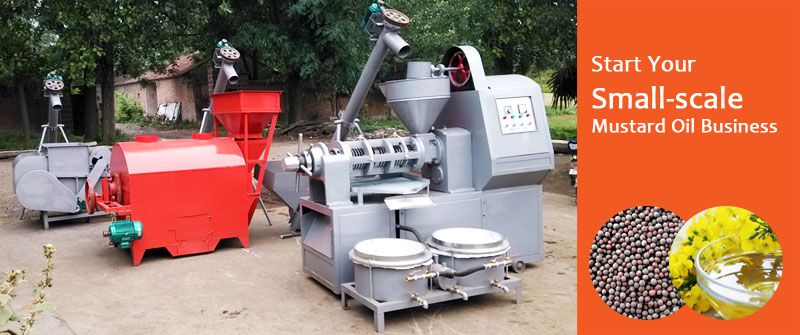 If you are planning for setting up a cooking oil factory, don't hesitate to tell us your situation, cost plan and other requirements. We will be very gald to offer you the best plan with detailed equipment list and price.
---
The mustard seed is something of an enigma. In the Christian faith, the seed is used to illustrate the concept of faith. As the seed matures to become the largest tree on the planet, so are Christian faithful encouraged to nurture their faith. This, however, is not a faith article but rather an article on mustard oil machines. (Read more: how to start small mustard oil machinery business)
Mustard Oil Making / Manufacturing
Then crushed, mustard seed will yield oil (Mustard Oil Expeller). It is important to note that mustard oil can be divided into two groups: vegetable oil and essential oils.


How Oil is Made by Mustard Oil Machines?
Vegetable oils from mustard seed are yielded by crushing the seed whilst essential oils are yielded by grinding seed, mixing the seed with water, and finally distilling the oil that has settled atop the water after a period of between 2 to 3 days. The two modes of extracting these oils have been applied for hundreds of years by mankind. Vegetable oil derived from mustard seed is largely consumed in Asia and specifically India. However, the consumption of this oil is largely dropping because of the readily available abundance of synthetic oils in Asia. In most countries on the Western hemisphere, including the USA, regulatory frameworks have largely locked out the consumption of this vegetable oil for dietary reasons.
Maybe you are also interested in complete process of seed oil extraction plant.
As an essential oil, mustard seed has a number of uses in the food and beverage industry. When grounded to yield oil, the oil is mixed with water lvinegar to produce a compound referred to as allyl isothiocyanate. This compound is responsible for the sharp taste and pungent smell of the oil yielded. This oil is toxic but is used in small doses for flavoring of food and when mixed with alcohol it denatures it, making it unfit for human consumption and thus ensuring that the manufacturer doesn't pay taxes on beverages.
The above information makes for interesting reading and is also a convincing sales pitch to any player in the food and beverage industry. It is worthwhile mentioning that the pungent smell emitted by the essential oil is also used to repel cats and dogs, similarly this oil because of the nature of its toxicity is not recommended for application to the skin. There do exist some indigenous communities in Asia who apply the oil on babies and the effects are not adverse, thejury is still out n this last issue(sic).
For the sawy entrepreneur, the business opportunities offered by extracting essential oils are a dime a dozen. The first step, however, starts by getting hold of a mustard oil machine.
Set Up a Small Mustard Oil Processing Line
The following are some of our small vegetable seed oil processing line build for our clients. You are welcome to contact us for detailed info!


Small Scale Vgetable Seed Oil Processing Mill
To literally enter the oil processing business you will need to make a small investment in small oil processing line. The setting up of this line of manufacturing is simple. The advantages are a myriad: easy to install and operate, minimal use of land space, and as an investor, you cut back on the human element in the production process. (Read more: Mini Vegetable Oil Processing Unit)
Investing in a mustard oil machine can open up a new horizon for your business. The examples cited above in the food and beverage industry are but a tip of the iceberg. Think through the benefits that might accrue to you when you invest in this machine and increase your revenue streams today. If interested in our seed oil machine or need more information about the small oil processing line, contact us today and we will be honored to serve you!
Dear Sir,
I ma interested to go for a small business to manufacture mustard oil in a small plant with low investment. Can you please help me with the information of suitable equipment for me.
Glad to receive your inquiry.
For the small business, we have 3tons/24hrs, 5ton/24hts, 8-10ton/24hrs, etc. So, pls confirm the specific capacity for me, then I can equip the suitable machines for you.
Any questions pls tell me freely, waiting for your reply.
Thanks for your prompt response. My target is to rent small space around 100 square feet beside the road and selling fresh mustard oil directly to the customer through instant production. I need a low volume production capacity machine.
According to your request, I recommend you our integrated oil press for your mini oil mill business.
1. This machine is combined with the oil press, two vacuum filters and the electrical cabinet.
2. After pressing, the crude oil will enter the vacuum filters, after filtering, the oil will be quite clear and can be for immediate consumption.
3. The electrical cabinet can control the work of the other parts of the oil press, so the operation will be quite simple.
4. There are four wheels on the oil press, so you can move it to any places you want for small business.

The details of our integrated oil machine including capacity and price are included in the email attachment. So, you can choose the specific type based on the oil you can get per hour, or your budget. Any questions you can tell me freely, waiting for your reply.