All kinds of sunflower oil machinery for sale with lowest possible price and premium quality, supplied by ABC Machinery - one of the BEST oil machine manufacturers. With great reputaions in seed oil making field, we can offer the most suitable solution for both small and full scale vegetable oil producing business. You can trust both the machinery quality and after services we offered.
---
Sunflower oil is extracted from sunflower seeds. It is enriched with large amount of Vitamin E and lecithin (an omega 6 fatty acid). It has low amounts of saturated fatty acids while high amounts of poly unsaturated fatty acids. Sunflower oil is a waxy crude oil and also contains small amount of oxygen acids and this badly affects the quality and storage stability of this oil. Sun flower oil has broad commercial and domestic applications especially its use in the edible food industry. This low cholesterol oil is good for immune system, prevents cancer and acts as protection against Asthma due to its anti-oxidative and anti-inflammatory properties.
Sunflower Oil Extraction
Many methods have been proposed for the extraction of Sunflower oil from the Sunflower seeds. These include chemical solvent method, centrifugal method and screw type press method. Sunflower oil machinery is used for the extraction of sunflower oil in which the seeds have to pass through the following steps before the oil is finally extracted:


Full Scale Seed Oil Extraction Plant


Mini or Small Scale Sunflower OIl Extraction Plant
Want to see more details of the above turnkey project of oil extraction plant (located in Zambia).
De-hulling of seeds
Grinding of seeds
Sunflower Oil Pressing Process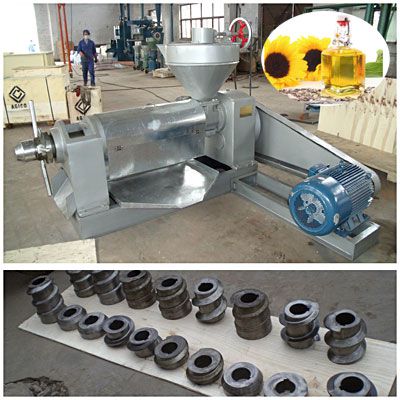 The pressing method is the most ancient method in which specific pressure is applied on the Sunflower seeds for obtaining oil. Currently, the hydraulic press and screw press crushing equipment are in use for the oil pressing process. The cold pressing method is the most commonly oil pressing used method. In this process oil is extracted from the Sunflower seeds by means of simple mechanical pressing but this method does not completely extract the oil from the seeds hence a new technique super critical fluid technologies (STFs) has been introduced and it yields far better results than the traditional cold pressing technique. Expeller pressing is also used in which force is used for pressing. In this process, the seed are crushed under high pressure for the extracting of crude oil which is refined further for making it usable. (Related Machinery: Canola Oil Manufacturing Plant >>)
Screw Type Sunflower Oil Machinery
Screw type sunflower oil machinery is an oil making machine that helps extract sun flower oil form the sunflower seeds for commercial and biofuel purposes. The screw type sunflower oil machinery consists of:
Feeder
Gear box
Pressing cage
Machine stand
Pressing chamber
Screw shaft
Working Principle of Screw Oil Machinery

The working principle of screw type sunflower oil machinery is based upon screw driven machine work that uses the screw shaft for rotation. It consist of different types of screws which rotates the machine centrifugally to push the material inside the pressing chamber. Due to the spiral depth of the screw, screw becomes shorter while rotating which pushes the material under the curved circular saw tooth as a result oil is separated out. The extracted oil is also released through bars and slots between gaps and rings of the chamber. The sunflower oil machinery is feasible for getting oil because it has the advantage of being equipped with electrical controlled cabinet which maintains the temperature and pressure inside the pressing cage chamber. It has also an electric motor installed in the bottom, which improves the performance of machine. Therefore, Sunflower Oil machinery has an important role in industrial acquisition of the Sunflower oil.
If you are interested in sunflower oil extraction, feel free to contact us for detailed introduction, latest price and shipment cost.
I am interested in extracting oil from sunflower, soya and avocado.Can you send me a quotation and a business plan to go with each. I would like what can produce about averagely 1000 - 5000 liters of each. Include seperately shipping to Mombasa Port, Kenya.
Hi, tks for your enquiry. As for your raw material, could you kindly advise us which one is the most, and what's the proportion? because, the processing capacity is a little different for each raw material, we need to design on the basis of the major raw material. Besides, as for the capacity 1000 - 5000 liters of each. do you mean per hour or per day, how many hours do you work per day...?