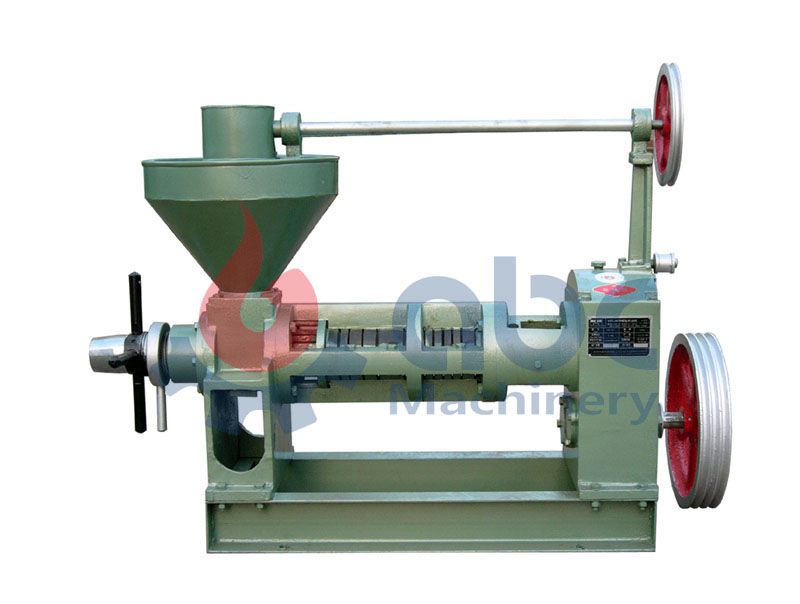 Model
: YZS-95
Screw oil press
Capacity
: 5T per 24Hours
Power
: 11KW
Size
: 1920*550*765mm
Weight
: 480kg
This oil press is widely used to process various kinds of vegetable seeds and nuts, including
soybean, peaunt, sunflower seeds, sesame, mustard seeds, castor bean, cotton seed and so on
.
YZS-95 Screw Oil Press is a type of oil making machine that utilizes advanced designs for best oil making performance. With great improvements, this automatic small oil press is ideal for most oil seeds, and is especially great to extract oil from soybean and cotton. Its structure is simple but reliable, mainly including feeder, gearbox, pressing cage, screw shaft and machine stand etc. The screw shaft, installed with different styles of screws and rotates, pushes the oil seeds into the chamber after starting. Then, the oil is separated out with the extrusion of pressing ring and pressing worms. For convenience, this screw oil press cuts the oil cake into small pieces. (Related product: Sunflower Oil Presses >>)
All our oil presses are sold directly from our factory with wholesale price. Don't hesitate to contact us for details and the latest cost. We are always at your service!

Full Parameter of YZS Series Oil Press
Here is all models of YZS Series oil press machines, choose the most suitable one depending on your capacity needs or you are welcome to contact us for suggesting you the best choice based on your specific situation and requirements!
| Model | Capacity(T/24H) | Power(KW) | Dimensions(MM) | Weight(KG) |
| --- | --- | --- | --- | --- |
| YZS-68 | 0.8-1 | 5.5 | 920*390*750 | 150 |
| YZS-80 | 2-3 | 5.5 | 1540*540*620 | 370 |
| YZS-95 | 5 | 11 | 1920*550*765 | 480 |
| YZS-100 | 4-5 | 7.5 | 1910*610*765 | 550 |
| YZS-120 | 6 | 15 | 1970*700*780 | 680 |
| YZS-130 | 9-12 | 18.5 | 2320 *700 *780 | 820 |
| YZS-165 | 15-20 | 22-30 | 2290*750*1020 | 1600 |
Main parts of YZS-95 screw oil press
The YZS95 screw oil press is mainly composed of feeder, cage, squeezer, gear box and rank section. The following image shows the main mechanical structure of the small soybean oil press machine.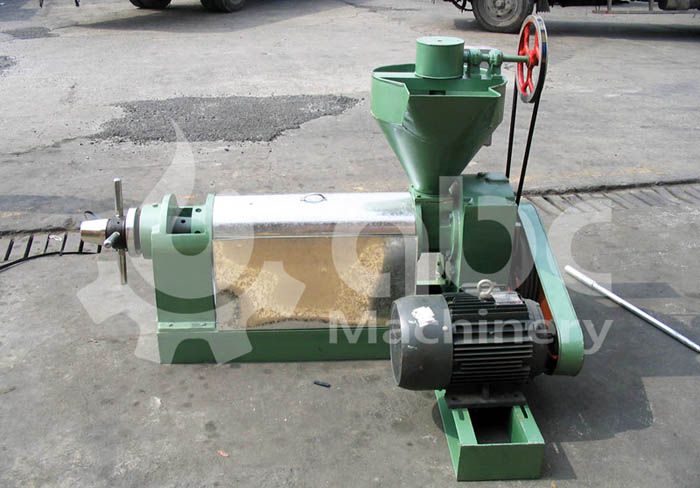 Highlights of YZS-95 Screw Oil Press
High quality oil and grade oil cake
Compact size with durable construction
Stable operation, minimal maintenance and great versatile for most plant seeds
Maximized safety: main parts in processing of high temperature tempering and low temperature quenching

Step by Step to Make Soybean Oil
Remove all foreign matters of the well-dried soybeans, such as leaves, twigs, stones and etc.. Then put soybeans in a shallow pan to preheat for pressing.
Put a possible container under the outlet of the screw oil press, and put an another container under the end of the soybean oil press to receive soybean cake.
Get the preheated soybeans and feed them into the hopper of the soybean oil press about 2/3 full. Then start to feed soybeans into the oil making machine. During the process, it's better to ensure continuous feeding.
After the oil is extracted, note the containers in case of spills of soybean oil and soybean cake.


Small Soybean Oil Processing Plant
If you are planning to buy a screw type oil press to make high quality edible oil from soybean, or want to buy a mini soybean oil making unit, ABC Machinery should be your best choice. Send us your needs and requirement through the following form and you will get the detailed quotation in one business day!
Interested in finding out more info and pricing for getting machinery to US Model YZS-95. Looking into Hemp seed extraction. Any information would be helpful. Also if any seed preparation machinery is needed before pressing process. Interested in that also.
Hi, Thanks for your enquiry to our products. As for your request, coud you kindly advise your raw material and the processing capacity per day?
So we could design and suggest for you accordingly soon. FYI, the capacity of model YZS-95 is 4~5ton per day, pls confirm it's suitable for you.