ABC Machinery the BEST oil press machine manufacturer and supplier in China, with a wealth of experience in edible seed oil production field. We are good at designing and manufacturing oil press machinery and project plan for different kinds of oil plant and seeds including soybean, peabut/groundnut, mustard seeds, castor seeds, canola beans and so on.
Mini oil pressing unit or customized full scale oil pressing line, whatever you are going to install, ABC Machienry can always meet your needs and offer the best solution! Each single soybean oil press machines can be conneted together with scientific allocation so that to improve working efficiency and safty. High profits, high production efficiency and low cost!


Small Soybean Oil Press Machines for Sale
The above picture shows the basic machinery list of a small soybean oil pressing line, including soybean peeling machine, screening machine, cooker, screw oil press machine and oil filter press.
Soybean is a well-known source of rich protein and edible oil; and sometimes used as an animal feed (after industrial processing). It is a maior solution for the hunger experienced by many people in different parts of the world. But the utilization of soybean is not very developed because of insufficient technology and know-how on the extraction of oil from soybean. This has been a major setback in utilizing the full benefits and maybe finding more benefits of soybean oil.
---
Soybean Oil Extraction
The extraction methods of soybean oil are split into two broad categories: physical oil pressing and chemical oil extraction. The physical form of extraction include; pressing or squeezing by hand, using mechanical equipment like hydraulic pressing and the mechanical screw press and the extrusion cooker. Chemical extraction (solvent extraction) involves using a solvent after mechanically grounding the soybeans. Although chemical extraction is the most efficient with an output of almost 98%, it is not affordable. Therefore, the soybean oil mill machine is the best option for all farmers. When combined with the chemical extraction, the out-put is outstanding.
Soybean Oil Press Machine for Sale
This soybean oil press is designed to maximize output while reducing the input costs. It is designed to run continuously, hence higher production of oil by avoiding unstable feeding of material during manual loading.


Multifunction Soybean Oil Press Machine (oil pressing and filtering)
It is also made in a way that it can also be used to extract oil from other seeds like groundnuts, sunflower, cottonseed, castor seed, corn gem and many others; therefore a farmer that grows the other oil producing seeds other than soybean will be able to use the screw press to extract oil from the other seeds. (Read more: groundnut oil processing line>>)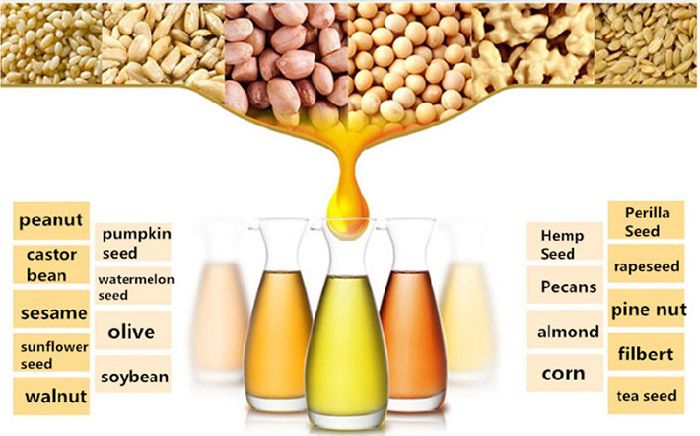 Expeller Pressed Seed Oil
The screw press machine is also designed to use minimal power and produce less noise. The machine is also safer as it does not predispose the handler to extreme heat and is less prone to accidents. The machine consumes less space and the labor needed is also not out of reach.
How Does the Soybean Oil Press Machine Work?
For the soybeans there is hot or cold pressing. In both cases the seeds are first picked (husks separated from the seeds) in hot pressing, after selecting the seeds, water is then added to soften the material, then the seeds are steamed after which they are ready for pressing. In cold pressing, after picking, the seeds are directly taken for pressing. The screw is rotated by an electric motor to crush the beans. After this step if only it was crude oil required, it is enough, but if it is pure refined oil that was required, you will need additional oil refining machinery to produce cooking oil and meal (used as animal feed or sometimes as a fertilizer due to the high nitrate content).
Feel free to contact us for detailed information about our soybean oil presses and customized solution for complete processing line including oil extraction and refinery (info@abcmach.com). We are always at your services!

Mini Soybean Oil Pressing Plant


Mini Soybean Oil Refinery Machine
The soybean oil can be used for cooking, making ink (act as a base) and making oil paints, manufacturing margarine, and in making some drugs. The exudes from its manufacture are converted to animal feed. Hence soybean oil press machine also reduces soybean processing wastage.
Hi, I need soyabean meal machine, I will send the sample of soyabean meal.
Hi, Thanks for your enquiry.Do you want to make soybean meal or extract oil from soybean meal, pls clarify clearly. Besides, what's your processing capacity per day?
Dear Sirs, A few years ago we`d contacted you to quote extruders and press for soybean. We would like to know costs for a full plant to process 1000 kg/hour of soybean. This should include an Extruder and Press/es. Hoping to hear from you soon.
Hi, Tks for your enquiry, as for your requests, i made a simple processing flowchart. One extruder and three oil press is included in the drawings, and the capacity could be 30TPD. Pls confirm it's exactly what you're looking for.
As for the extruder, could you kindly inform us do you have steam boiler yourself or not? Because there's two kinds of boiler for your choice, wet method extruder and dry method extruder. The fomer one need steam for cooking. We appreciate it if you could provide us more info, such as what do you have already, and your specific requests.