Soybean Peeling Machine, Soya Peeling Line for Sale
Soybean peeling/hulling can effectively increase oil extraction capacity, reduce residual oil in soybean meal. The husk content of soybean is generally 5%~8%. However, the oil content of the peel is less than 1%. Leave the soy hulls in oil seed processing wastes space of oil press machine. To improve the oil yield and reduce energy consumption of oil plant, it is necessary to removing the hulls before pressing or extracting, by means of soybean peeling line or section.
Yes! I am Interested!
Ask for Price
Details:
| Model | Power | Capacity | Weight | Size |
| --- | --- | --- | --- | --- |
| FTP500 | 18.5kw | Hulling beans 1000kg/h | 550kg | 1600*800*1800mm |
| FTP150 | 11kw | Hulling beans 500-700kg/h | 400kg | 1350*700*1800mm |
| FTP1000 | 30kw | Hulling beans 2000-2500kg/h | 800kg | 2100*1000*2000mm |
Soybean Peeling Section (Hulling System)
In this proposal, advanced twice de-hulling technology is adopted. After being cracked first time by the teeth-roller crackers, the cracked soybean passes through the first course air classifiers. The cracked soybean hull will be sucked out from soybean kernel and collected by cyclone. Then the soybean is cracked again by the teeth-roller crackers, and air classified again by second course air classifiers. Mixture of soybean hull and small-size kernel is screened by flat rotary sieve. Soybean hull on the screen will be sent to be milled by Mill, and then stored temporarily in Hull Bin. Twice de-hulling process can remove soybean hull over 85%, it can assure the final by-product, Soya Meal, contains high protein. According different customers' requests in Soya Meal, e.g. some customers want Soya Meal with low protein content; add proper quantity of soybean hull into the meal to produce meal meeting various requirements of protein content of meal. The separated soybean kernel under the screen is sent to Flake Roller to be flaked.
Types of Soya Peeling/Hulling Line
Soya peeling technique generally can be divided into cold dehulling, warm dehulling and hot dehulling.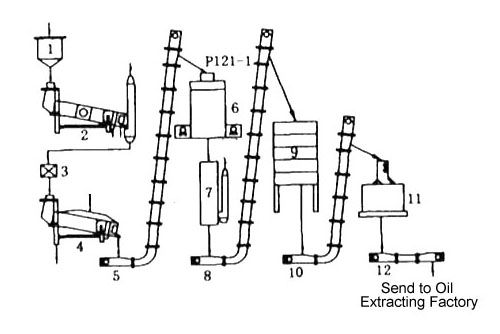 Soya Cold Dehulling / Peeling Production
1. Storage Silo 2. Cleaning Sieve 3. Magnetic Selector 4. De-stoner 5.Conveyor 6.Crusher 7. Peeling Machine 8. Conveyor 9. Conditioner 10.Conveyor 11.Flaking Machine 12.Conveyor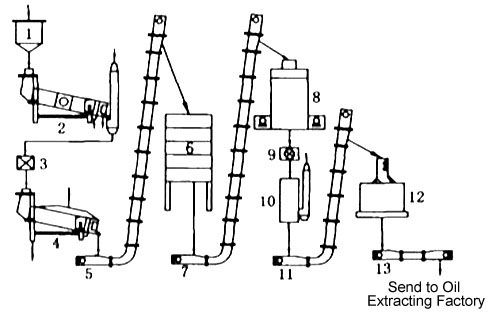 Soya Hot Dehulling / Peeling Production
1. Storage Silo 2. Cleaning Sieve 3. Magnetic Selector 4. De-stoner 5.Conveyor 6.Conditioner 7.Conveyor 8.Crusher 9.Striking Detacher 10.Hulling Machine 11. Conveyor 12.Flaking Machine 13.Conveyor