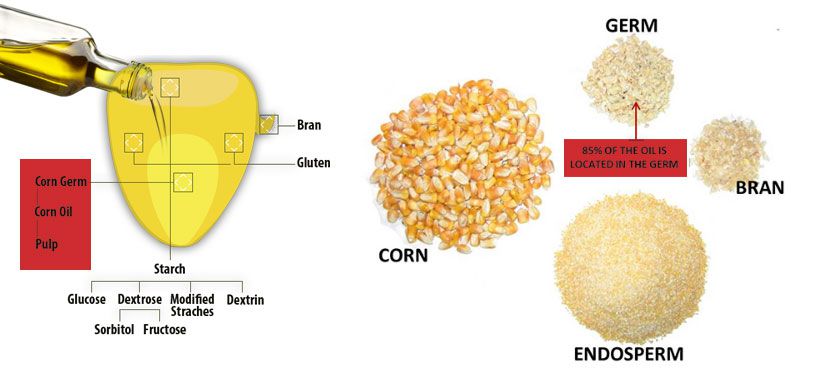 Corn Oil Extraction System
Corn germ is a good oil-bearing material in edible oil industry. With the development of corn processing industry such as starch, starch sugar and alcohol in recent years, corn germ oil has increased rapidly in the international market and has become one of the main edible vegetable oil varieties in the world. The main methods to extract oil from corn or maize germ: Screw pressing and solvent extraction.
"Screw Oil Pressing / Expelling" is the most used in small to medium scale corn oil manufacturing process. (At present, most corn oil companies or factories use screw pressing process, the oil yield is around 70%.)
"Prepressing and Solvent Extraction" is more suitable for industrial complete corn oil mill plant. (For large oil mills adopting solvent extraction technology, the corn germ oil extraction rate can reach 98%.)
Screw Corn Oil Pressing Machine (complete set)
Pretreatment and Mechanical Pressing: Screw oil press is generally used. To ensure high oil yield, the pressure of the oil expeller press should be above 69 MPa. After oil pressing, the residual oil in the cake is about 6% ~ 7%, and the water content of oilcake is 3%~4%. For the sake of safety, the water content of the finished cake should be adjusted to about 12%.

Complete Set of Corn Oil Machine for Small Scale Corn Oil Processing Plant

Process Flow: Maize Germ → Screening (sieving machine) → Cooking (Roaster) → Oil Expelling (Corn Oil Press Machine) → Filtering (Filter Press) → Refining (Refinery Machine) → Corn Germ Oil
If you are new for corn oil production and just want to start a small scale corn oil manufacturing business with low cost for trail. This equipment set is the best choice for setting up a small scale oil extraction plant.

This set of oil making machine is based on fully mechanical oil pressing process. It connect each essential corn oil processing machines together to achieve high oil efficiently and low production cost. It requires smaller investment, less labor and fewer land space, but has the complete function of the oil mill plant. Only 2~3 worker is needed to operate the whole oil production line. Welcome inquire for latest price whenever you feel interested in this series of corn oil making machine!
Complete Corn Oil Processing Projects
ABC Machinery, committed to the R&D and manufacturing of edible oil processing equipment, offering oilseeds pretreatment equipment, oil milling machinery, solvent oil extraction equipment and oil refining equipment. View the following photos about complete corn oil processing plant for reference. (Related article: How to Start a Complete Corn Oil Production Plant?)

Industrial Oil Mill Plant under Construction



Complete Oil Processing Factory Layout
High-quality oil machine, and best service.
Advanced designing and manufacturing technology
Offer customized project plan for each clients, including factory layout design, equipment manufacturing, installation and debugging, and operation training.
If you are interested to get more details of setting up corn germ oil extraction plant or have any questions about maize germ extraction and how to make cooking oil from corn, don't hesitate to tell us your needs and requirements! Our service team will help you make the most suitable business plan with detailed equipment list and reasonable price!
Pre-pressing & Solvent Extraction Corn Oil Making Plant (turnkey project)
At present, most corn oil companies or factories use screw pressing process, the oil yield is around 65%~70%, while for large oil mills adopting solvent extraction technology, the corn germ oil extraction rate can reach 98%.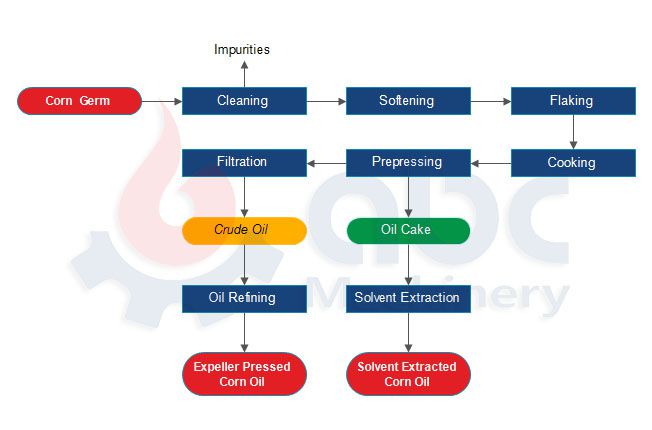 Complete Corn Oil Extraction Process (Solvent Extraction)
Pretreatment: Drying and Flaking
The water content of maize germ should be controlled in proper range in advance to meet the requirement of pre-pressing and oil extraction processes. It is also conducive to the flaking process and create favorable conditions for reducing the residual oil in meals. The moisture of corn germ after drying should be 10%~11%. The thickness of corn germ after flaking should be controlled between 0.35mm and 0.45mm.
Steaming, Prepressing and Cooling
These can further change the internal and external structure of the corn germ, making the protein solidification, reduce the resistance of oil molecule diffusion and adjust the water and temperature of the germ to be extracted.
Solvent Extraction, Desolvation, Evaporation, Stripping and Solvent Recovery
The process flow of solvent extraction can be divided into: Oil extraction stage, desolventizing and drying of wet meal, evaporation and stripping of mixed oil, condensation and cooling of solvent vapor, recovery of solvent.


Solvent Oil Extractor
The oilcakes obtained after pre-pressing are sent into the solvent oil extraction machine by conveying equipment. And the crude solvent extracted oil and wet meal are obtained after desolventizing. The extracted crude oil should be degummed, deacidified, decolorized and deodorized by corn oil refinery plant to obtain healthy corn oil in accordance with international standards. The main solvent extraction equipment includes rotary extractor, ring extractor, belt extractor and drag-chain extractor. It can also be divided into batch extraction machine and continuous extraction machine.

This process is suitable for large scale corn oil milling factory. After pre-pressing in screw oil expeller, the produced corn germ oil cakes will then be crushed and pressed into embryo flakes, and then oil is extracted in oil extractor with organic solvent such as n-hexane. Finally, the solvent in oil is removed by heating and stripping method. The oil production process of maize germ is similar to that of rice bran. Also must pay attention to reasonable storage, embryo processing, oil extraction and dewaxing of crude oil.
Corn Oil Production Market

The global corn oil market is unique in several ways. Corn oil is relatively cheaper than majority of other variety of vegetable oils. Corn agronomists have produced high varieties of corn oil, but the low field yields of corn oil relative to its size have limited the universal demand of these varieties by growers.
TOP10 Corn Production Countries (1000 MT per year)
United States
347,006
China
254,000
Brazil
101,000
EU-27
64,560
Argentina
50,000
Ukraine
35,500
India
29,000
Mexico
25,000
Canada
14,000
Russian Federation
14,000
Corn oil is an important product in various industries besides its general use in cooking. These industries include the transport sector where corn oil is uses as a feedstock in the manufacture of biodiesel. Other industrial application of corn oil includes salve, rustproofing for metallic surfaces, soap, nitroglycerin, inks, insecticides, and textiles. Corn oil is also occasionally utilized as a drug molecule carrier in preparations of pharmaceuticals. Except the type of corn used to produce corn oil, the price of corn oil and its demand in the global market is highly dependent on the efficiency of corn oil extraction machine as well as the solvent used for making corn oil.
Corn / Maize Germ Extraction Technology
There are two main technologies of corn degermination: one is dry type and the other is wet type.
Dry Degermination

: The oil yield of corn germ is about 20% ~25%, and the oil yield accounts for 3. 5% ~ 4.0% of corn.
The dry method is characterized by low purity and high content of starch and seed coat impurities. It is important to remove the starch and impurities through screening machine, otherwise it will greatly affect the oil yield of screw pressing and solvent extraction plant.
Wet Degermination

: The oil yield of corn germ is about 40% ~ 45%, and the oil yield accounts for 4.0%~ 4.5% of corn.
The wet separation method is featured of intact, high purity. The oil content of the dry basis is up to 44% ~ 50%. The high oil content is because the sugar, starch and protein in the germ are partially dissolved and discharged with the water during the soaking process. However, the produced wet germ must be dried and dehydrated immediately before it can be stored and pressed. Otherwise, it is easy to promote the activation and decomposition of lipidase, resulting in oil rancidity, increased acid value, dark color, poor quality of oil, and increased refining loss.
I want to buy complete corn oil plant. please guide me its price
Pls confirm whether your raw meterial is maize or maize germ, you know only the maize germ can be used to extracted oil, if you press maize directly, you won't get the oil but corn pieces. we will send you the difference between them, details pls check attachment.

So if your raw material is the maize germ, pls tell me the capacity you need then I will recommend you the suitable machines.
Dear i want to press maize or corn seed to produced maize oil and maize cake.
Pls allow us to explain one thing to you, in China there is no such oil pressing can press mazie directly to get the corn oil. Most of the oil is in the maize germ, if you want to get corn oil you have to press the maize germ not the maize or maize seed. You know the maize germ is the part of the maize, if you press maize directly, you can't get maize oil but the piece of the miaze. So if you want to get the maize oil, I recommend you to buy the maize germ from the maize flour plant, generally the sell the maize germ.

Most of our customers who order the oil pressing to get the corn oil have their own maize flour plant, they separate the maize germ from the maize, then the maize germ will be used to press oil and others is the maize flour. And other customers buy the maize germ directly from the maize flour plant to press.

So you can choose the two terms as per your need. Hope our interpretation is help to you. Any questions pls contact us freely.