If you are new for corn oil production and just want to start a small scale corn oil pressing business with low cost for trail. Here is some tips for setting up a mini oil pressing line.
Corn germ is a good oil-bearing material in oil industry. With the development of corn deep processing industry such as starch, starch sugar and alcohol in recent years, corn germ oil has increased rapidly in the international market and has become one of the main edible vegetable oil varieties in the world. Corn oil is produced by corn oil machine.
Corn Oil Machine for Small Oil Pressing Business
For most of the small scale corn processing plant, wine processing plants and starch factory, screw pressing or squeezing is the most used oil manufacturing method, while prepressing, extrusion and solvent extraction is suitable for medium to large scale corn processing plant.

Corn Oil Machine for Sale
This oil extraction unit is fully mechanical driven. It connect each essential corn oil machines together to extract high quality corn oil efficiently. Small oil pressing business requires smaller investment, less labor and fewer land space, but has the complete function of the oil mill plant. Only 2~3 worker is needed to operate the whole line. Welcome inquire for latest price whenever you feel interested in this series of corn oil machine!
(Related article: How to Start a Complete Corn Oil Production Line?)

Corn Degerming Process
There are two main technologies of corn degermination: one is dry type and the other is wet type.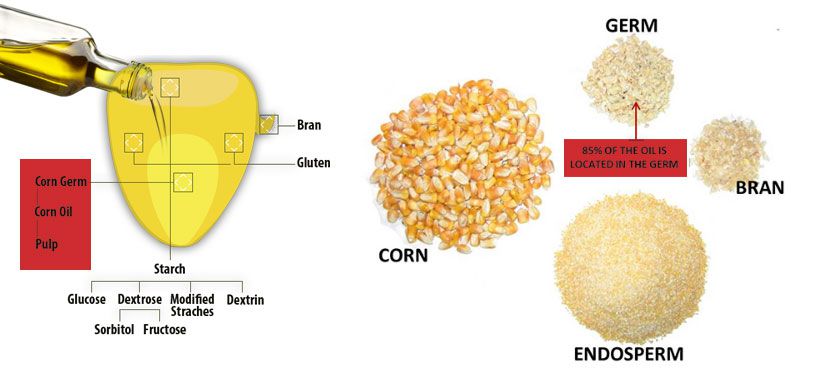 Dry Degermination: The oil yield of corn germ is about 20% ~25%, and the oil yield accounts for 3. 5% ~ 4.0% of corn.
The dry method is characterized by low purity and high content of starch and seed coat impurities. It is important to remove the starch and impurities through screening machine, otherwise it will greatly affect the oil yield of screw pressing and solvent extraction plant.

Wet Degermination: The oil yield of corn germ is about 40% ~ 45%, and the oil yield accounts for 4.0%~ 4.5% of corn.
The wet separation method is featured of intact, high purity. The oil content of the dry basis is up to 44% ~ 50%. The high oil content is because the sugar, starch and protein in the germ are partially dissolved and discharged with the water during the soaking process. However, the produced wet germ must be dried and dehydrated immediately before it can be stored and pressed. Otherwise, it is easy to promote the activation and decomposition of lipidase, resulting in oil rancidity, increased acid value, dark color, poor quality of oil, and increased refining loss.
Corn Oil Production Process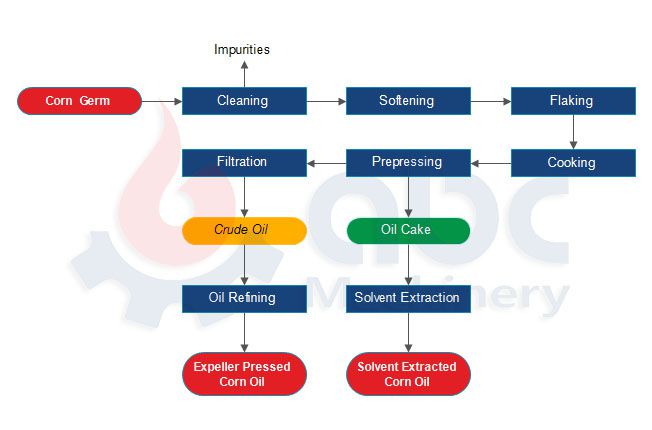 Process of Complete Corn Germ Oil Mill Plant
oil seeds dehulling machine
). The resulting cake is subsequently wet milled by steeping it in sulphur dioxide acidified water to separate the seed's ingredients.
screw press
that produces as much as 50% of the germ oil. The remainder oil is recovered from the press cake by using a solvent to dissolve and distill it.
Solvent Extraction Machine
for sale)
Crude corn oil is separated from the pressed cake using a filter and then degummed (Oil Refinery Plant). The corn oil filtrate is then bleached using clay activated through acid wash to eliminate any metals found in clay. A bushel of corn on average comprises 1.55 pounds of corn oil that accounts for 2.8 percent of its weight.

Small Corn Oil Processing Projects


Successful Small Corn Oil Mill Plant
Besides the type of corn used to produce corn oil, the price of corn oil and its demand in the global market is highly dependent on the efficiency of corn oil machine as well as the solvent used in the production process. If you are interested in starting corn oil business, don't hesitate to tell us your oil manufacturing needs! We will be glad to help you make the most suitable business plan with detailed equipment list and reasonable price!

World market - Industrial uses of Corn Oil

The global corn oil market is unique in several ways. Corn oil is relatively cheaper than majority of other variety of vegetable oils. Corn agronomists have produced high varieties of corn oil, but the low field yields of corn oil relative to its size have limited the universal demand of these varieties by growers. Corn oil is an important product in various industries besides its general use in cooking. These industries include the transport sector where corn oil is uses as a feedstock in the manufacture of biodiesel. Other industrial application of corn oil includes salve, rustproofing for metallic surfaces, soap, nitroglycerin, inks, insecticides, and textiles. Corn oil is also occasionally utilized as a drug molecule carrier in preparations of pharmaceuticals.
I want to buy complete corn oil plant. please guide me its price
Pls confirm whether your raw meterial is maize or maize germ, you know only the maize germ can be used to extracted oil, if you press maize directly, you won't get the oil but corn pieces. we will send you the difference between them, details pls check attachment.

So if your raw material is the maize germ, pls tell me the capacity you need then I will recommend you the suitable machines.
Dear i want to press maize or corn seed to produced maize oil and maize cake.
Pls allow us to explain one thing to you, in China there is no such oil pressing can press mazie directly to get the corn oil. Most of the oil is in the maize germ, if you want to get corn oil you have to press the maize germ not the maize or maize seed. You know the maize germ is the part of the maize, if you press maize directly, you can't get maize oil but the piece of the miaze. So if you want to get the maize oil, I recommend you to buy the maize germ from the maize flour plant, generally the sell the maize germ.

Most of our customers who order the oil pressing to get the corn oil have their own maize flour plant, they separate the maize germ from the maize, then the maize germ will be used to press oil and others is the maize flour. And other customers buy the maize germ directly from the maize flour plant to press.

So you can choose the two terms as per your need. Hope our interpretation is help to you. Any questions pls contact us freely.