As an expert in cooking oil processing equipment and full scale production line, ABC Machinery is your reliable choice for starting corn oil processing business. We can offer both mini scale, small scale, medium scale and large industrail scale oil production plant. We are highly advanced company located in High Technology Industrialization Zone in Henan, China, which is convenient for the transportation and geographical location.
We are have built a comprehensive business pattern which includes:
Turnkey Vegetable Oil Processing Solutions with Customized Business Plan.
Equipment Designing and Manufacturing.
Factory Layout Design.
Oil Mill Plant Installation and Commissioning.
Technical Training and All Around After Services.
If you are planning for setting up a corn germ oil mill plant, don't be hesitate to let us know about your oil making needs!

---
The Corn oil processing always starts with the Germ. The Germ is a part the corn plant called an embryo, which is recognizably different from the usual nutrients found in the endosperm. The endosperm is a tissue which is produced inside the seed of the plant. It protects the embryo and gives it nutrition. The amount of oil present in the gem is around 85 percent of all the oil found in the seed.
Set Up A Small Scale Corn Oil Production Line
Corn Oil Production can be done on a small scale there are machinery and equipment that is easy to put together, to process the corn to get a considerable amount of oil output. This means the corn oil production on a small scale will only take up to 3 people to operate the entire line. Using this production on a smaller scale allow reduced labour and low cost to operate. (Related article: Mini Vegetable Oil Processing Plant)


Corn Oil Processing FlowChart
Corn Oill Proudction
There are a few steps in the corn oil production line. Firstly, before enter the oil extraction process, the corn kernels have to be dehulled, which is removing the chaff off the seed, then the corn kernels will be crushed to break apart the cell walls. After the crushing have take place it has to be soaked in acidic water with sulphur dioxide, which is a colourless gas, doing this makes the germ to separate from the seed.After colleting the corn germs, the next part in corn oil production line is for the corn germ to be boiled off and filtered. During this process the steam is only produced at a small volume of around 3 percent of the oil, it is then absorbed by other gums or lecithin. (Lecithin is a fat that is essential for the body). After absorbing has taken place, the corn becomes dense enough to be removed a centrifugation process. If alkali degumming process is used, the corn ends up in clay form and sold as soap. Another step in the corn oil production is that the corn oil is now bleached and the clay has been initiated with a type of acid to remove any metals. The clay then absorbs the color pigment, the metal ions and residual soap products from the oil. The clay can then separate the oil by filtration. (Related article: Cooking Oil Refining Plant)
Small Corn Oil Processing Machine Features
In today's market, screw oil press machine is the most widely used small corn oil production machine. Compared to large scale or solvent oil extraction machine. It has many outstanding features for many investors, especially small scale business owners or startups.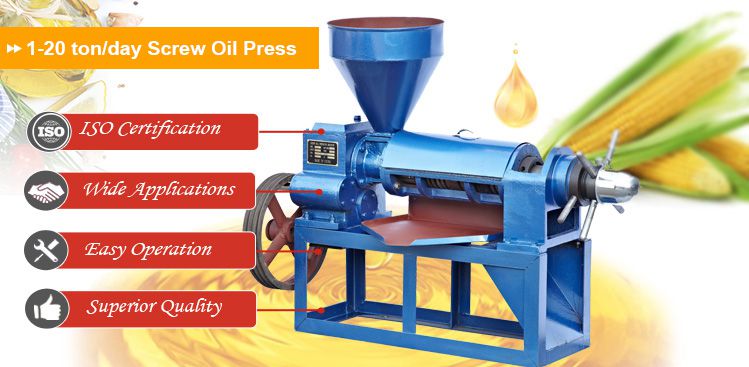 It not only suitable for corn germ, but also other oil-bearing seeds, including soybean, sunflower seeds, peanut, rapeseed, black seed and more.
Its compact design and small size makes small corn oil machine suitable for individual oil making workshop, small oil production plant and more.
It provides maximized oil output compared to the counterpart corn oil extraction machine.
It requires low investment, all of the corn oil machine we supplied is at factory low price.
It requires less maintenance, simple operation.
Market of Corn Oil Production

The country that was accounted for the share of the global corn market in 2015 was North America, and it will more than likely that would hold that position for these coming years. Grown in Canada, it is one of their most valuable crops to produce, and it is grown on a large scale. Corn oil growth and high demand covers the entire globe, through Asia Pacific, Europe, Latin America and Middle East Africa. The world of the corn oil market was separated into a few different areas, which is cooking oil, paint, also used for making soap amongst other things. The biggest share noted for the corn market, globally was biodiesel which looks to hold its place in the years to come. Being the healthiest oil to use, it stays in high demand.
If you are interested in run a company about corn oil processing (screw pressing or solvent extraction), don't hesitate to tell us your needs and requipments! We will be glad to offer you the best customized business plan for you!
We are planning of starting a new business and corn oil extraction is one business that came to our mind. If you can help us on understanding what investment is required for small scale, medium scale plant. Request to send details. Pls. Let me know to which contact number I can reach out.
No problem. Will send you all detals and price. But there has some points needs to be clarified.

1: The capacity?
2: You wanna get final oil which can be sold to supermarket directly or just use press machine to extract the oil?
3: Pls confirm you material is: Corn Germ.

Send you a brochure for your reference. Pls check your email attachment.
i have plane to invest in my contry in ethiopia corn oil camponey so i like to know how much it cost me the machine and please explain how many littre from 100 kg corn.
It is good chance to invest oil plant in Ethiopia.
Regarding to Corn Oil, 100kgs Corn ---5-8% Corn Germ----40-50% Corn Germ Oil, with mechanical press, the residual oil is 5-9%, It means we can extract 20kgs Corn Germ oil from 100kgs Corn.
Please inform us how many kgs Corn Germ you want to process. then we can the right machine and exact cost for you.
I need up to 50000 kg a day corn oil production line.how much space I need? and please email to me the picture.if I can I want to buy the all processes like packing.thank you
The 50000 kg capacity is no problem. Following is some information needs to be clarified:

1: The dirty percentage?----Will match the cleaning sieve according dirty percentage.
2: The moisture?----Will match the cooking system according moisture.
3: The oil content?----Will match the suitbal oil press machine accorind this point.
Tell me 1.how much does it cost to get one machine 2.how many kgs maize will produce 1lt o f corn 3. On avarage 1lt o3 corn oil wil be sold at what price 4.how can corn be used. (Tanzania)
Thanks for your attention to our product. Following is the answers for your question:

1: The price: Could you tell me the capacity?
2: The material: I should clarify one point: Only corn germ can get oil. The corn germ is 8% of the corn. So you wanna collect from others or?
3: The oil price depends on your local market.
4: The corn? It can made into flour. then use the conr germ extraction machine to take the corn germ out. So how many corn you have? You have corn flour factory?

Any questions, feel free to email us (info@abcmach.com).