This soybean and peanut oil producing equipment set is designed for one of our customer in Togo, daily consumption of 10 tons of raw materials and produce 3 tons of refined oil. (Related Project: 150 tons/day sunflower oil manufacturing line in Russia)
Soybean / Peanut Oil Producing Equipment Photos
Technology flow chart of oil pressing equipment:
Groundnut (peanut) → Dehulling → Cleaning → Flaking → Frying → Pressing → Filtring → Crude oil

Soybean → Cleaning → Flaking → Frying → Pressing → Filtring→ Crude oil
Related Product:
YZS-120 Peanut / Sunflower Seed Oil Expeller (6 ton/day) >>
Technology Flow Chart of Refining system:
Crude Oil → Fegumming → Dewater → Decolor → Deacid → De-odorizing → Fine Filetring → Refined Oil → Oil Filling / Bottling → Final Product
Firstly the raw materials are send to destoner by elevator to remove large impurities, then send to screen sieve by screw conveyor to remove light impurities such as bean shell. The materials will then go through magnetic selector to remove iron impurities. Then, after crushing and flaking, the materials will be distributed to 3 set of oil press. The expelled oil will be send to filter press and then go through refining process, and the oil cakes are collected.

Test Run of the Oil Mill Plant
After finished construction, test run was arranged to adjust each equipment to the best condition. Then, there is a Technical Training for our client and the main workers in the oil mill to ensure the smooth running of his factory.
This oil production line is equipped with a small oil filling line. The filling line is full automatic with PLC control system. The refined oil can be finally packed in bottles with customized label. (Related Article: How to Start a Sunflower Oil Processing Plant?)
Peanut / Soybean Oil Mill Plant Project Running Video
View the oil mill plant running video below to know more about the equipment layout and factory design. You are also welcome to contact us for detailed project report and customized project plan.
Small Scale Soybean / Peanut Oil Making Process
Filtering oil: Filtering the crude oil with oil-dreg sieves, which run reposefully, less malfunction, less occupying area, it's the better oil-dreg separator, then use oil filter.

Edible Oil Refining Process
If you are interested in starting a small scale edible oil refining factory with low investment, our mini oil refining plant unit is what you need!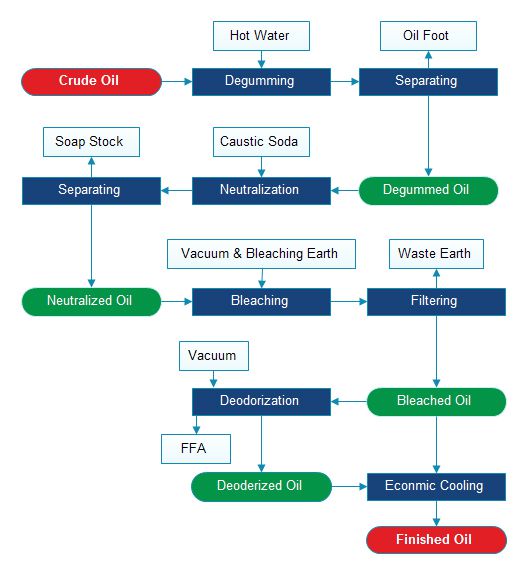 Degumming: The technology is adopt the continuously working by disc centrifuge. This technology is according to the difference of variety of crude oil and quality to adjust the processing chart (Physical refinery and chemical refinery is both OK). This stage is including the Acid refining, alkali refining, washing, drying etc. Adopt the vacuum drying for drying alkali refining oil. The oil and water( Alkali liquid) will finish the react at the best time and mixing. All the working under the pressure except the drying that this way can prevent the oil inlet and avoid the oxidation. This technology suitable for all the vegetable oil except the castor oil and fish oil etc other animal fat. (Click here to get more details of our oil refining plant.)
Deodorizing Section: Via Heater, Heat Exchanger, and Heater, the standard oil is heated to process temperature (240-260). Subsequently pump the oil to Combined Deodorizer. The Combined Deodorizer is combined type: the upper layers are packed type to remove odorizing components such as free fatty acid; the bottom layers are plate type to get effect of hot bleaching. Peroxide value in oil is reduced to almost zero. Oil from the Deodorizer enters into the condenser to recover most of the heat and makes further heat exchange. Finally the oil is cooled to 80-85℃ by Cooler. Volatile from the deodorizing system is separated by FFA Catcher. The separated liquid is FFA at 40-50.