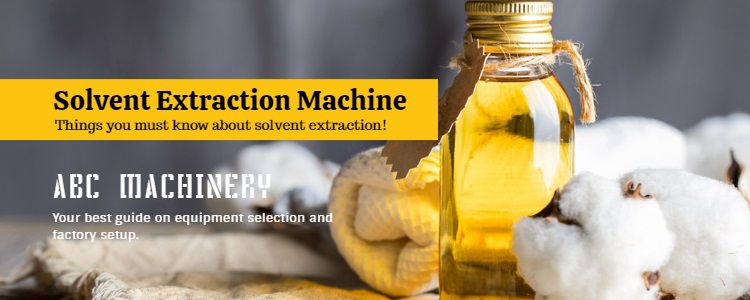 Guide You on Starting Cottonseed Oil Processing Business
Why Add Solvent Extraction Equipment?
Improve the Economic Benefits of your Oil Mill Plant: To extract more oil from the cotton seed cake, soybean seed cake etc., (After extracting, the oil content in cotton seed meal can reach to 1%. ) Normally, after mechanical oil pressing process, the oil content in oil cake is around 8-13%, through our solvent extracting equipment, you can get about 7% more oil. And this modulator is suit for these customer:
Who has less quantity oil cakes per day.
Who want to start this business in small investment.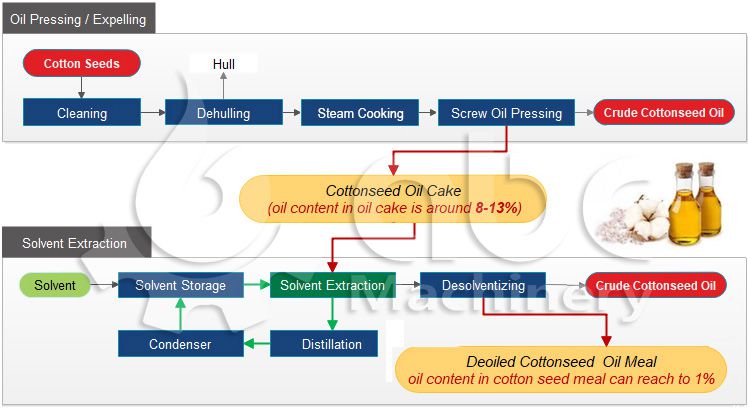 How to Improve the Oil Extraction Rate of Your Oil Mill Plant?
Pre-pressing & Solvent Extraction Process Design (The Lowest Residual Oil Rate)
If you are looking for cotton seed oil machine (hexane solvent extracting), mini cotton seed oil extraction plant, or small complete oil extraction unit for other oilseeds. Tank Group Solvent Oil Extractor supplied by ABC Machinery should be your first choice. Supplied directly from factory —— Top Quality, BEST Price!

Small Complete Solvent Extraction Machine Set for Sale at Factory Price
Our Tank Oil Extractor or is a complete set of mini organic solvent extraction plant, suitable for cottonseed, peanut, rapeseed, sesame and many other kinds of vegetable seeds & nuts. It is also known as Pot Group Extraction Unit or Tank Group Oil Extraction Machine. (You maybe also interested in how to start groundnut oil business? )
Production Output: 500kg ~20ton/day (Batch Extraction Process)
Application: It is widely used to extract more oil from the cotton seed cake, soybean seed cake etc. (the residual oil ratio in final oil meal can reach to 1%)

Normally, after oil pressing or expelling process, the oil content in oil cake is around 8-13%, through this equipment, customer can get about 7% more oil. And this modulator is suit for the customer who has less quantity oil cakes per day, or who want to start this business in small investment.
The following is a Reference Table for Selection of Tank Group Oil Extraction Machine:
Project Investment and Equipment Selection (References)

Production Output (ton/day)
Equipment / Project
Estimated Investment (USD)
Notes
< 2 ton/day
20,000~40,000
The equipment material:
A: Stainless Steel
B: carbon Steel
2~10 ton/day
30,000~80,000
The equipment material:
A: Stainless Steel
B: carbon Steel
10~20 ton/day
50,000~100,000

The equipment material:

Carbon Steel

> 20 ton/day
>100,000
Rotocel Extractor is suggested >>

Solvent Oil Extraction Process Introduction


Process Flow and Factory Layout Design of Small Oil Extraction Plant (Tank-group Extractor)
Process Flow Chart of Small Scale Solvent Extraction Plant:
Feeding (Pre-pressed Oil Cake) → Solvent Extracting (hexane) → Pressing → Desolventizing (steaming) → Crude Oil and Desolventized Oil Meal
The technological process of tank group oil extractor machine mainly includes feeding, extraction, pressing and desolventizing. It is widely used to process oil bearing materials with large powder size and poor solvent permeability, or for the extraction of special material components. (Related Post: Soybean Oil Extraction Plant Cost)
The quality of oil extraction machine / plant directly influences the key economic and technical indexes of the oil production business. It is necessary to buy the right equipment from a reliable solvent extraction machine supplier or manufacturer, so as to ensure the stability of your oil milling workshop, reduce the production cost and ensure the production safety.

Highlights of Tank Group Cotton Oil Machine / Plant
Small Investment, high return on investment

;
Simple structure,

easy to operate

;
Since each tank is a single batch extractor, you don't have to stop the whole production line for partial maintenance.

Less energy consumption

(the installed capacity of a 10 tons per day oil mill workshop is less than 20KW)

Wide application

: Suitable to process various oilseeds.

Low solvent consumption:

Low production cost.
Solvent Extraction Project Display - Oil Mill Plant Setup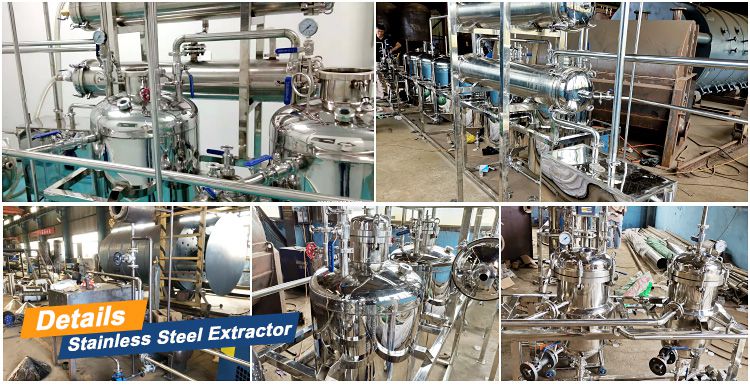 Mini Oil Extraction Plant for Pilot Production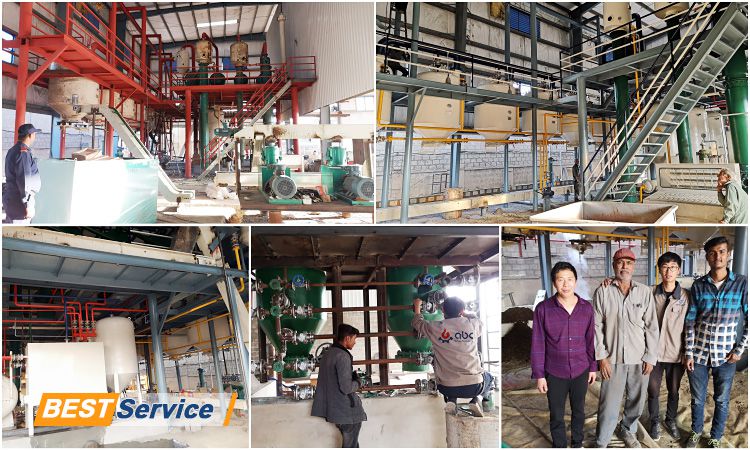 Complete Solvent Extraction Plant for Small Oil Mill Plant Business
Structure Introduction - Tank Group Small Oil Extraction Plant
Tank Group organic solvent extraction machine generally consists of three or more extracting tanks or pots. Each batch extractor is a cylindrical container with a feeding tube on the top and a meal outlet at the bottom. All the leaching tanks form a countercurrent oil extraction process.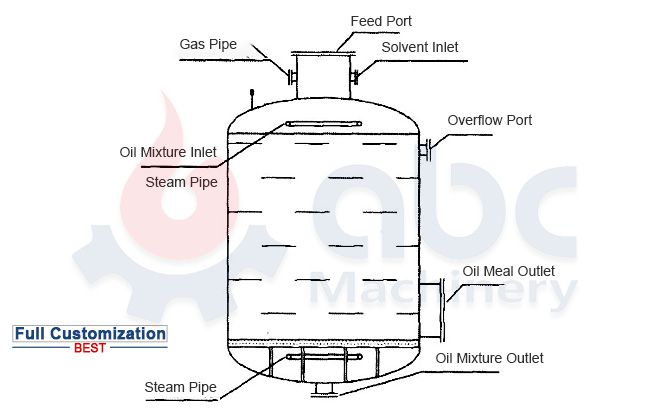 Principle of Hexane Solvent Extraction Machine / Plant
Solvent Extracting Process: Solvent extraction is one of the most advanced method for oil mills. Based on principle of similitude, using hexane as solvent, through soaking or spraying to contact with the oil cake and extract the oil out. The extracted oil is a mixture of oil and solvent, called mixed oil.
Desolventizing Process: Remove the solvent from the oil mixture and oil meal by evaporation, since the boiling point of oil and solvent is different. Then the solvent steam will be recycled through condensation for reuse. The content of wet oil meal can be reduced to less than 5%, and the steam consumption very low.
If you want to start edible oil factory, you maybe also need vegetable oil refinery plant >>
Tank Group Solvent Extraction Plant [Project Display]
View the video below to have a look at the onsite installation an commissioning of one of our oil processing project. Welcome to contact us for project details, equipment list, factory layout suggestions and investment cost discussion.
Global Market Overview of Cottonseed Oil Industry


CottonSeed Oil Processing Industry
After removing the lint from Unginned cotton, cotton-seed can be obtained. Cottonseed has a hard brown shell on the outside, and varies in shape and size from species to species. The oil content of cotton seed is up to 35%~45%. The protein content is about 39%.
Cotton seed oil can be generally divided into expeller-pressed oil, solvent extracted oil, crude oil and refined cottonseed oil. Cottonseed oil is dark red in color, and it is edible after refining. It contains a lot of essential fatty acids for human consumption, and it is also good to be mixed with animal fats.
Cottonseed Oil Industry & Global Trend
Now let's have a look at the cottonseed oil production industry and global trend. Cotton seed oil making is one of the HOT applications of cotton by-product. In 2019, the global cottonseed oil output was 4476 million tons, up by 3.8% compared with the same period last year, and the global volume of expeller-pressed cottonseed oil was 338,800 tons, an increase of 2.7% over the same period last year. Besides, the global import volume of cotton seed oil is 0.1 million tons and the global export volume is 0.11 million tons.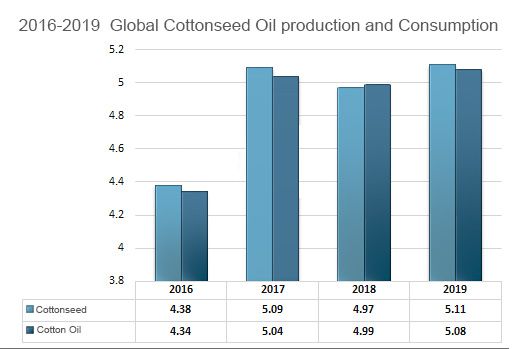 Cotton oil contain a large number of essential fatty acids for human body. The content of linoleic acid in cottonseed oil is particularly high, which can effectively inhibit the rise of cholesterol in blood and maintain human health.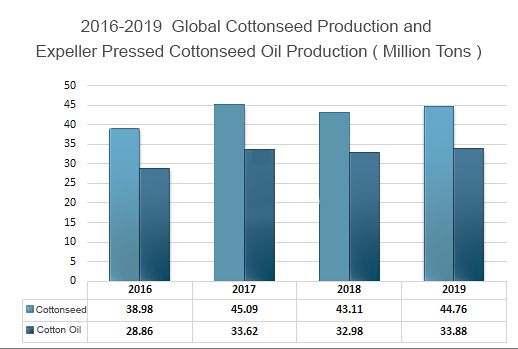 With the elimination of the negative perception of cottonseed oil (expeller pressed and solvent extracted), the introduction of a series of national policies to support domestic oil and the promotion of the grain and oil industry, cottonseed oil industry will surely have a good development prospect!
Global Distribution of Cotton Cultivation & Major Producer Countries
Uzbekistan, India, China, Pakistan are the major producer Countries of cotton crop, which totally accounts for almost 65% of global production, followed by Australia, Brazil, America, Turnkey, Burkina Faso, and Myanmar. From 2007 to 2020, Australia is the country with the most notable growth rate of cotton seed oil production.
Uzbekistan is also a major producer of cotton. The domestic cotton consumption is increasing each year with new investments. The Government of Uzbekistan actively encourage and promote cotton production for the export market. To support cotton producers, the Uzbek government provides subsidized fertilizers and seed, and almost free irrigation.