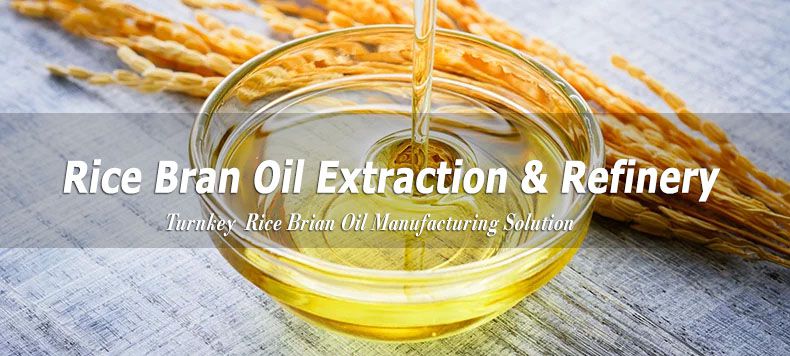 Offer Turnkey Rice Bran Oil Producing Solution
Rice bran is the main by-product of rice processing mill. Per 100kg rice can produce about 5-8kg rice bran. It is also a common kind of oil-bearing material. With the development of rice processing industry and oil extraction technology, setup rice bran oil factory is becoming a HOT project with great commercial value to invest in.
Offer Customized Rice Bran Oil Manufacturing Project Plan (3-100ton/day)
Are you interested in getting more about how to produce rice bran oil, or details on establishing rice bran oil processing plant in your country? The following are some photos of a 100TPD Complete Oil Extraction Plant we built for your reference!


100 ton/day Oil Mill Plant



Industrial Edible Oil Solvent Extraction Workshop



Industrial Oil Refining Workshop
ABC Machinery is here to help you! We supply customized A-to-Z solution of rice bran oil production, including project design, equipment manufacturing, onsite project onstruction & commissioning, and plant operation guidance. Whether you want to produce edible rice bran oil or manufacture non-edible rice bran oil, ABC Machinery will also offer the best turnkey project plan.
Establish of Rice Bran Oil Extraction Plant
How rice bran oil is made?​ How to start rice bran solvent extraction plant? A complete rice bran oil production line generally includes 3 sections: pre-processing, oil extracting, and oil refining.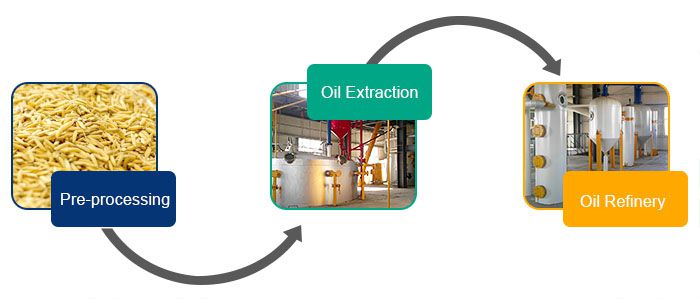 3 Main Section of Complete Rice Bran Oil Manufacturing Factory
Rice Bran Pre-pro​cessing
Pre-processing genrally includes the processes of screening and heating, set for making the rice bran well prepared for oil extraction, just like extraction of other oilseeds.
The purpose of heating is stabilize the rice bran materials. There are two methods of stabilization, chemicals or using heat. Heat method causes the enzymes inside the rice bran to deactivate in 100-120℃, which is done by heat injection or extrusive cooking. Stabilization is very crucial to remove the bacteria and enzymes that cause the rice bran to get spiteful and to lower the fat acid rate.
Rice Bran Oil Extraction Process
After specific preprocessing, the rice bran is fully stabilized and can be sent to oil extracting section. Screw oil pressing / expelling and solvent extraction are the two common plant oil making process. Which process should be choose then?
Screw Pressing: Suitable for mini or small scale oil production. (1-20ton/day production)
Solvent Extraction: To achieve higher oil yield and improve production efficiency, solvent is used in most industrial or commercial rice oil project. It is ideal choice for medium to large rice bran oil factory. (capacity can be up to 100ton/day). Clicke here to see details of solvent extraction machine >>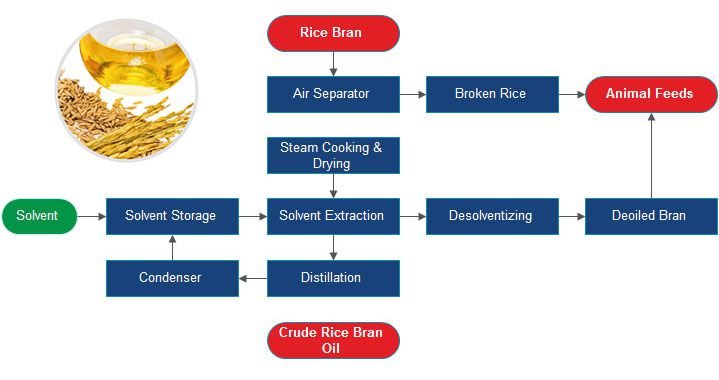 Rice Bran Oil Solvent Extraction Process
Extraction by using volatile solvent is the best way for mid and large scale oil mill. Then, the extracted bran rice oil is separated from the solvent through vaporization, the best solvent to use is ethanol. The remaining rice bran waste can be used as a fodder due to its high rate of carbohydrate and protein.
There are two outputs in this step: crude rice bran oils, and defatted rice bran meal.
Rice Bran Oil Refining Process
Basic oil refining steps: clay compound (dewaxing), phosphatides (degumming), fat acid (saponification), dye (bleaching) and scent (deodorization).


Refining of Crude Rice Bran Oil
Related Post: What are the main impurities in raw crude oil?
Refining process is set to remove the majority of free fatty acids and bran wax in crude oil, and make the oil suitable for different applications such as edible oil, biodiesel oil, food additives, etc. The crude rice bran oil will be degummed by enzymatic method, then deacidified and decolorized by enzymatic method. In some cases when processing dewaxed oil, de-waxing process is also included in oil refinery plant. Steam distillation is the last step of edible rice bran oil production. The purpose is to remove any off flavors and residual free fatty acids. In middle-large rice bran oil factory, refining plant is built to improve the quality of final oil. (Related Equipment: Small Scale Oil Refinery Machine)
In ABC Machinery, a lot of researches are done by refinery experts every time to determine the best and the cost effective plan based on each clients' situation and needs. Not only that, we are going to need to work on the best method to cut short the production time of rice bran oil, to produce the best quality rice bran oil without reducing its nutritions.
Package the final oil into bulk drums, food service pails or retail bottles.
Small Rice Bran Oil Manufacturing Unit


10TPD Rice Bran Small Oil Pressing Unit
This is a small rice bran oil pressing factory build in Thailand. The capacity of this small oil pressing unit is 5 Tones per Day (5TPD).
Prospect of Rice Bran Oil Production Business
Rice Bran Oil is a material that can be found in the outer layerlskin of a paddy seed, that can be obtained from screw pressing,milling or solvent extraction.
Rice Bran Oil Potential in World (Qty in Mnt)
Country
Rice Production
Rice Bran Potential
Rice Bran Oil Potential
China
142
11.36
1.7
India
105
9048
1.61
Indonesia
37
2.96
0.44
Bangladesh
36
2.88
0.43
Vietnam
28
2.24
0.34
Thailand
21
1.68
0.25
Myanmar
12
0.96
0.14
Philippines
12
0.96
0.14
Cambodia
5
0.4
0.06
Others
79
6.32
0.95
World Total
476
39.26
6.06
Average Recovery of Rice Bran Processing Industry (estimated for the world)
Rice to rice bran: 8% recovery
Rice bran to rice bran oil: 15% recovery
There's a lot of nutrition and benefits that we can get from consuming rice bran oil, whether its internal or external. Rice Bran Oil contains Vitamin E, Vitamin B, Protein, Antioxidant, Fat Acid, Collagen, Elastin, Oryzanol and Ferulic Acid. Antioxidant and vitamin E is very useful to maintain heart health, by decreasing bad cholesterol rate and preventing heart attack. Bio-active component such as oryzanol and ferulic acid is considered to be useful as a functional food supply materials. Other than that, there are still a lot more benefits that you can earn by consuming or using rice bran oil such as maintaning your immune system, help in weight loss, prevent cancer, relieve menopausal symptoms and improve skin health.
From those benefits, rice bran oil is used and manufactured into various products ranging from cooking oil, to cosmetics. One of the most commonly used cooking ingredients, it is considered as one of the most useful vegetable oil that offers many advantages over standard vegetable oil. Although it is categorized as "oil", rice bran oil is completely safe to be consumed by people with heart disease, diabetes, cholesterol and high blood pressure.
Please offer a complete turnkey rice bran oil extraction and packaging probject for between 100 to 200 tonnes per day of bran.
Could you confirm your capacity? Because the different capacity oil extraction plant the design is different. We need design it according your situation. You have the rice mill factory or you buy the rice bran form others?
I am thinking of installing a small 50 tonnes a day mill for processing paddy that we buy as barter for farm machinery services. In the location there is a huge number of small inefficient rice mills . I am thinking of buying in rice bran for processing. Something around 50 tonnes + bran a day is probably good to start but can it be expanded in modules.
The offer is send as email attachment for your reference. Please check! Any questions feel free to contact us. (info@abcmach.com)
i need to know price of rice bran oil extraction machine by capacity of 1 ton a day.
thanks
But The capacity 1 ton per dya is too small. Our smallest oil extraction plant is 10 tons per day.
You have the rice mill or you collect form others?
Could you think about enlarge the capacity?
Many thanks for your answer.
actually I'm thinkinng to start new bussines.
would you please send me price of 10 ton per day mill ?
if i want to start with smaller capacity , is it possible for you to make it ?how much is the price?
Glad to hear you wanna to start a new business. If so why not choose the 10 tons rice bran oil extraction plant. You know the rice bran oil content is very low and easy to change. So it's hard to get it out. The best way is extraction. And if the capacity is too small there is no profit.

Your question 10 ton per day mill? I think you are asking the 10 ton oil extraction, right? The probably FOB price is: 83,000 USD more or less.
Hope you can let me know your opinion and decision.

Before we have a customer same to you. At last he also choose enlarge the capacity. How about the rice bran? Is it difficult to get? If you cajn get enough material i think 10 tons is better.