If you are searching for sesame oil extraction machine for start your own sesame oil business, you are in the right place! We manufacture a wide range of oil extraction equipment including sesame oil extraction machine, filter press, seeds cleaner and oil machine spare parts. To ensure well operation and long service life, our machines are made of premium materials and are widely applied for the extraction of edible or cooking oil. Our vegetable seed oil extraction machines have high capacity.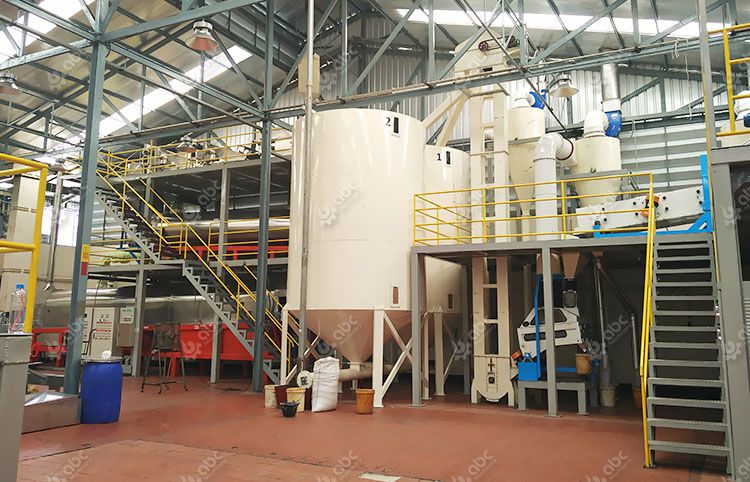 Small Scale Sesame Oil Extraction Plant / Production Line for Mini Vegetable Oil Mill
Sesame Oil Extraction Machine for Sale
Our YZS sesame oil extraction machines for sale is
screw driven oil press
which can be used to extract oil from vegetable seeds and nuts for edible purposes. It can process a wide range of oil materials such as
castor seeds
,
peanut
,
soybean
, hemp seed,
sunflower seeds
, jatropha seed,
sesame seed
, palm kernel,
cottonseed
, coconut,
corn germ
and so on.


Small Screw Oil Extraction Machine (Capacity: 1~20 Tonnes per hour)
Feel free to get in touch with us for detailed parameters!
---
Sesame Oil Extraction Process
There are three ways to extract oil from sesame seeds effectively through the use of sesame oil extraction machines depending on the desired flavor, texture and more importantly, the preservation of nutrients.
Cold-pressed Sesame Oil Extracting Process
Sesame oils produced using the cold-pressed extraction process contain the most natural form of the oil. With its faint and mild flavor, the oil's naturally high level of antioxidants are also best preserved, and the process's prosaic effect promotes better shelf life. Sesame oil extraction machines administer the precise amount of force to crush the seeds and apply a good amount of friction to heat the seeds naturally. The machine's expeller mechanism then keeps the oil at temperatures not higher than 120 degrees Fahrenheit which is why oils produced this way are called cold-pressed.
Hot-pressed Sesame Oil Extracting Process
The hot-pressed sesame oil is best known for consumers who want the oil with better flavor and a more fragrant aroma. Due to the heating process, the oil has a darker color, and overflows and foams when heated for cooking. This can be remedied, however, through filtering. Sesame oil extraction machines cook the seeds at perfect temperature to degenerate protein and create quality hot-pressed sesame oil with the best flavor. (Related machine: Sesame Oil Press Machine)
Solvent-extracted Sesame Oil Extracting Process
Sesame seeds which undergo this method are theoretically said to produce oils with the least nutrients because of the rigid refining process (eidble oil refinery plant). Some manufacturers further refine sesame oil through solvent extraction to improve the texture although consumers prefer buying the cold-pressed or hot-pressed varieties. Due to the low oil residual, sesame oil extraction machines maximize the extracted amount that manual techniques cannot do so.
Sesame oils are highly beneficial for the human body. They contain natural contents of nutrients that can improve health processes and they taste and smell great. However, due to the delicacy of sesame seeds towards the extraction process, manufactures employ the help of sesame oil extraction machines to prevent wastage of quality sesame oil and improve its supply so that a bigger market can enjoy the benefits of sesame oil.
Our Successful Projects of Small Oil Mill Plant
The following is some of our projects build for mini scale and small scale sesame oil production plant. It is suitable for not only sesame seeds, but also can process many other kinds of vegetable seeds such as soybean, sunflower seeds and peanut.

'
Successfuel Projects of Small Seed Oil Mill Plant
You are welcome to ask for more details of our equipment or inqure for the cost building a
Mini Oil Mill Plant
for making sesame oil for business purpose. We are always at your service!
Global Market of Sesame Oil Extraction

Sesame oil is one of the world's healthiest oils due to its abundant content of vitamins and minerals. It is known for its endless list of health benefits namely to improve hair and skin health, support healthy bones and teeth, regulate blood pressure, decrease the risk of cardiovascular diseases and increase the overall health of the heart, avoid development of cancer cells, manage better digestion, promote resistance among infants, and combat stress and anxiety through massages.
While sesame oil is relatively cheap to extract through hot water flotation and suspension processes and varied pressing techniques, the sesame seed is best juiced when its protective shell bursts to indicate that it is completely ripe, or more formally known as dehiscence. Dehiscence, however, vary from seed to seed and in turn limits the production of quality sesame seeds for sesame oil extraction. As of 2012, the sesame seed had a market price of 0.67 USD per pound, making it a relatively expensive commodity due to its short supply and high demand in the world market. (Read more about oil pressing industry)
35% of all sesame seeds harvest in the United States are processed into oil and sold to big markets in Asia and the Middle East. The low production of sesame oil can also be attributed to the susceptibility of the seeds to extraction techniques, meaning that imprecise extraction, usually through manual processes, can cost the oil's essential nutrients. In this case, sesame oil extraction machine are used to guarantee the quality of the oil.
Hi, I think refrozen and filtered oil is the best way to have a good quality. If you can tell us approximately how much it costs to get each method (refined versus refrozen & filtered) it will be awesome. As i told you, we are opened to your propositions as you are the supplier. After that I want you to bring us process diagrams of each method ( just the equipments, their functions and the total space required) will be perfect to me and my partners to take a decision. We want to begin with a small production as i told you (250 kg/ hour) with a good rate of oil yielding, and after we will see.
I also want to know if i use 1 kg of sesame , what quantity of sesame oil in liter i will obtain (in each method if possible).
Hi,
1. As for pressing section, it's same flowchart, which includes, cleaning, cooking, pressing and filtering process.
2. As for purification section, there's two way:
2.1. Refining - the mini capacity of refinery system is 1TPD. This system includes deacification, degumming, decoloring and deodorization process. After the refinery, the oil color is very light, and almost no fragrance smell.
2.2. refrozen and filtering - the min capacity is also 1TPD. This system includes cooking tower, freezing vessel and filtering process. After this purificatioin, the oil color is still deep, and with fragrance smell.
The cost for each part has been sent to your email, please check it.
By the way, the two purification method will not effect the oil yield rate too much,
the oil yield rate is decided only by pressing.
FYI, you could get around 0.4kg oil from 1kg sesame seed, but this data will also be effected by the operation.
Kindly note that we are interested in a small scale sesame oil mill with barrel filling
Hi, what's your desired processing capacity per day, for raw material sesame.
We are operating in Ethiopia. We want to establish a full sesame cleaning and processing plant to for oil extraction, to be established in the Humera region.
Capacity: 6000 mt / year
Modules: 1. cleaning 2. hulling (if required for processing) 3. oil extraction 4. oil filling.
Hi, Thanks so much for your enquiry. As for your request, dehulling is not necessary for the sesame oil mill plant, we'll send you the draft proposal soon.
As for oil filling, could you kindly advise your bottle size ,so we could recommend relevant oil filling machines accordingly.