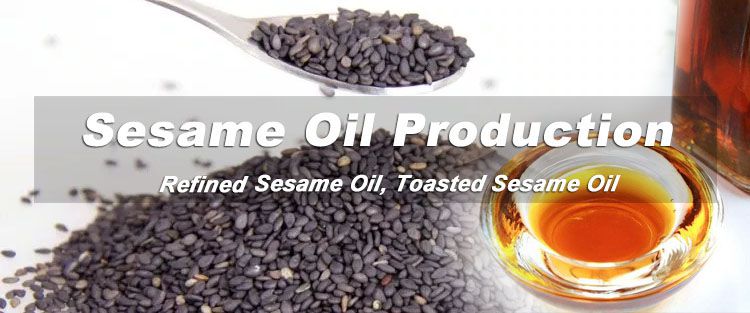 If you are searching for sesame oil extraction machine for start your own sesame oil business, you are in the right place! We manufacture a wide range of vegetable seed oil extraction machine including sesame oil extraction machine, filter press, seeds cleaner and oil machine spare parts. To ensure well operation and long service life, our machines are made of premium materials and are widely applied for the extraction of edible or cooking oil.
What kind of sesame oil do you want to make?
The oil content of sesame is as high as 50% (45%~63%). Before make your own sesame oil or starting your sesame oil plant, the first step is to determine the type of sesame oil you want to produce. Sesame oil is generally divided into:
Light Sesame Oil: Refined sesame oil which has light color and light flavor. Commonly used for cooking in the Middle East, South India, halal markets and East Asian countries.
Dark Sesame Oil: Made from roasted/toasted sesame seeds and has dark color, stronger flavor and aroma. It's primarily used for seasoning, not cooking.


Common Sesame Oil Varieties
Common Sesame Oil Extraction Methods
There are 3 main oil extraction methods for sesame oil production:
Water Extraction Process (Aqueous extraction) by use of stone mill.
Mechanical Pressing Process by use of screw oil press & hydraulic oil press.
Solvent Extraction Process
The sesame oil extracted by water extraction method has special aroma, commonly known as the traditional production process of roasted sesame oil. With the development of oil pressing technology, mechanical pressing process is becoming a better choice for sesame oil production. View the introduction below to learn more about the details of these 3 common oil extraction processes.
Water Extraction Process of Toasted Sesame Oil (Stone Milling)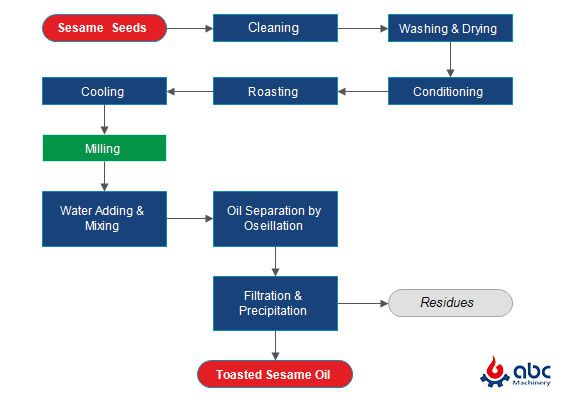 Sesame Stone Milling and Water Extraction Process
Main Process Flow: Sesame, Cleaning, Stone Removing, Washing, Drying, Tempering, Cooking/Roasting, Cooling, Stone Milling, Oil Separation, Oil Filtering, Winterization, Toasted Sesame Oil

Industrial Sacle Sesame Milling and Water Extraction Plant
Wash and soak the sesame seeds for 1-2 hours. The moisture content of the seeds is about 25%~35% after soaking.
Cook the seeds with big fire until the sesame seeds are bulged, and then switch to soft fire. After the seeds are cooked, pour some cold water (about 3% of the amount of cooked seeds) into the cooker. Then stop cooking after about one more minute. The temperature is about 190℃~200℃.
Cool the toasted sesame seeds down to about 65℃~75℃, free the smoke and remove the burnt pieces and broken skin.
Grinding the toasted sesame seeds to sesame butter. The finer the sesame butter is ground, the better for the separation of oil. The speed of the stone mill and the grinding temperature can affect the flavor of sesame oil.
Water Adding and Mixing: This is the key process of toasted sesame oil production. Add boiling water equal to 80% to 100% weight of sesame seed paste in 4 times.
Vibration and Oil Separation: Separate the oil from the sesame butter mixture.
Mechanical Oil Pressing & Solvent Extraction Process
It is now the BEST Choice for both Toasted Sesame Oil Production and Untoasted Sesame Oil Production!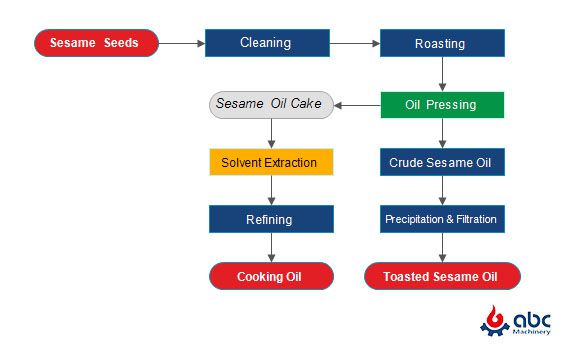 Mechanical Pressing Process for Manufacturing Toasted Sesame Oil
Main Process Flow: Sesame Seeds, Cleaning, Stone Removing, Cooking/Roasting, Oil Pressing, Oil Filtering, Winterization, Toasted Sesame Oil
Due to the high oil content of sesame seeds, it is not suitable to use solvent extraction method directly. So in medium or large scale industrial sesame oil production, pre-pressing (hydraulic press or screw press) and solvent extraction process are commonly adopted.
HOT Sale Sesame Oil Press Machine
Our YZS sesame oil extraction machines for sale is
screw driven oil press
which can be used to extract oil from vegetable seeds and nuts for edible purposes. It can process a wide range of oil materials such as
castor seeds
,
peanut
,
soybean
, hemp seed,
sunflower seeds
, jatropha seed,
sesame seed
, palm kernel,
cottonseed
, coconut,
corn germ
and so on.


Screw Press Oil Extraction Machine (Capacity: 40~830kg/h)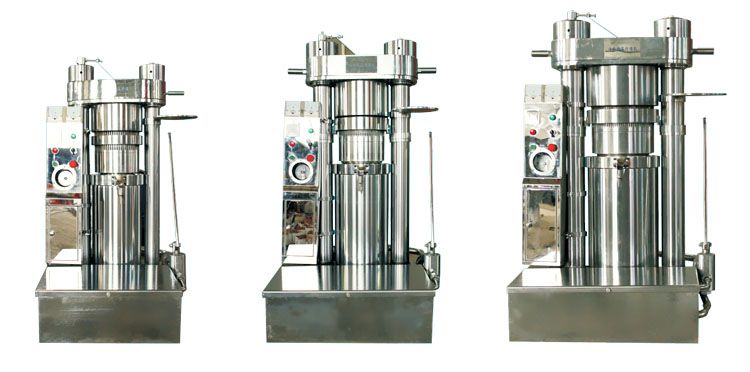 Hydraulic Oil Press Machine (Capacity: 8~15kg/batch about 50~100kg/h)
Feel free to get in touch with us for detailed parameters and lastest price list!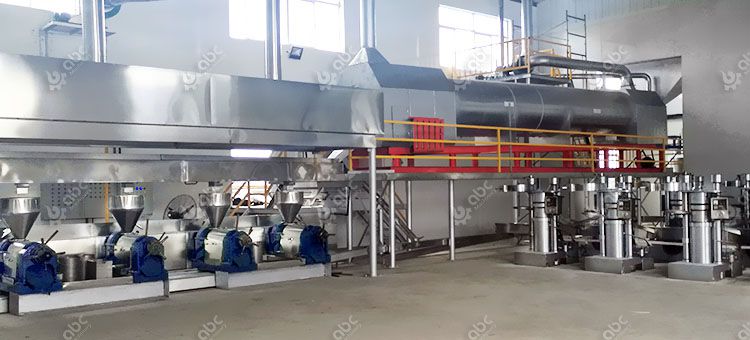 Mechanical Pressing Technology - Roasted Sesame Oil Production Line
Sesame Oil Pressing Parameters
Sesame Seeds Moisture before Pressing (%)
Pressing Temperature (℃)
Pressing Times
Speed of Pressing Shaft (r/min)
9%
65℃
5
30r/min

Tips for Sesame Oil Manufacturing Business
The characteristic of toasted sesame oil extraction is to maintain the flavor of sesame oil. Reasonable control of processing temperature is the key.
Proper increase of pressing temperature is beneficial to the conversion of sesame ether into sesame phenol with special flavor. But pay attention to control the temperature. If too high, the oil color will turn black and the oil cake will be burnt.
Mechanical pressing method can refer to the cooking process of stone milling method (water extraction) to produce toasted sesame oil.
The oil cake can be further extracted by solvent. The solvent extracted oil will be refined and be processed into cooking oil. The inherent flavor of sesame seeds flavor is lost after refining.
In order to make full use of sesame oil cake to develop high quality sesame protein powder, it is suggested to peeling the sesame seeds before oil expelling.
Comparison of Common Sesame Oil Production Process
Water Extraction Process

(Stone Mill)

Advantages
Disadvantages

The oil has unique and strong fragrance:

The yield of oil is relatively low.
The sesame paste residue after oil extraction has high moisture content, serious protein degeneration and poor quality, difficult to separate and use.
It is mostly intermittent production which has

high labor intensity and long processing cycle

.
Main Application: It should be your first choice if you are very concerned about the preservation of the fragrance of toasted sesame seeds.
Mechanical Pressing Process

(Screw Oil Expeller / Hydraulic Press)

Advantages
Disadvantages

High oil yield

Get not only high quality of sesame oil, but also high quality of sesame oil cake.

Simple process, low labor intensity, easy industrialization.
Low investment, high production efficient.

The oil fragrance is lighter than that of water extraction process.
Main Application: It is not only suitable for running mini oil mill, but also suitable for medium to large scale industrial sesame oil production business.
Solvent Extraction Process
(by extracting solvent)

Advantages
Disadvantages

High oil yield.
Low labor intensity, easy industrialization.

Lack of fragrance.
The crude oil has high content of wax, dark and cloudy color. The crude oil need to be refined to produce edible oil.
More equipment, large investment, and high production cost.
Main Application: Extract oil from sesame oil cake.
Toasted Sesame Oil Processing Plant [Project Report]
The following is one of our sesame oil extraction projects build in Thailand. The production output is 1ton/hour. Click here to see the detailed project report of the toasted sesame oil mill.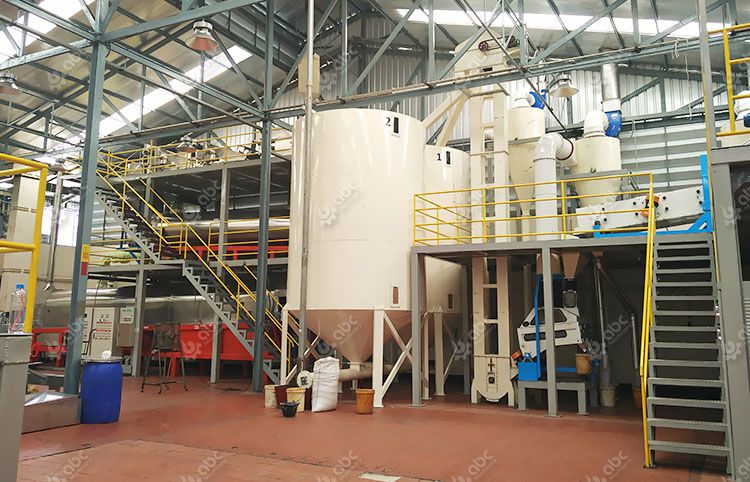 Roasted Sesame Oil Mill Plant in Thailand


Cleaning Section (left), Hydraulic Oil Press (right)
You are welcome to ask for more details of our sesame processing equipment or inqure for the cost building a Mini Oil Mill Plant for making sesame oil for business purpose. We are always at your service!

Global Market of Sesame Oil Extraction
Sesame oil is one of the world's healthiest oils due to its abundant content of vitamins and minerals. It is known for its endless list of health benefits namely to improve hair and skin health, support healthy bones and teeth, regulate blood pressure, decrease the risk of cardiovascular diseases and increase the overall health of the heart, avoid development of cancer cells, manage better digestion, promote resistance among infants, and combat stress and anxiety through massages. As of 2012, the sesame seed had a market price of 0.67 USD per pound, making it a relatively expensive commodity due to its short supply and high demand in the world market. (Read more about oil pressing industry)


Production Quantities of Sesame Seed by Country
It is originated in the Middle East and is abundant in India, China, Sudan, Myanmar and Uganda now. The planting area of sesame in these five countries accounts for more than 75% of the world's planting area, 7 million hectares per month, and the total output is about 3 million tons.
The market for sesame oil is mainly located in Asia and the Middle East where the use of sesame oil has been a tradition for centuries. Now a days, sesame oil is popular in many countries, especially in China, Korea, Japan, South India and Thailand. Besides, about 65% of the annual US sesame crop is processed into oil and 35% is used in food.
Untoasted sesame oil is produced using the cold-pressed extraction process, contains the most natural form of the oil. With its faint and mild flavor, the oil's naturally high level of antioxidants are also best preserved, and the process's prosaic effect promotes better shelf life. Cold-pressing type sesame oil extraction machines administer the precise amount of force to crush the seeds and apply a good amount of friction to heat the seeds naturally. The machine's expeller mechanism then keeps the oil at temperatures not higher than 120 degrees Fahrenheit which is why oils produced this way are called cold-pressed.
Toasted sesame oil is best known for consumers who want the oil with better flavor and a more fragrant aroma. Due to the cooking process, the oil has a darker color and strong fragrance. The sesame seeds are cooked to degenerate protein and create high quality hot-pressed sesame oil with the best flavor. (Related machine: Sesame Oil Press Machine)
Sesame oils are highly beneficial for the human body. They contain natural contents of nutrients that can improve health processes and they taste and smell great. However, due to the delicacy of sesame seeds towards the extraction process, manufactures employ the help of sesame oil extraction machines to prevent wastage of quality sesame oil and improve its supply so that a bigger market can enjoy the benefits of sesame oil.
Hi, I think refrozen and filtered oil is the best way to have a good quality. If you can tell us approximately how much it costs to get each method (refined versus refrozen & filtered) it will be awesome. As i told you, we are opened to your propositions as you are the supplier. After that I want you to bring us process diagrams of each method ( just the equipments, their functions and the total space required) will be perfect to me and my partners to take a decision. We want to begin with a small production as i told you (250 kg/ hour) with a good rate of oil yielding, and after we will see.
I also want to know if i use 1 kg of sesame , what quantity of sesame oil in liter i will obtain (in each method if possible).
Hi,
1. As for pressing section, it's same flowchart, which includes, cleaning, cooking, pressing and filtering process.
2. As for purification section, there's two way:
2.1. Refining - the mini capacity of refinery system is 1TPD. This system includes deacification, degumming, decoloring and deodorization process. After the refinery, the oil color is very light, and almost no fragrance smell.
2.2. refrozen and filtering - the min capacity is also 1TPD. This system includes cooking tower, freezing vessel and filtering process. After this purificatioin, the oil color is still deep, and with fragrance smell.
The cost for each part has been sent to your email, please check it.
By the way, the two purification method will not effect the oil yield rate too much,
the oil yield rate is decided only by pressing.
FYI, you could get around 0.4kg oil from 1kg sesame seed, but this data will also be effected by the operation.
Kindly note that we are interested in a small scale sesame oil mill with barrel filling
Hi, what's your desired processing capacity per day, for raw material sesame.
We are operating in Ethiopia. We want to establish a full sesame cleaning and processing plant to for oil extraction, to be established in the Humera region.
Capacity: 6000 mt / year
Modules: 1. cleaning 2. hulling (if required for processing) 3. oil extraction 4. oil filling.
Hi, Thanks so much for your enquiry. As for your request, dehulling is not necessary for the sesame oil mill plant, we'll send you the draft proposal soon.
As for oil filling, could you kindly advise your bottle size ,so we could recommend relevant oil filling machines accordingly.