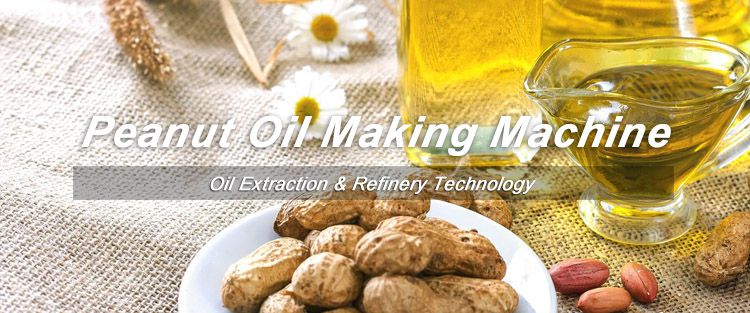 ABC Machinery - Peanut Oil Making Machine Manufacturer & Supplier
The oil content of peanut is approximately 42% to 52% oil. Peanut oil is mainly used for cooking purpose as it contains lots of protein and 80% unsaturated fatty acids like oleic acids and linoleic acids. Peanut oil is in light yellow transparent color and has a fragrant smell, and their taste is very delicious.
Groundnut / Peanut Oil Making Machine


Groundnut Oil Making Machines for Sale (60~850kg/h)
Model
Capacity(kg/h)
Power
Outline Dimension (mm)
Weight (kg)
YZS-85
60-80
5.5Kw-4P
120*400*900
260
YZS-95
150-200
(7.5-11)Kw-6P
1600*700*1350
530
YZS-105
210-300
15Kw-4P
1850*700*1350
580
YZS-128
300-375
15Kw-6P
2000*800*1170
720
YZS-130
450-500
18.5Kw-6P
2010*800*1380
820
YZS-150
750-850
30Kw-6P
2180*790*1790
1060
Screw type of oil press machines are the BEST choice for groundnut oil extraction. It uses friction and pressure in th epressing chamber to extract oil from groundnut. The residue or leftover of peanut oil production is known as peanut oil cake. Feel free to contact us if you interested to get more information and cost details about our groundnut oil machine. Tell us the kind of your oilseeds, desired output and cost budget, then we can offer your the most suitable equipment and send detailed price list!

Multi-funtion Peanut Oil Expeller for Sale
Model
Capacity
Dimension (mm)
Weight (kg)
Power (KW)
YZS-130A/C
450-500kg/h;
2250*1450*2050
1300
23.9
2140*1140*1710
1080
21.7
YZS-128A/C
300-375kg/h;
2000*1400*1950
1200
20.4
2000*1400*1950
830
18.2
YZS-125A/B/C
210-300kg/h;
2100*1300*2000
950
20.4
2280*890*1775
1000
15+1.1
1900*1000*1610
770
17.6
YZS-95A/B/C
150-200kg/h;
1900*1300*2000
910
15.8
2250*890*1820
900
7.5+1.5
1675*1000*1610
730
13.6
These are our HOT SALE peanut oil machines based on mechanical pressing technology. They are featured of high capacity and low cost. The oil extraction performance of these machinery are excellent and they also have lots of improvement including easy operation and wide applicability. The peanut / groundnut oil making machinery we supply can be widely applied to extract oil from various oilseeds and nuts including cocoa beans, soya beans, sunflower seeds, palm kernel, cotton seeds, mustard seeds and so on. (Related Post: Processing of Fragrant Peanut Oil)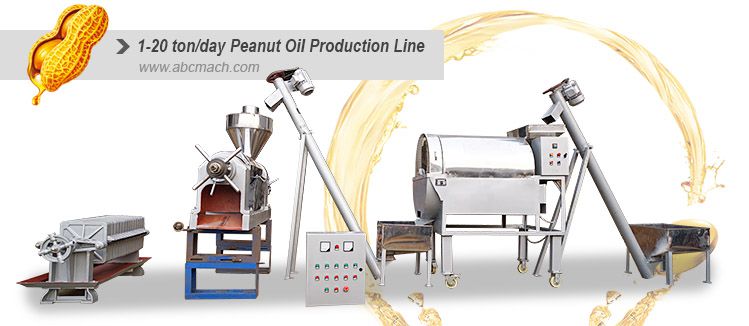 Complete Set of Groundnut Oil Machinery for Small Scale Production
With this complete set of peanut oil extraction machine (screw press), you can easily overcome the problems faced in traditional oil manufacturing methods or processes. It is the best choice for farmers, household workshop and the businessman who are about to invest in cooking oil processing for the first time.
Complete Set of Groundnut Oil Processing Machine [Project Report]
Here are some photos of peanut oil making factory we built before for our clients. If you are planning to start your own edible oil manfuacturing business, you can take the the factory layout design for reference. (Recommond Post: How to start groundnut oil business in nigeria >>)


Small Peanut Oil Mill Plant under Construction



Vegetable Seed Oil Pressing Machine (left), Oil Refining Machine (right)
Project Details: 10ton/h Peanut Oil Production Plant in Togo
ABC Machinery is an experienced and reliable peanut oil machine manufacturer and supplier, offering high quality single oil press, automatic oil press, small oil production line and oil refining machine set at factory price. Besides, we can offer turnkey project plan for establishing complete oil extraction plant. Advanced oil processing technology, competitive price, comprehensive pre-sales and after-sales service, ABC Machinery can always do the best to help you on peanut oil processing! Don't hesitate to contact us to learn more about our equipments and service!

Peanut Oil Manufacturing Process
For peanuts with shells, husking machine is needed to remove the shells.
Hot Oil Pressing: Peanuts → Cleaning → Crushing → Cooking / Steaming → Oil Expelling (screw press)→ Crude Peanut Oil → Refining → Refined Peanut Oil → Oil Filling / Bottling → Edible Peanut Oil for Sale (The produced oilcakes are widely applied in animal feed production industry)
Cold Pressing: Peanuts → Cleaning → Conditioning → Cold Pressing (hydraulic oil press machine) → Oil Filtering → Crude Oil → Refining → Oil Filling / Bottling → Cold Pressed Peanut Oil (The oilcakes can be crushed to produce high quality peanut protein powder/flour)
Screening machine, de-stone machine and magnetic separator are the common cleaning machine for pre-treatment of groundnut in oil extraction plant. They are adopted to remove certain impurities such as sand, stone, and metal, so that to improve the oil yield and production efficiency, and reduce wear rate of accessories. The immature, mildewed and broken peanuts should also be separated by the grading screen, which can be used to produce second grade peanut oil or be sold separately.
Roasting temperature is the key factor to produce peanut oil with fragrance. Too low, the fragrance will be weak, too high, it is easy to burn. In most situation, 180℃~200℃ is suitable. In order to prevent over cooked, the seeds should be cooled immediately, and then be crushed in toothed roller crusher.
Groundnut can be pressed as whole seeds in peanut oil making machine. But after crushing and flaking by use of roll crusher and flaking machine, the oil yield can be significantly increased. During the crushing process, the red skin of peanuts can be separated by wind selector, and to be used as raw material for medicine and chemical industry.
Screw type groundnut oil making machine is used in this process. Pressing temperature: 135℃; Moisture content 1.5%~2%. The residual oil rate can be reduced to 2% with twice pressing process. The crude peanut oil will be filtered by plate and frame filter, and then be sent to the refining machine. The oilcakes can be further processed in solvent extraction workshop to extract the residue oil, or be sold to feed mill plant. (Read more about defatted peanut flour production >>)
In some cases, the expeller pressed oil is required to be refined to produce high quality edible oil. Click here to learn more about peanut oil refinery plant >>
I would like to buy full package ground nut oil processing plant that is capable to run 200-500kg/hr ground nuts. Please would you like to send detail technical specification and price offer. The ground nut is with shell.
The quotation is attached in according your needs. Please check it.
Can I have some information about your products.
I want to install a small peanut oil production plan in Senegal and would like to know if you can provide the machinery and the prices and the time for delivery.
Thanks for your attention to our product. Pls confirm:

1: Peanut with shell or not?
2: The capacity?
3: Oil refinery plant also? Or first only the groundnut oil expeller machine?

Looking forward to your reply. Take care.
Need machines for vegetable oil processing machines.
Thanks for your attention to our product. Pls confirm the following information:

1: The capacity?----The price based on the capacity
2: The material?----Different material the efficiency is different
3: The voltage?----Different country the voltage is different

After got the above information then send you the quotaion. Take care.
The capacity is 20 tons to 50 tons
Materials: soyabeans, groundnuts and castor seeds
voltage Nigeria standard
We can design the produce line to deal with these three kinds of oilseeds. Pls confirm: The peanut with shell or not? We need match a sheller if with shell.
Dear madam, dear sir. We are looking for supplier(s) regarding a peanut processing project as follows:
- Groundnut oil extraction unit
- Roasting unit
- Animal feed unit
- Biodiesel processing unit
- Ethanol production unit
- All storage and packaging units for each product (oil, peanuts, pellets..)
Therefore, I would be delighted receiving solutions your company could propose us.
Dear, Thanks for your enquiry to our products. As for your request, could you advise the following questions:
1.How much peanut do you want to process per day, is the peanut decorticated?
2.What kind of animal do you want to feed? any other materials do you want to make animal feed except the peanut cake?
3.Where did you want to build this project, in Belgium?
Hello, I'm interested in a small to medium production machine that can do both, cold and hot press.Cold press for oil consumption with salad and food and hot press for frying.I will be using decorticated peanuts for my initial project but eventually once the demand for the product becomes big, I will need a machine the decorticates and cleans the peanuts as well. So I will need a basic machine that is simple to operate and is not too complicated to use. If you can send me quotes for both kind of machines I will appreciate it.
Hi, thanks for your response. As for small to medium peanut oil production machine, we suggest that you could consider the following model.
1. ZX-100 oil press, 3.5-5T/24hrs, FOB China port, with motor, export packing.
2. ZX-120 oil press, 5-7T/24hrs, FOB China port, with motor, export packing.
3. ZX-130 oil press, 10-12T/24hrs, FOB China port, with motor, export packing
Pls kindly compare the above models, and advise which do you prefer.
As for hot pressing, we'll use a cooker to cook it before pressing, you could have it later, tegether with the decortciater and cleaning sieve. All such equipments is very simple to operate, especially for raw material peanut.