Peanut is an essential raw material for industries; however, it can be converted into commercial as well as edible products like peanut oil, peanut cake, shelled peanuts, butter, roasted peanuts, etc. As per the preliminary studies, the seeds of peanut contain approximately 42% to 52% oil. In almost all the countries, this process of peanut is done for cooking oil. Peanut oil is a healthier option as it is rich in monounsaturated fatty acids and low in saturated fatty acids. So, this oil is very beneficial for your health.
Oil Making Machines for Peanuts / Groundnuts
This peanut oil making machine is designated by a high-quality rate of oil output. There are a number of advantages of using this oil machine. The speed performance of this machine is excellent and also lots of improvement can be seen in every new invention. The overall performance is also very great. This machine also made the oil making process very simple and easy by making it fast with the enhancements in science and technology. So, with this modern technology, you can easily overcome the problems faced in traditional methods or processes. Due to the high-quality features of our peanut oil making machines, each and every country takes the advantage of this machine.


Small Peanut Oil Making Plant Projects
Don't hesitate to contact us if you want more details about our oil mill machines! Tell us your oilseeds, desired output and cost plan, then we can offer your the most suitable machinery list for your peanut oil production business.
Working Principle of The Peanut Oil Making Machine
After developing this oil making machine, the whole process to extract the oil from peanuts is very simple, fast, and easy. The oil making machine contains a pressing chamber due to which the groundnut seeds are fed from one side of the press. This machine use friction and pressure from the screw drives for moving and compressing the oil seeds. The oil then comes out of the seeds through the small openings. These openings are very small so that they can prevent any type of residue or solid material from the seeds to mix with the oil which is extracted. This solid residue or waste of the seeds exists from the other end of the peanut oil making machine. This residue which is leftover is known as oil cakes.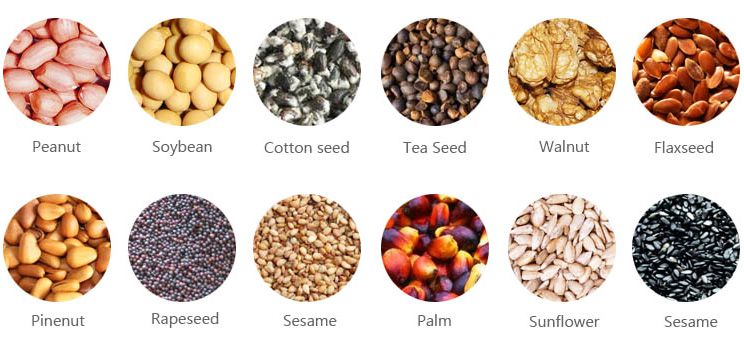 The peanut / groundnut oil making machinery we supply can be used to extract oil from various oil bearing seeds and nuts including cocoa beans, soya beans, sunflower seeds, palm kernel, cotton seeds, mustard seeds, ginger and so on. (read more: castor oil press machines for sale)
Peanut Oil Production
Peanut oil is mainly used for cooking purpose as it contains lots of protein and 80% unsaturated fatty acids like oleic acids and linoleic acids. Peanut oil is in light yellow transparent color and has a fragrant smell, and their taste is very delicious. This oil is also an edible oil which can be digested more easily.
Traditionally, the use of pestle and mortar manually for processing the seeds of peanut for oil is a very serious and difficult problem to those women who are engaged in the business of peanut oil extraction. This method is very time consuming as well as a serious hard labor to the women. To complete this process, several different types of operations are done such as shelling, sieving, sorting, roasting, cooling, winnowing, milling, kneading, Kuli-Kuli, and lastly cooking the oil for refining it. Among all these operations, kneading was found to be the most energy-consuming operation which calibrates the need to develop an oil making machine.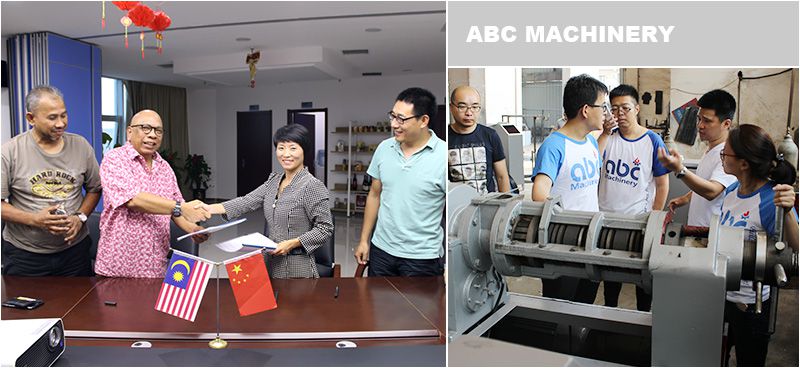 Customer Visits - ABC Machinery Oil Mill Machinery
I would like to buy full package ground nut oil processing plant that is capable to run 200-500kg/hr ground nuts. Please would you like to send detail technical specification and price offer. The ground nut is with shell.
The quotation is attached in according your needs. Please check it.
Can I have some information about your products.
I want to install a small peanut oil production plan in Senegal and would like to know if you can provide the machinery and the prices and the time for delivery.
Thanks for your attention to our product. Pls confirm:

1: Peanut with shell or not?
2: The capacity?
3: Oil refinery plant also? Or first only the oil press machine?

Looking forward to your reply. Take care.
Need machines for vegetable oil processing machines.
Thanks for your attention to our product. Pls confirm the following information:

1: The capacity?----The price based on the capacity
2: The material?----Different material the efficiency is different
3: The voltage?----Different country the voltage is different

After got the above information then send you the quotaion. Take care.
The capacity is 20 tons to 50 tons
Materials: soyabeans, groundnuts and castor seeds
voltage Nigeria standard
We can design the produce line to deal with these three kinds of oilseeds. Pls confirm: The peanut with shell or not? We need match a sheller if with shell.
Dear madam, dear sir. We are looking for supplier(s) regarding a peanut processing project as follows:
- Groundnut extraction oil unit
- Roasting unit
- Animal feed unit
- Biodiesel processing unit
- Ethanol production unit
- All storage and packaging units for each product (oil, peanuts, pellets..)
Therefore, I would be delighted receiving solutions your company could propose us.
Dear, Thanks for your enquiry to our products. As for your request, could you advise the following questions:
1.How much peanut do you want to process per day, is the peanut decorticated?
2.What kind of animal do you want to feed? any other materials do you want to make animal feed except the peanut cake?
3.Where did you want to build this project, in Belgium?
Hello, I'm interested in a small to medium production machine that can do both, cold and hot press.Cold press for oil consumption with salad and food and hot press for frying.I will be using decorticated peanuts for my initial project but eventually once the demand for the product becomes big, I will need a machine the decorticates and cleans the peanuts as well. So I will need a basic machine that is simple to operate and is not too complicated to use. If you can send me quotes for both kind of machines I will appreciate it.
Hi, thanks for your response. As for small to medium peanut oil production machine, we suggest that you could consider the following model.
1. ZX-100 oil press, 3.5-5T/24hrs, FOB China port, with motor, export packing.
2. ZX-120 oil press, 5-7T/24hrs, FOB China port, with motor, export packing.
3. ZX-130 oil press, 10-12T/24hrs, FOB China port, with motor, export packing
Pls kindly compare the above models, and advise which do you prefer.
As for hot pressing, we'll use a cooker to cook it before pressing, you could have it later, tegether with the decortciater and cleaning sieve. All such equipments is very simple to operate, especially for raw material peanut.