BEST groundnut oil extraction machine manufacturer and exporter in China. Supply high quality oil extraction machinery for all kinds of oil seeds and nuts, including canola seed, castor, coconut, copra, corn germ, cottonseed, jatropha, neem, niger seed, mustard seed, palm kernel, rice bran, sesame, soybean, sunflower seed and so on. Reliable supplier, great service!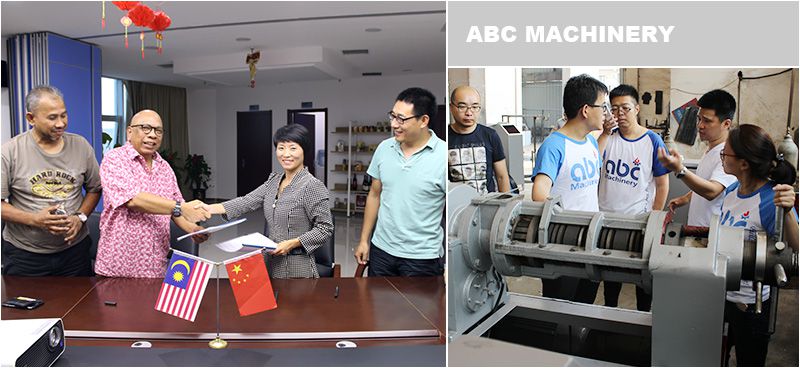 Some Photos Taken with Our Clients
---
Groundnut is also known as peanut and earth nut. The groundnut oil is a very important food around the globe for its nutritional and trade values. The oil is not only rich in protein content but is equally very tasty and edible. In India the oil is further processed to produce margarine as well as soaps, paints and cosmetics. Almost fifty percent oil can be extracted from groundnuts.
The traditional methods of extracting groundnut oil are not only labour intensive but very time-consuming and monotonous. Thus, it seems apt to bring about the necessary labour saving changes as groundnut oil extraction is largely market-oriented. The purpose of this write up is to highlight the features and benefits of the modern groundnut oil extraction machines which are highly sophisticated and have the capacity to extract huge quantity of oil in very little time.
Groundunt Oil Extraction Machine for Sale
The main components that are used by the groundnut oil processing plant include a speed reduction gear, a drain collector, pulleys and a hopper. The expeller is driven by electric motor. A screw expellant shaft is included in the expelling unit. The heat that the machine produces is sufficient for heating the groundnut seed.


Multifunction Oil Expelling and Filtering Machine for Earth Nut / Peanut
Main Features of Our Groundnut Oil Extraction Machines
One of the most unique feature of this type of oil extraction machine is the fact that it includes all the three features of heating, expelling and filtering into one machine. Such machines are characterised by a high rate of oil output and great oil quality. These include an electric pipe and a vacuum filter. The main function of the electric pipe is to heat the press case. The main function of the vacuum filter is to speed up the process of oil purification and thereby produce high-quality oil. (castor oil extraction machinery for sale)
The benefits of groundnut oil extraction machine:
Though there are a plenty of benefits of this type of machines, the vital ones are listed out here for your easy understanding:
These are low-cost oil extracting machines which are affordable;
The operating principle of this oil machinery is very simple and highly effective;
This oil extraction machine has a moderate size;
The maintenance of such machines is simple and easy;
Such machines do not produce any unnecessary sounds;
The groundnut oil extraction machines are hand operated;
Apart from these, there are some other advantages of procuring this type of machine which make it worth buying for business owners.
Small Groundnut Oil Extraction Assambly Unit


Mini Oil Extraction Business Plan
Now that you have a fair idea about the main features, benefits and working procedure of the groundnut oil extraction machinery, you must have understood how important and best suited this machinery is for your business. This oil machine is not only affordable but extremely reliable and effective. With the help of this extraction machine, you can produce a huge quantity of oil of a very high quality. Thus, by getting this oil extraction equipment you will be able to give a boost to your business which will help you to produce high-quality oil in huge quantity in very little time with very little effort. So what are you waiting for? Send us an inquiry to get more details of our groundnut oil extraction machine right now.
Hello
I have ground nut oil mill plant . but I want to update my mill plant for soyabeen so i need your help .
What's the capacity of your current ground nut oil mill plant? and what's your desired processing capacity for your soybean oil mill plant?
I am interested in the corn and groundnut oil extracting machine mail full detail for me.
Is the groundnut dehulled or not?what's your capacity per day and how many hours do your work per day?
As for corn, we could only press oil from corn germ, not corn! pls confirm this soon!
Sir,
Kindly send me a quotation of groundnut oil production machine with the capacity of 300 litres per hour. My peanut don't have shell.
Thank you for your reply. According to your inquiry, you want near 300liters oil per hour, it's near 8ton per day. And according to the oil yield of the peanut kernel, you will need near 1ton peanut kernel per hour, that is to say your total capacity will be near 25ton per day.

So, pls confirm whether you need the oil refinery equipments and the filling machine or not? Besides, if convenient could you give me some information on your side, such as your telephone, then we can communicate more efficiently.

Questions pls tell me freely, waiting for your reply.
Pls do you have 5 tons machineries for the groundnut oil processing and how much?
The price given for both 25tons and 10tons were above my project budget.
If you have machineries with 5 tons capacity , kindly send me the quotation so that I can go ahead and process the payment.
We have the 5TPD machines for groundnuts.

As for the 5TPD capacity, I just equip three machines for you, they are the necessary machines for the small oil plant. Details pls check attachment.

I also equip the oil refinery equipments in the proposal, but if it's your first business and don't have so much budget, you also can choose to just order press equipments and the filling machine, then selling the crude oil. When you have the experience in this field, you can consider to install the refinery equipment.

To make you know more about our machines, I will send you one video for your reference, it's one project we just established in India. It's the 10TPD press workshop and the 1TPD oil refinery equipment, details pls check the email.
Hello,I need a machine with about 8-20ton/day. it's will serve my purpose. I have the following questions on the Groundnut Oil Extraction Machine:
1. What is the cost of this Machine?
2. Do I need to roast the groundnut/soybeans before processing with Machine?
3. Does the Machine comes with the nut roaster?
Thank you.
1. The detailed cost of this machine has been sent to your email.
2. Yes, it's better to roast the material before pressing, it could improve the oil yielding rate. if your raw material includes both groundnut and soybean, we suggest that you could have oil press and filter sperately. It's cheaper, besides, it's better to press raw material soybean.
3. No, the roaster is excluded in the machine, pls advise you capacity per day, so we could recommend for you, also look forward to hearing from you soon!
Sir, what is the economic viability of ground nut oil and palm kernel oil in Nigeria which is higher and what is the cost of the machines?
Can I use the same machine (expeller and heater even refining line) for ground nut and palm kernel oil production?
Also how much is the machine?
Yes, you could use the same machine for pressing ground nut and palm kernel. Pls kindly advise how much raw material do you want to process per day, so we could design and quote for you accordingly soon.
Hi. I used to be in into groundnut oil production and I'm interested in going back to it. I noticed that the method of extraction stated on ur website does not include frying. what is the advantage of your "preparation process" over frying.
Secondly I'll like to purchase a 2ton per day capacity oil press and if your oil filter can remove the odour, I'd like to purchase one too. I'll appreciate a list of prices for these equipments . I anticipate ur time response.
Hi, Thanks for your enquiry to our products. The process in our website does include frying, just we call it cooking.
FYI, we suggest our cusomter the following process flowchart when the capacity is not big:
Raw material-> decorticating-> cleaning-> cooking-> Pressing-> Filtering-> Crude oil-> Cleaned oil

As for 2T/D capacity, we suggest the following two parts:
1-. 2~3TPD pressing
2-. 1TPD refinery production line.
For Pressing line, the processing flowchart is as follows:
Groundnut-> Cleaning-> Cooking-> Pressing-> Filtering-> Crude groundnut oil.

While for the refinery flowchart:
You could choose either freezing&filtering, OR refining(degumming, deacidification, decoloring and deodorization)