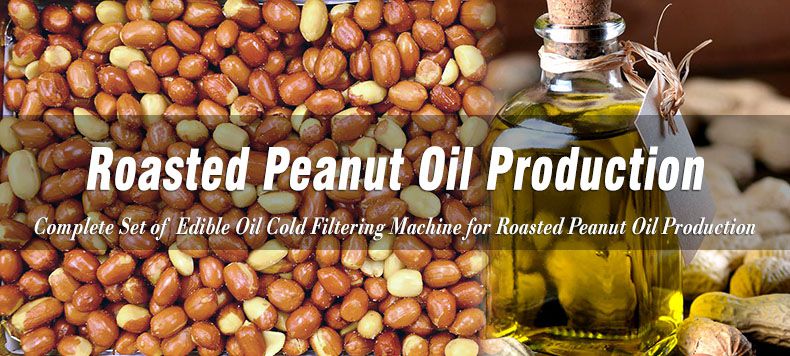 Roasted Peanut Oil Production
China has the largest annual output of peanut oil of the world, followed by India, Myanmar, Nigeria, Sudan, Tanzania, United States, Argentina, Burkina Faso, Chad, Brazil and Cameroon.
Complete Set of Edible Oil Cold Filtering Machine for Roasted Peanut Oil Production
The following photos are about a complete set of peanut oil cold filtering machine for processing flavoured peanut oil with strong fragrant. It was ordered by one of our client from Panama, and the winterization plant was established in Brazil. The crude peanut oil is produced from roasted groundnuts in his groundnut oil mill.

The equipment included in the peanut oil processing plant was completed manufacturing in on January 5th 2018 and it has already arrived in Brazil. The equipment have passed strict quality inspection before shipment. Some of the photos took during the loading before shipment are listed below. If you are interested in start oil business for processing highly flavored type peanut oil in Brazil or other countries. (Related Post: Factors Influencing the Flavor in Peanut Oil Production)
Our peanut oil refinery and winterization machine adopts advanced peanut oil production process to ensure that the produced peanut oil has a strong fragrance, transparent color, low acid price, good taste and rich nutrition.
Refining Process of Highly Flavored Type Peanut Oil: In peanut oil refining process, cold filtration or cold refining process is adopted in order to prevent the damage to protein and nutrients in traditional hydration refining process.
The physical and Chemical Indexes of the Flavored Peanut Oil: It has a stronger fragrance and taste than ordinary peanut oil.
It is not difficult to see from the comparison of peanut and soybean oil processing technology that soybean oil refining only needs one refining line and peanut oil refining needs two lines in order to retain the unique flavor of pre-pressed oil. Peanut oil refining needs to use low temperature cold filtration process.
How Much Does It Cost to Setup a Peanut Oil Refinery Plant
When plan to invest in peanut oil winterization or refining industry, the very first thing investors concerned most is the cost of setting up a peanut oil refinery plant. Here is a reference for you: for starting a mid-sized oil winterization (cold refining) plant for making flavored peanut oil, the equipment cost is around $100,000~$150,000. It is only for reference since the cost could be very different based on different crude oil situation, requirement and included equipment. (Related Project: 10 TPD Complete Set of Peanut Oil Processing Machine in Togo)
Flavored Peanut Oil Production
Flavored peanut oil is featured of strong fragrance, manufactured by special oil extraction and refining technology. It maintains the natural ingredients and fragrance of peanut oil. It is also rich in antioxidant vitamin E, it has a long shelf life without add any antioxidant. It is a kind of pure natural oil product produced by the combination of modern technology and traditional technology.


Small Peanut Oil Pressing Line
The production of flavored peanut oil requires strict selection of raw materials (peanuts) and must not contain aflatoxin. The production process is very different from that of ordinary peanut oil. Ordinary edible oil refining process generally includes physical and chemical treatment such as hydration, alkali refining, drying and deodorization, while in flavored peanut oil refining does not need to go through the above physical and chemical treatment, but adopts roasting / cooking, screw pressing by peanut oil making machine, low-temperature dephosphorization, cold filteration or winterization process. In the refining process, the phospholipid colloid is separated from the crude oil without using any additives to reduce the fragrance loss. And this is also why the refined peanut oil has a strong fragrance.