Expeller pressed peanut oil is the most common kind of edible oil with high nutritional value and good flavor, processed by physical oil extraction process which is known as screw pressing. However, what can we do during the processing of peanut oil to strengthen or improve the fragrance of final oil. (Project Report: 10 ton/day peanut oil making equipment)
How to Strengthen the Fragrance during the Processing of Peanut Oil?


Processing of Peanut Oil
Some clients reported that the peanut oil they produced do not have good smell or fragrance was too weak. Actually, there are many factors that make peanut oil smell unscented, mainly in the following aspects:
The quality of peanut raw materials can influent the taste of extracted oil directly. Good peanut oil requires good groundnut resources. There is no doubt that the peanut used for manufacturing superfine fragrant peanut oil should be fresh and full seed, so as to make the high quality peanut oil with strong fragrant.
Proportion of Raw Peanut and Cooked Peanut
The proportion of raw peanut and cooked peanut also matters. Generally, it should be controlled to 3:1. If the proportion of cooked peanut is too small, the smell of extracted peanut oil will be lighter. If the proportion is too big, the oil yield will be lower. The crude oil will be cloudy and it will increase the difficulty of subsequent process.
The pretreatment process before oil extraction in peanut oil expeller is definitely a skilled task. The control of moisture content and temperature are both key factor that can greatly affect the oil yield and oil flavor. Cooking is the key step in the production of strong fragrant peanut oil. The oil fragrance has a direct relationship with the seeds cooking process. If the temperature is too low, the fragrance is lighter. If the temperature is too high, the peanut will be burned easily. Generally speaking, the cooking temperature should be controlled 180℃ ~ 200℃. Besides, to prevent gelatinization and spontaneous combustion, the seeds should be cooled immediately after cooking. (Read more about edible oil refinery machine at factory price)



Built a Complete Groundnut Oil Processing Plant of Small Scale
From the above aspects, it can be seen that to make peanut oil more fragrant, we need to pay attention to raw materials selection, peanut proportion, temperature, etc. When you are facing the problem of peanut oil flavor, start from the above aspects. If you still unable to solve the problem, feel free to contact us for technical support, we are always glad to help you!
Tips for Purchasing Peanut Oil Processing Machines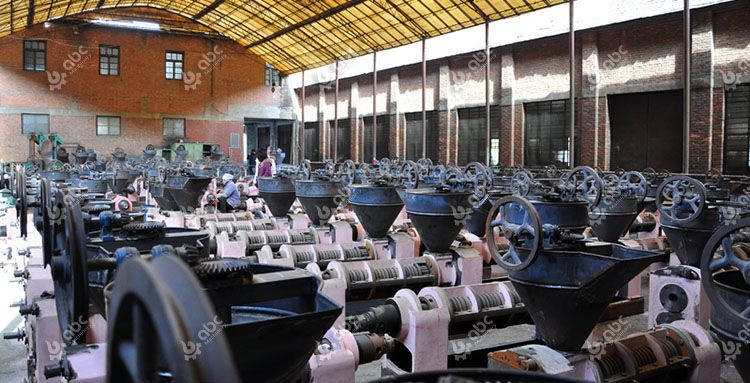 Peanut Oil Extraction Machine Manufacturer
Pay attention to the public praise of the brand when buy peanut oil processing machines. ABC Machinery is a reliable vegetable seed oil processing machine manufacturer and supplier in China. Through continuous technical research and development, our equipment is well known for its good quality and complete function. With the advantage of famous brand, strong economic strength and perfect after-sales service, ABC Machinery is your first choice when you are planning to open a small peanut oil making factory. We ensure cost-effective equipment, low production cost and fast return.