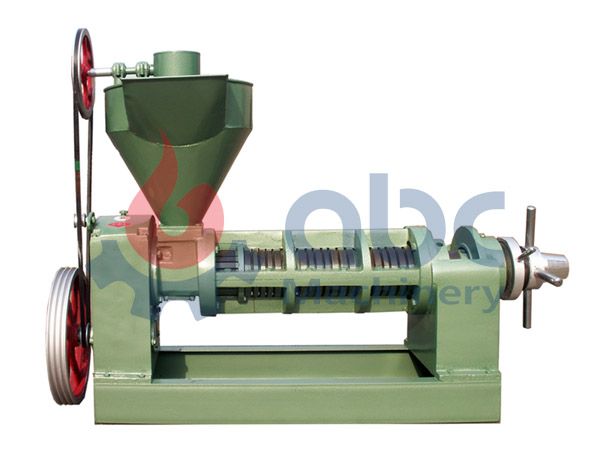 Model: YZS-120 Peanut / Pumpkin Seed Oil Expeller
Capacity: 6T/24H
Power: 15kW/3-phase/1440rpm
Size: 1970 x 700 x 780mmmm
Weight: 680kg

This seed and kernel expeller is able to press oil from various raw materials including peanuts, soybeans, pumpkin seeds, grape seeds and more. So, it can be used as peanut oil expeller, pumpkin seed oil expeller, grape seed oil expeller and so on.

YZS-120 vegetable seed oil expeller adopts latest technology to improve its operational efficiency and ensure high quality oil. Its less investment and easy-to-use operation make it popular among small oil pressing workshop.
Click to see the full parameters of the YZS series oil expeller >>
The following table is about the lubrication maintenance of the YZS-120 Seed Oil Expeller:
| lubrication | lubricate | Time span | Lubricate replacement period |
| --- | --- | --- | --- |
| Adjusting bolt | mechanical oil No.20 | 1-2time/day | |
| Bevel gear | mechanical oil No.20 | 1-2time/day | |
| Bearing bush | mechanical oil No.20 | 1-2time/day | |
| Gearbox | mechanical oil No.20 | 12kg the first time | six month |
| bearing | Grease | | once a year |

Full Parameter of YZS Series Oil Press
Here is all models of YZS Series oil press machines, choose the most suitable one depending on your capacity needs or you are welcome to contact us for suggesting you the best choice based on your specific situation and requirements!
| Model | Capacity(T/24H) | Power(KW) | Dimensions(MM) | Weight(KG) |
| --- | --- | --- | --- | --- |
| YZS-68 | 0.8-1 | 5.5 | 920*390*750 | 150 |
| YZS-80 | 2-3 | 5.5 | 1540*540*620 | 370 |
| YZS-95 | 5 | 11 | 1920*550*765 | 480 |
| YZS-100 | 4-5 | 7.5 | 1910*610*765 | 550 |
| YZS-120 | 6 | 15 | 1970*700*780 | 680 |
| YZS-130 | 9-12 | 18.5 | 2320 *700 *780 | 820 |
| YZS-165 | 15-20 | 22-30 | 2290*750*1020 | 1600 |
Features of Peanut / Pumpkin Seed Oil Expeller
Can be used to press oil from a wide range of vegetable nuts and seeds, including peanut, pumpkin seeds, coconut (copra), soya beans, sunflower seeds and more.
Premium pressing performance ensures high oil output rate and high quality of final oil.
Improved feeding system and filtering speed for high pressing efficiency and great production.
Compact design won't take too much areas, easy-to-use functions are welcomed for everyone.
Requires less maintenance and easy to clean up.
Built with long-term durability with high quality wear-resistant steel and fatigue resistance casting
Feeder of the YZS-120 Oil Expeller
The feeder of the screw oil expeller has a reversed fastigiated container to push materials into the chamber, and a screw device and a stirring rod. In this way, when the oil expeller is turned on, the screw device will turn round and speed up the material feeding, which will greatly improve oil pressing efficiency while avoiding seeds material blocking. And, the stirring rod have positive impact on mixing the materials before oil pressing. (Related products: Groundnut Oil Machinery)

How to Extract Groundnut Oil with Peanut Oil Expeller?


Small Scale Groundnut Oil Processing Unit


Small Scale Edible Oil Refining Plant
Use seed cleaning equipment to separate the peanut seeds from foreign materials, such as soil, vines, stems and others, for complete cleanup;
Crush and roast the cleaned peanut seeds and pre-heat the peanut seeds for next step;
Use the YZS-120 peanut oil expeller to press the preheated groundnut seeds for peanut oil;
Send pressed peanut oil to edible oil refining plant for further process since the crude peanut oil has a great deal of impurities;
After filtering in the cooking oil refining plant, the peanut oil is edible for human;
Hi, I'm interested in starting a small peanut oil production business in Morocco. I'm looking for a machine that can produce cold and hot press high quality oil. can you please give your professional advice on what type of machine ( with different out put size ) I would be needing for my project, as well as the prices.
Hi, thanks for your enquiry to our products. As for your request, could you advise the peanut is decorticated or not? Besides, what's your desired processing capacity per day..?
As for cold and hot press, which way do you prefer? Usually the customer use hot press for raw material peanut, because it could get more oil by hot pressing. What do you think, by the way?