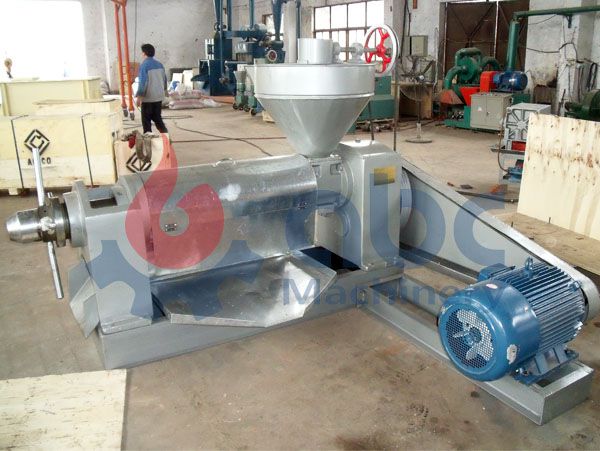 Model: YZS-165 seed oil press
Capacity: 15-20T per 24Hours
Power: 22-30KW
Size: 2290*750*1020mm
Weight: 1600kg

As an advanced biodiesel oil expeller, YZS-165 boasts the ability to press oil from a wide range of plant oil seeds, such as round nuts, soybeans, rape seeds, cotton seeds, sesame seeds, sunflower seeds, canola seed, coconuts/copra, tea seeds, jatropha etc..

Built with casted iron and premium steel, YZS-165 maintains longer working performance compared with its class. During the past 20 years, YZS-165 has helped company build great reputation among customers across the world. The oil pressed with YZS-165
biodiesel oil expeller
is pure and with faint scent, which makes the oil products popular. Just with little investment, you are backed with higher oil yield and can save time and labor costs. Besides, users-oriented design and functions, plus its affordability make YZS-165 seed oil expeller the No.1 choice for a lots of oil making processors.

Full Parameter of YZS Series Oil Press
Here is all models of
YZS Series oil press machines
, choose the most suitable one depending on your capacity needs or you are welcome to contact us for suggesting you the best choice based on your specific situation and requirements!
| Model | Capacity(T/24H) | Power(KW) | Dimensions(MM) | Weight(KG) |
| --- | --- | --- | --- | --- |
| YZS-68 | 0.8-1 | 5.5 | 920*390*750 | 150 |
| YZS-80 | 2-3 | 5.5 | 1540*540*620 | 370 |
| YZS-95 | 5 | 11 | 1920*550*765 | 480 |
| YZS-100 | 4-5 | 7.5 | 1910*610*765 | 550 |
| YZS-120 | 6 | 15 | 1970*700*780 | 680 |
| YZS-130 | 9-12 | 18.5 | 2320 *700 *780 | 820 |
| YZS-165 | 15-20 | 22-30 | 2290*750*1020 | 1600 |
Features of YZS-165 Biodiesel Seed Expeller


Spare Parts of Screw Seed Oil Expeller
User-friendly running: compact size design, easy maintenance, noiseless operation;
Stable and smooth operation: specialized gear box for averaged rotating speed;
Guaranteed quality: constructed with cast iron base; high-temperature tempered and low-temperature quenched chamber;
Convenience: superior grade oil cake with suitable thickness that is adjusted when the seed oil expeller is stop running;
Equipment Required for Biodiesel Oil Extraction

An Example of Biodiesel Seed Oil Extraction Plant (Screw Pressing)
Pre-extraction equipment: dehullers or decorticators, seed/kernel crackers, roasters, grinding mills;
Extraction equipmen: manual bridge press or ram press, oil expeller press;
Equipment for basic refining of the oil: filters, settling tanks for caustic soda to treat free fatty acids FFA (do not use aluminium tanks);
Packaging equipment: The specific equipment required depends on different conditions, including the particular plant oil seeds being processed, the final oil quality and the scale of oil pressing; (Related product: Cottonseed Oil Mill Plant)
Feel free to contact us if you need detailed information about our biodiesel oil processing machine or want to get a quotation about our seed oil expeller presses.
We are alway glade to hear from you!