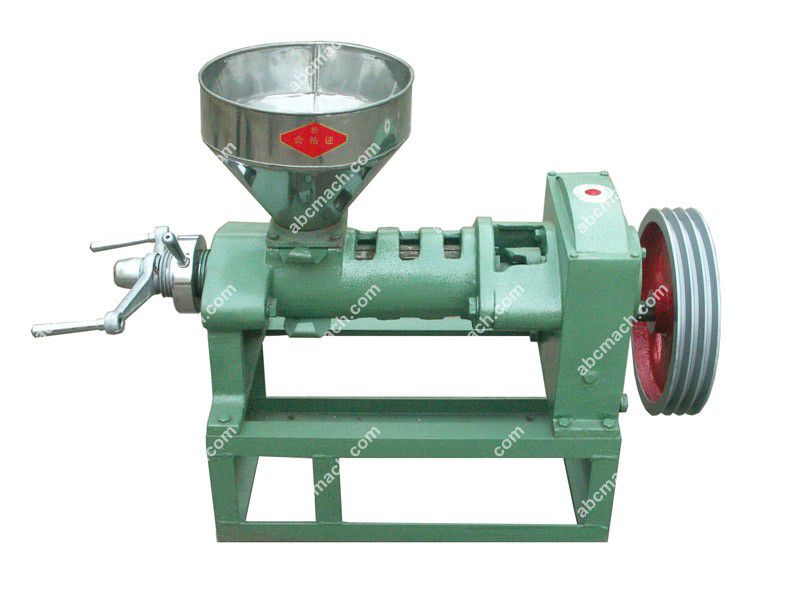 Model: YZS-68 Mini Oil Expeller
Press Chamber Diameter/Lenght: 70/200mm
Press Screw Diamter/Lenght: 68.5/600mm
Press Screw Speed: 137-160rpm
Prime Motor: 5.5kw/1440rpm
Dimensions: 1000*538*1050mm
Weight: 140kg
---
The Oil Yield Varies When Expelling Different Oil Bearing Materials
| Raw Material | Capacity | Output Rate | Output Efficiency |
| --- | --- | --- | --- |
| Cotton Seeds | 50-60 kg/h | 12-14% | 65-72% |
| Soybeans | 28-37 kg/h | 10-16% | 61-65% |
| Peanuts | 45-60 kg/h | 35-45% | 91-92% |
| Rape Seeds | 45-60 kg/h | 30-38% | 82-85% |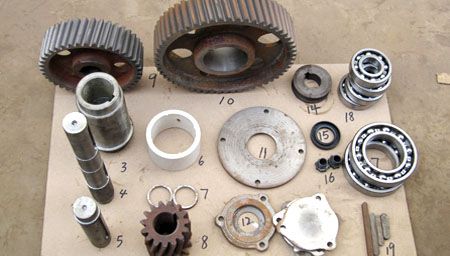 Spare Parts of The Expeller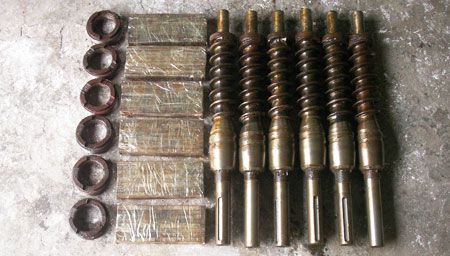 Pressing Ring, Pressing Bar and Screw Shaft

Full Parameter of YZS Series Oil Press
Here is all models of YZS Series oil press machines, choose the most suitable one depending on your capacity needs or you are welcome to contact us for suggesting you the best choice based on your specific situation and requirements!
| Model | Capacity(T/24H) | Power(KW) | Dimensions(MM) | Weight(KG) |
| --- | --- | --- | --- | --- |
| YZS-68 | 0.8-1 | 5.5 | 920*390*750 | 150 |
| YZS-80 | 2-3 | 5.5 | 1540*540*620 | 370 |
| YZS-95 | 5 | 11 | 1920*550*765 | 480 |
| YZS-100 | 4-5 | 7.5 | 1910*610*765 | 550 |
| YZS-120 | 6 | 15 | 1970*700*780 | 680 |
| YZS-130 | 9-12 | 18.5 | 2320 *700 *780 | 820 |
| YZS-165 | 15-20 | 22-30 | 2290*750*1020 | 1600 |
Characteristics and Performance of The Vegetable Oilseed Expeller
Compact and reasonable design, light weight;
Easy to handle;
Cast iron machine base,less maintenance;
Light in weight and convenient to move around;
Suitable for an extensive variety of seeds and nuts
Low labour intensity and high economical profit;
Can running continuously with low noise;
High oil yield and superior grade oil cake
This small oil expeller can also by driven by diesel engine. Send us an inquiry for more details and the lastes price of the small oil expeller.

We offer oil expellers with various models and capacities. There is always one oil expeller that can meet your oil making needs. Begin a business with a low investment today with our screw oil expelling machine and we will always be at your service . The following is the technical information of every model.
How Does Screw Oil Expeller Work?
A screw is a kind of small oil press that expelling oil seeds through a confined cavity that is similar to barrel. Crude materials enter one side of the expeller and waste items leave the other side. The machine uses grinding and constant pressure from the screw drives to move and pack the seed material. The oil is seeps through little openings that don't permit seed fiber solids to go through. Later, the squeezed seeds are formed into a solidified cake, which is removed from the machine.

Our oil mill machines are suitable for an extensive variety of seeds and nuts like :Rapeseed, Shea Nuts, Canola Seeds, Jatropha Seeds, Cotton Seeds, Castor Seeds, Sunflower Seeds, Karanja Seeds, Coconut or Copra, Mustard Seeds, Corn Germ, Flax Seeds, Groundnut, Groundnuts, Neem Seeds, Palm Kernel, Sesame Seeds, Jatropha, Soybean or Soybean, Other Vegetable Oil Seeds and Nuts.
Read More: Machinery for Building a Oil Mill Plant
Relying upon the physical properties and the content of the oil, unit operations for preparation of seeds for oil extraction fluctuate marginally. Most oil seeds however go through the procedure of cleaning, drying dehulling, size reduction, flaking cooking and treating.
Hi, I would like a price on the Model: YZS-68 Screw oil press, including lead times.
Hi, Thanks for your enquiry to our products.Could you advise the following info:
1. what's your raw material?
2. What's your local three phase voltage and frequency?
3. What's your processing capacity per day, do you just want a single oil press?
4. what's your nearest port?
Will give you the CIF price as soon as you confirm it.
Dear Sir, I came across your product through online search. I am looking for the purchase of automatic small oil press for home use. Can you please provide me the following details?
• What is the price?
• Do you ship to Dubai? If yes, what will be the charges?
• Whether the product supports both hot and cold press?
• Do you accept credit card payment?
• How long it takes for the delivery of the material?
• Do you have any dealer in Dubai from where we can purchase the product?
1Tks for your enquiry to our products. As for your questions, pls see my answers in red letter below:
The price has been sent to your email directly, you can check it anytime.
It could only be sent by Air, no shipping company would like to ship it, due to the small size. pls advise your exact price,will give cost for you next time.
Only hot press. for cold press, you just remove the alcohol burner, but the oil yield rate is low.
Sorry, we couldnt accept credit card, could you arrange it by T/T or west union.
we could send it within 7days after getting your payment.
sorry, we dont have one dealer in Dubai yet, we deliver the products to all our customer directly.
I am from Nigeria. I want to enquire about theYZS-68 Soya Oil Press. I would like an oil press machine with a single phase that can run on 7.5kva generator. Moreso, a pocket friendly and durable one for beginners in low scale production. I would like to go into peanut oil production; I would like your team to educate me more on the manufacturing processes and the machines that will eanable me start up on small scale for now.
Thanks for your attention to our oil presses.
Attached is the quotation of YZS-68 oil press for your reference.