Offer 1~100ton/day Cooking Oil Processing Machine and Turnkey Business Plan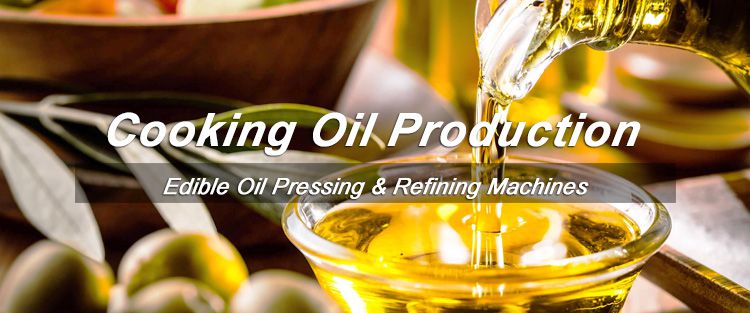 If you are looking for the high quality and cost effective cooking oil making machine for starting your own small vegetable oil extraction business, you are in the right place! ABC Machinery should be your BEST and reliable cooking oil mill manfuacturer and supplier of edible oil pressing machine and refinery equipment.
Set Up a Small Cooking Oil Processing Plant
Output: Process 1-10ton oilseeds per day.
Oil-bearing Materials can be Processed: Soya beans, groundnut, mustard seeds, sunflower seeds, copra, grape seeds, cottonseeds, watermelon seed etc. (Related post: how to extract castor oil? )
Cooking Oil Manufacturing Process: Oil Seeds Cleaning, Cooking, Oil Pressing / Expelling, Filtering.

This small scale complete set of cooking oil equipment can be applied to make oil from various vegetable oil seeds, just as large scale oil mill plant. This set of oil making machine can be customzied bused on your specific oilseeds and cost budget. Feel free to get in touch with us if you want more details of our edible oil machine or interested in this small oil manufacturing unit!


Cooking Oil Production Plant (1-10ton/d)
Main Equipment: Seeds screening and cleaning equipment, screw elevator, cooker, oil expeller, oil filter and electric cabinet.
Price: The cost is varified according to production output, oil making process design, and selection of each equipment. Contact us now to get the detailed quotation of this small cooking oil production assembly unit! We are always at your serive!
This is a complete cooking oil processing line an excellent option for producing optimize edible oils. This small scale edible oil production line can also be equipped with other kinds of equipment such as seed hulling / husking machine, crushing machine, oil filling machine and oil refining machine if required. Just contact us and tell us your needs, our service team will offer the appropriate and customized oil making plan based on your specific situation.

Related Machinery: Click here to have a look at our advanced integrated oil press machine which combines oil pressing and filtering all in one >>

Screw Cooking Oil Making Machine for Sale


Vegetable Oil Presses for Sale
Lower price and wider processing range, makes screw oil press expeller the first choice for vegetable seed oil extraction in most cases. With the development of screw oil pressing technology, it is not only the preferred equipment for farmers to extract oil, but also becomes a popular option for establishing medium scale commercial oil production plant.
Complete Cooking Oil Extraction & Refinery Project [Photo Display]
Global Market of Cooking Oil Manufacturing Business
Due to the many economic benefits associated with lower overhead and maximum production rates, running small scale cooking oil production business is becoming a hot project to invest in, especially in South Africa, India, Uganda, etc. Smaller cooking oil manufacturing plant can also produce high quality edible oil from various oilseeds. In addition to low investment cost, small scale cooking oil machines also have low production cost and require smaller space to get started. (Read more about vegetable oil production business plan >>)
Value-added Plan of Cooking Oil Plant- Utilization of Oilseed Cakes for Feed
In addition to ease of use and quality cooking oil product, a small scale oil extraction plant also produces usable byproduct. The secondary product created by the cooking oil machines is known as oilseed cake.
| Oilseeds Production (In Million Metric Tons) | 2018-2019 | 2017-2018 | 2016-2017 | 2015-2016 | 2014-2015 |
| --- | --- | --- | --- | --- | --- |
| Copra | 5.829 | 5.734 | 5.512 | 5.319 | 5.424 |
| Cottonseed | 43.257 | 44.987 | 39.083 | 35.759 | 44.357 |
| Palm Kernel | 19.448 | 18.7 | 17.352 | 15.958 | 16.567 |
| Peanut | 41.866 | 44.929 | 44.153 | 41.232 | 41.547 |
| Rapeseed | 70.371 | 73.998 | 69.432 | 68.74 | 70.426 |
| Soybean | 360.993 | 339.993 | 349.309 | 316.565 | 320.718 |
| Sunflowerse | 51.491 | 47.398 | 48.008 | 40.541 | 39.186 |
| Total | 593.255 | 575.739 | 572.849 | 524.114 | 538.225 |
Source: Oilseeds - World Markets and Trade, a USDA Publication
---
Oilseed cake is a valuable co-product that can be used as animal feed or fertilizers. These byproducts can be sold to generate additional profit for our cooking oil making plant. Cotton is another example that once processed, the removed lint is used to make cellulose and yarn for world market products. Soybean byproduct is also used in products like soap, paints, and other household common products. Read more about how to set up a pellet mill?


Turn Oilseed Cakes into Pellets >>
Additional tips for cooking oil production include ensuring the quality of nuts and seeds used for oil extraction. Process in time to aoid deterioration of seeds and nuts. Together with suitable and quality oilseeds extraction machine, the result will be the premium edible oils.
Dear sir, I am planning to open cooking oil manufacturing in Nepal. So I want to know the price of the machine. Would you send me quotation of the machine.
Thanks so much for you enquiry to our products.
But could we know what's your raw material and processing capacity per day?
So we could suggest and design for you accordingly soon.
I want to purchase a small oil pressing plant and a small oil refinery line for producing edible oil from seeds like sunflower, soya beans, sesame, cotton seed for use in Uganda. What is the price FO
Dear Sir, Could i know what's your main raw material, because the processing methods is a little different.It's diffult to design one production line for all the materials. Besides, what's you daily processing capacity, will calculate for you accordingly. By the way, what's your current business, are you from Uganda?