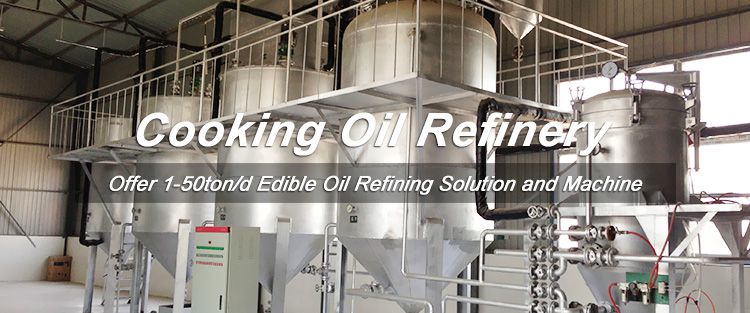 Offer Customized Cooking Oil Refining Plant
After oil is extracted from vegetable seeds, the crude oil should go through a number of different processes in cooking oil refinery plant to make it ready for human consumption. Simply defined, refining is the process of removing impurities which may be present in the crude oil. Such impurities include phosphatides, free fatty acids (FFA), waxes and gums. Besides, edible oil refinery machine also helps remove bad smell and dark color.
Small Cooking Oil Refinery Plant
Production Output: 1ton/day ~ 20ton/day
Main Parts: Heat conduction oil furnace, steam generator, deodorizing pot, decoloring pot, refining pot leaf filter and hot water tank.
Oil Refining Process: Degumming, Neutralizing, Decolorization, Deodorizing
Application: Suitable for refining all kinds of vegetable oil and animal oil, such as fish oil, rice bran oil, niger seed oil, palm oil, coconut oil, cottonseed oil, rape seed oil, sunflower seed oil, peanut oil, soybean oil, etc.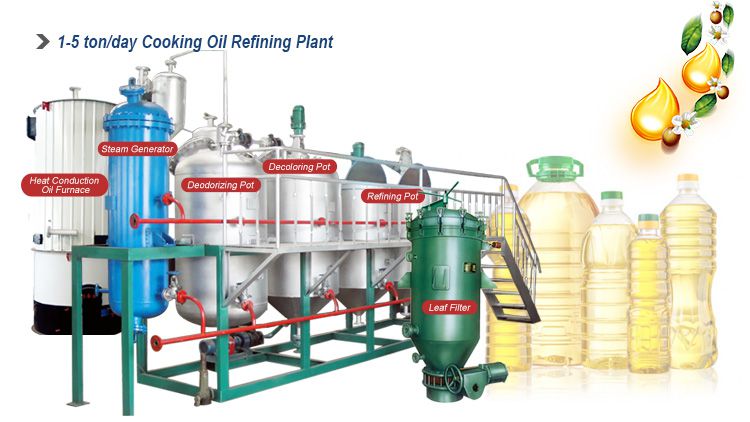 Vegetable Oil Refinery Plant for Sale

Highlights of the Small Edible Oil Refinery Unit
If you are interested in building a mini or small cooking oil refining factory for starting a edible oil business locally and make big money, a small and cost effective cooking oil refinery plant is what need! This small batch oil refining equipment set is featured of:
Less land request
Wide application
Low cost
Easy operation
It is not only widely used for refining of vegetable oil, but also animal oil. Besides, due to compact and reasonable structure designm, the equipment price is much lower which means the cost recovery time is largely shorted. Land is always a problem when running edible oil refinery plant or starting oil milling business. But there is no need to worry about land matter with this set of batch oil refinery equipment. Only 50m2 is enough for establishing a 1-10ton/day cooking oil processing plant. What's more? It is very easy to master the operating skills after our short time professional training.
Commercial Vegetable Oil Refining Plant [Project Display]
ABC Machinery is the leading manufacturer and supplier of cooking oil extraction and edible oil refinery machine. Our oil processing equipment are suitable for almost all types of oilseeds and nuts. The followings are some of our small scale edible oil refining projects. Contact us now to get detailed info and latest cost the small refinery machine (info@abcmach.com).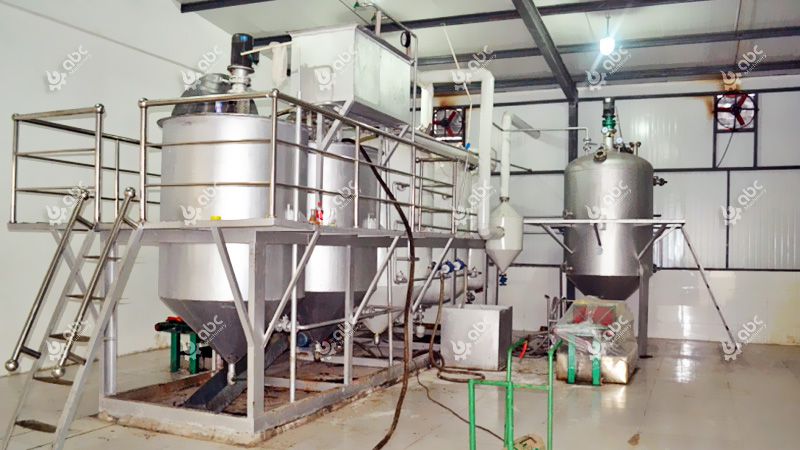 1ton/d Grape Seed Oil Refinery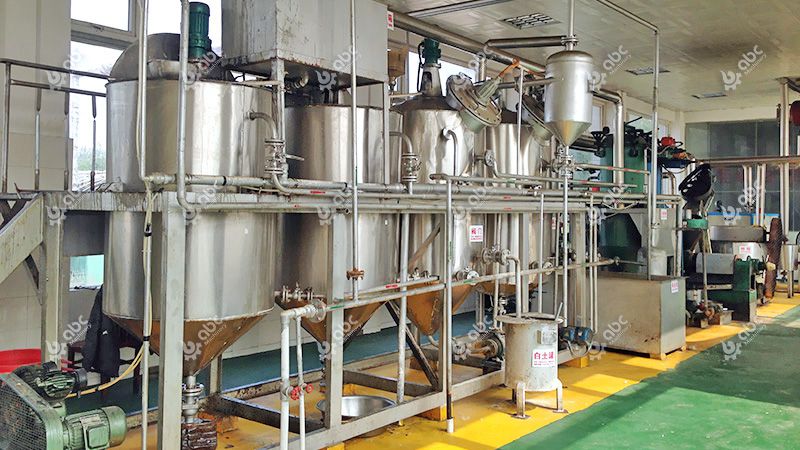 1ton/d Seal Oil Refinery Machine (stainless steel)
Complete Cooking Oil Refinery Process
The process of oil refining in cooking oil refinery plant can be carried out in two different types: continuous refining process and the batch refining process. This mini oil refinery machine belongs to batch refinery. Although the two process have more similarities than differences, the one aspect that sets them widely apart is the production output.

Cooking Oil Refining Process (Batch Type)
Batch refining process is adopted in small to medium scale cooking oil production (1-30 ton/day), with a free fatty acid component of less than 1%.
Continuous refining process is recommended when the oil production output is 30-50 ton/day.
Small cooking oil refinery generally adopts batch type because of its low maintenance, simplicity of operation and its low capital investment.
It is also referred to as pretreatment. Here, the oils are subjected to acidic treatment. Gums are precipitated out and separated by the centrifugal separation process. When gum content is low, gum conditioning is applied instead. (Related Projects: 5TPD fish oil refinery plant built in Pakistan)
The degummed oil from process one is subjected to alkali refining. The free fatty acids present in the oils react with the caustic soda leading to the formation of a soap stock. Through the use of a centrifugal separator, the soap stock is removed by centrifugal separators which use water to wash off the soap.
This is where any coloring pigment present in the oils is removed. Here, the neutralized oil from process two is treated with activated carbonlearth. Vertical pressure leaf filters are then used for the removal of the bleaching agent when all the oil has been passed through.
As suggested by the process name, this is where odor removal takes place. Every cooking oil has its unique natural smell. During the bleaching and the neutralization processes, unpleasant smells are imparted on the oil. It is therefore necessary to get rid of them. This is where any odiferous material present is removed. This operation is carried out at temperatures which are extremely high. By maintaining a high vacuum and injecting an open stream, the odiferous matter is removed. Through the use of a vacuum system, it is then carried off to the barometric condensers. (Related Projects: 3TPD oil pressing and refining plant in Uganda)
Oils such as corn oil and sunflower oil have waxes in them. When oil with waxes is kept in relatively low temperatures, it gets a hazy appearances which is generally disliked by customers. The removal of waxes is the final step that a cooking oil refining plant takes before bottling and marketing its oil.
Video: Edible Oil Refinery Plant Layout and Construction
I am writing to you from Lilongwe, Malawi. The company I work for are interested in purchasing a 10TPD Oil Refinery. I would like to find out:

How long it will take to commission the plant?
the price of the plant;
the total cost of installation;
the time it will take to deliver the plant to our location;
Thanks for your attention to our oil refinery plant. Following is the answers for your question:

It takes 30 days moreor less to commission the plant. The budget of the plant: 85,000.00USD more or less. Email attachment is the instruction list for your reference.
Producing time: 30--40 days after got payment.
Shipping time: 45 days more or less.
Custom clearance: 7 days more or less.

Follong is the some questions you may consider first:

1: The crude oil is? After confirmed your material then we can design you the project.
2: Could you please inform you already have the oil press machine to extract crude oil? Could you send picture for reference? Will check and connect the workshop for you.
Dear sir may I know what is the cost for setting up a small plant for refined Cooking oil.
Hi, What kind of crude oil do you want to refine? and how much oil do you want to process per day?
Hello,we are interested with your set of oil refinery machine. Could you pls, urgently send us your quote CIF Dar es Salaam port ASAP
Hi, Thanks so much for your enquiry to our products.
Before sending you the quotation and proforma invoice, we'd like to clarify the following questions first.
1. What's your raw material and daily processing capacity per day?
2. Do you just want refinery equipments, do you have pressing equipments already?
3. What's your current business, do you have steam boiler..?
we'll equip a furnance boiler for you if you have no boiler.
We are intended to produce RBD coconut oil from crude oil in Philippines.Therefore we need your esteemed company offer for machinery specs and rock bottomed price for 200 Mt/month final product.
You plan to produce RBD coconut oil from crude oil, So you already have the oil press machine to extract crude oil as material? Could you send a picture for reference.
The capacity: 200 Mt/month final product, it means 8 tons per day. We advise you choose the 10 tons oil refinery plant. Please confirm?

Before we have installed a 20TPD coconut oil press plant with 10 TPD oil refinery in Philippines. Will send you pictures for your reference.