Project Name: Grape Seed Oil Refining Plant
Processing Capacity: 10ton/day Production Line
Factory Location: Qiuxian, China
Refining Process (chemical refining): Degumming, Neutralization, Decolorization, Deodorization.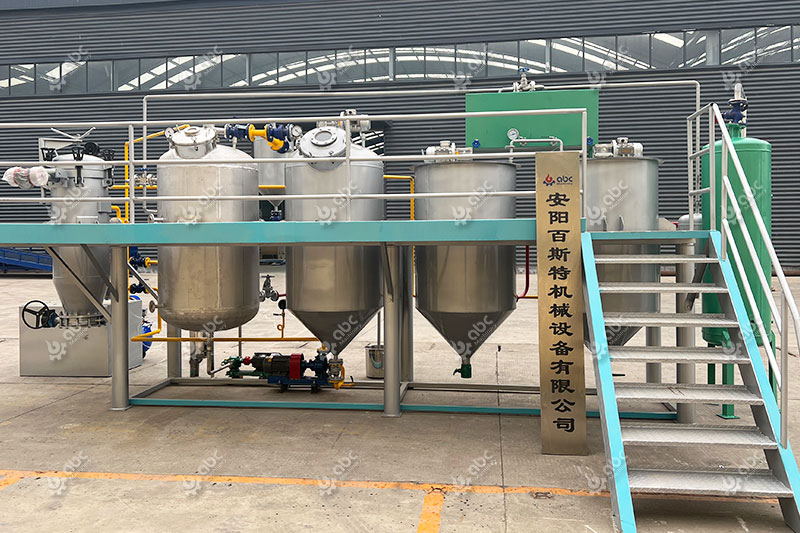 Refined Grape Seed Oil
This is one of our grape seed oil refining line established in Qiuxian, China. It is a domestic refinery project. The capacity of the refining project is 10 ton per day. View the photos below to know more details of the grape seed oil refining equipment in the project.
Small Grape Seed Oil Refining Line Project
The following is the basic refining process of crude grape seed oil:
Crude grapeseed oil → Filtration → Degumming → Deacidification → Desolventization → Deodorization → Dewaxing → Fine Filtration → Refined Grape Oil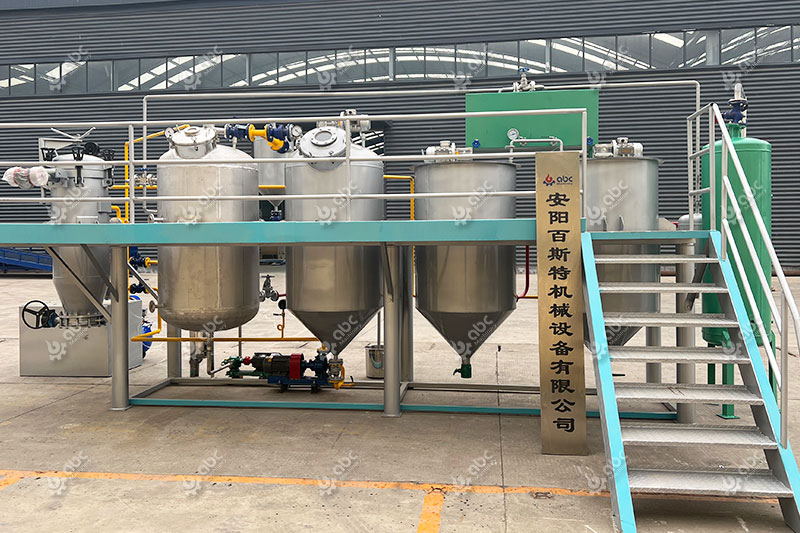 Small Scale Grape Seed Oil Refinery Unit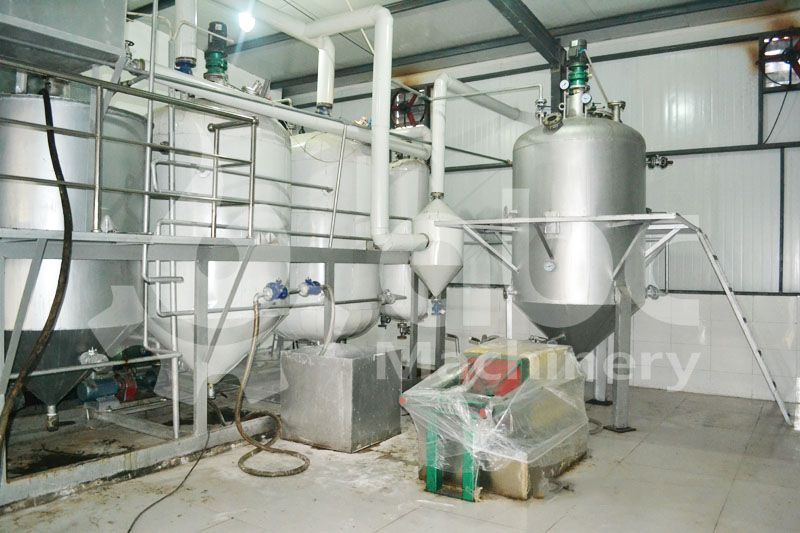 Details of the Grape Seed Oil Refining Line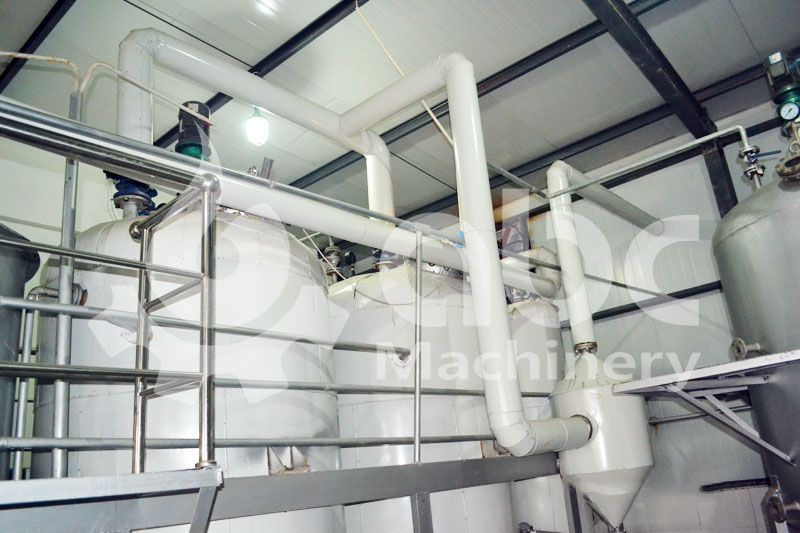 Fatty Acids Trap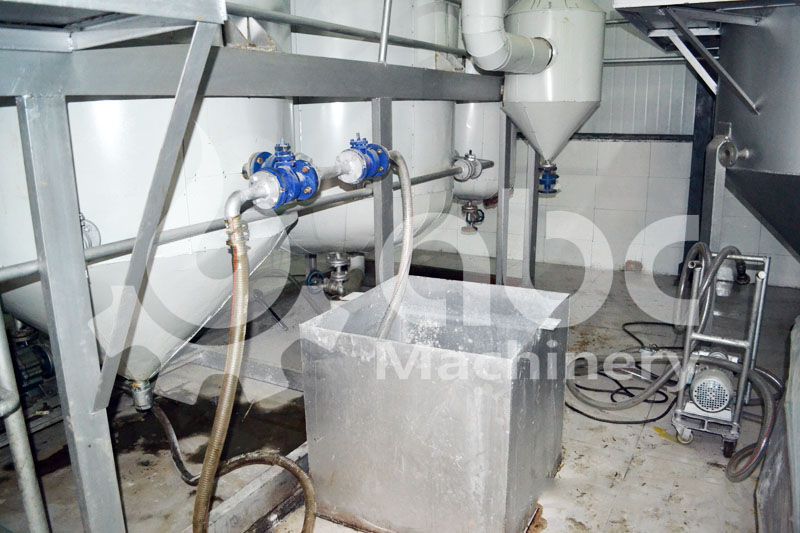 Activated Clay Box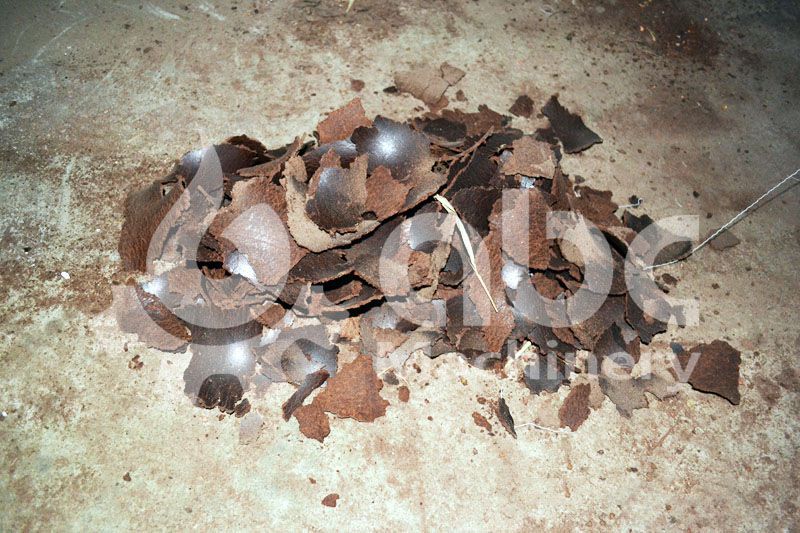 Grape Stone Oil Cake
Grape seed oil refining line is build for producing edible cooking oil from crude grape oil. The refining process can remove fat-soluble and pigment impurities efficiently to get premium edible oil for our everyday life. Grape seed oil refinery generally includes crude oil filtration, degumming, alkali refining, washing, drying, desolventization, deodorization. If you are planning for starting your grape oil business and need a complete refining plan, ABC Machinery will be your best choice! Feel free to contact us for detailed information and latest price. We are always glad to service you!

How to Choose Edible Oil Refining Equipment? How Much is a Set?
Edible oil refining is a relatively complex but flexible work. It is necessary to select appropriate refining equipment according to the purpose of oil refining, taking into account technical conditions and economic benefits.
Depending on the degree of automation, there are three different types of edible oil refining equipment on the market, namely batch refining equipment, semi-continuous refining equipment and full continuous refining equipment. The engineers of ABC Machinery suggest that you can choose different types of refining equipment according to the daily processing capacity of the factory, the degree of oil refining and the investment budget.


Three Different Edible Oil Refining Equipment for Sales
Choosing batch refining equipment
If the daily processing capacity of the factory is below 20 tons, ABC Machinery recommends that you choose batch refining equipment.The entire section of the batch refining equipment is carried out in batches, with a daily processing capacity of 1-20 tons/day, which is suitable for small edible oil refineries. The equipment has simple structure, convenient operation and low investment budget. For manufacturers with limited initial investment budget or small daily processing capacity, this equipment is sufficient to meet daily production needs.
Choosing full continuous refining equipment
If your output is relatively stable and the daily processing capacity is maintained at more than 50 tons per day, ABC Machinery recommends that you choose full continuous refining equipment. The process flow of the fully continuous refining equipment is fully automated and fully continuous, which saves a lot of manpower and material resources, has high production efficiency, good refining effects, and high economic benefits. It is suitable for large-scale edible oil refining plant.
Choosing semi-continuous refining equipment
The semi-continuous refining equipment combines the characteristics of batch refining and full continuous refining. In the semi-continuous refining process, degumming, deacidification and decolorization are carried out in batches, while deodorization is carried out continuously. The equipment not only ensures the effect and efficiency of edible oil refining, but also reduces the investment budget for edible oil refining. It is more suitable for large and medium-sized edible oil refining plant with high requirements for finished edible oil and limited investment budget.
After knowing how to choose edible oil refining equipment, I think everyone is more concerned about the price of refining equipment. In fact, the price of refining equipment is determined by the degree of refining required by the customer, daily processing capacity, equipment material, etc. It is said that "the one that suits you is good", so choose the appropriate refining equipment according to your own situation and needs. As a manufacturer of edible oil production equipment, ABC Machinery can customize edible oil refining processes and edible oil refining equipment with ex-factory prices for customers. If you have any needs, please feel free to contact us!
I need to know the electrical requirements for 1 TPD refinery plant? How much power do I need to run the plant.
Total power is 20.8KW.
What other things externally do I have to attach to the plant. Any compressed air? Cooling process? Boiler? Plz confirm the entire list of external items necessary to run the plant. What you supply and what I should supply to make the plant work.
We will supply the compressed air, Cooling process, Boiler. No need you prepare others. What you need is the installation tools. And the raw material: Crude oil, NaOH, Bleaching earth,etc.