Project Name: 5TPD Fish Oil Refining Line
Transaction Date: January 2014
Installation Date: October 2014
Location: Karachi, Pakistan
Raw Material: By-products from local fish processing factory.
Processing Type: Chemical Refining (Hydration Degumming → Neutralizing → Decolorization→ Deodorization)
Feature: Since the freezing point of animal oil and fat is relatively lower than vegitable oil, animal oil is easy to crystallize. Heating coil is mounted on the bottom of refining tank to avoid the crystallization.
---
Fish Oil Refinery Processing Methods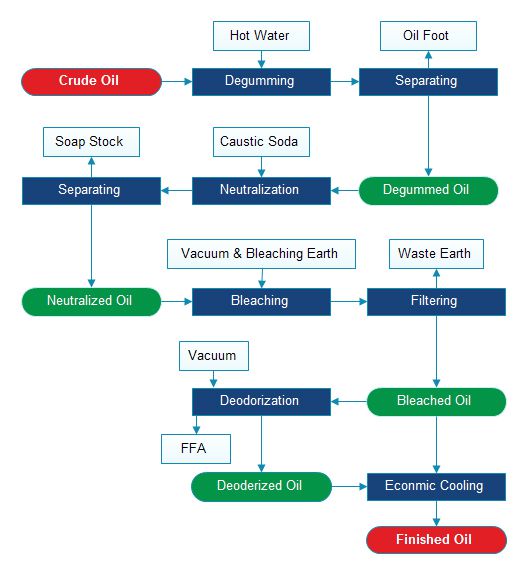 Fish oil refinery line / plant is designed and built to produce edible refined fish oil, so that to utilize the world's fish oil resources reasonably and comprehensively. The development of fish oil refinery industry can not only improve the economic and social benefit of fish oil, but also boost the economic, improve people's health. Now, let's discuss about the processing technic and conditions of deep sea fish oil (orange roughy oil) refinery. Below is one of our 5T fish oil refining tests and high quality refined fish oil which meets the international standard is obtained, for your reference.
Technological Process Flow of Fish Oil
The refining process we adopt in this test is as follow (the process may be different in different situations):
Crude Fish Oil → Degumming → Separating → Degummed Oil → Neutralization →Separating → Neutralized Oil → Bleaching → Filtering → Bleached Oil → Deodorization → Deodorized Oil → Economic Cooling → Refined Fish Oil

Test Materials: Crude fish oil from a domestic fish meal factory.
Crude Fish Oil Quality:
| | |
| --- | --- |
| Acid value (mgKOH/g) | 12 ~ 14 |
| Moisture content (%) | 2.5 |
| Impurities (%) | 1. 1 |
The pilot production adopts batch process and equipment. The deodorization part combined steam heating and electric heating. Heat exchange tank is used in the plant to achieve energy exchange between the cold and hot oil, so that to save energy and water.
Main Process Parameters and Instructions
Degumming: Heat the crude fish oil up to 40℃ and then add a certain amount of degumming agents and stir rapidly. Add 60℃ hot water again and make use of mesotherm hydration. When phospholipids swell and began to precipitate after absorbing water, stir slowly. Then, after static settlement, let out the oil foot which is also called degummed fish oil.
Alkali Refining (acid stripping): Pump the degummed fish oil into the alkali refining pot and heat up to 40℃ or so. Then add alkali liquor and fish the spray in 8~10 min once. Fast mixing for Low temperature alkali refining. Keep the rate of temperature increase around 1℃/ min. When the temperature rises up to 60℃, slowly stir it for a few minutes. Then let it precipitate under constant temperature. Release the niger and was it two or three times with hot water. Then you can get alkali refined fish oil.
Decoloring: Pump the alkali refined fish oil into the decoloring tank. After vacuum drying, heat up to 80~90℃. Add suitable amount of activated clay. Control the vacuum degree reasonably (better make a lab test). Stir decoloring for 20~30 min. Then, cool to 60~70℃. After filtering by use of filter press, decolored fish oil could be obtained.
Deodorization: Suck the decolored oil into stainless steel deodorizing tank by vacuum suction. Add some citric acid solution before heating up. When the oil temperature reach up to 100℃(steam heating), spray direct steam. Control the vacuum degree and deodorization time strictly. Keep the deodorization temperature around 200℃ (electrical heating). When the deodorization is accomplished, pour the hot oil into heat exchange tank and let it exchange heat with un-deodorized oil. When the oil cool to about 130℃, add additive to keep the oil in good quality. keep cooling and when the temperature is below 70℃, break the vacuum. Refined fish oil (oil products) is obtained after security filtering.
The finished oil products can be more clear and transparent by adding winterization process in the oil processing plant. The content of EPA and DHA can increase at least 27%.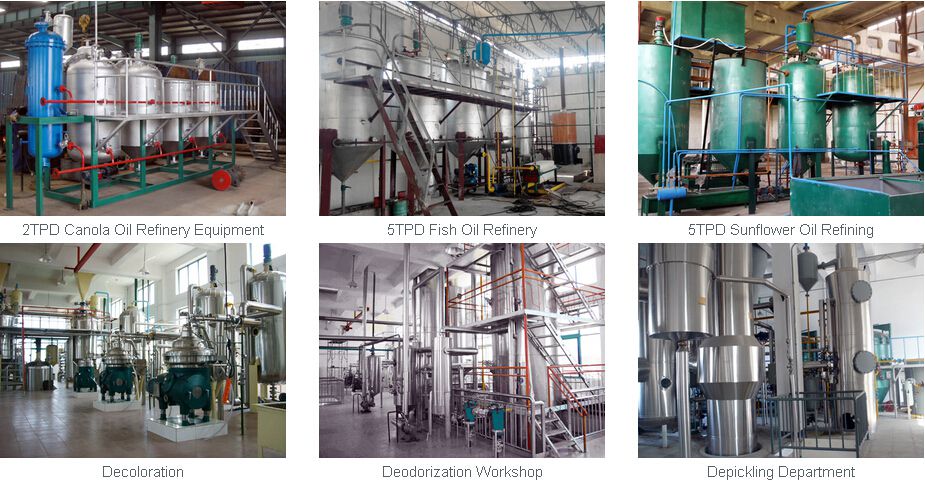 In this refining production, we add additive to help keep the quality of finial refined oil products. The oxidation resistance is greatly improved by doing. The effective way to solve the problem of oxidation is adding suitable antioxidant, such as compound antioxidant of VE and tea extract. Besides, storing under low temperature can also prevent oxidation and rancidity, so that to ensure the quality of fish oil products in the process of circulation. There are also some other available methods such as nitrogen-filled sealing, gas insulation and avoid light.
Comparison of Oxidation Stability Value (90℃ Drying Oven Method)
| Time (hour) | Soybean Oil (grade II) | Refined Fish Oil |
| --- | --- | --- |
| 26 | 16. 79 | 11. 26 |
| 50 | 23. 44 | 14. 25 |
You are promoted to fully develop the fish oil products and processing the refined fish oil to products such as concentrated fish oil and soft capsule. Or add fish oil in animal feed, to improve feed conversion rate, promote the normal development of livestock and poultry, and supply meat and egg products with rich EPA and DHA. With the improvement of people's health consciousness and life quality, the demand for fish oil product will keep increasing. So the prospect of fish oil plant is absolutely bright! Moreover, developing the utilization of fish oil resources, and further improving the economic and social benefits of fish oil is also the task of oil & fat research department and manufacturing factories.
Hi sir. I am looking for system to work on sun dry fish with 22 percent oil need to be reduce to 10 percent max. Capacity of machine is 20 mt daily and fish size between 5to 15cm. So pls advice me.
Hi, dear, As for your request, we suggest the following processing way:
Dry fish—>cooking—>pressing—>drying &milling—>fish meal
Miscella—>oil &water separating—>crude fish oil—>refining—>edible oil
Pls kindly confirm this processing technology, will quote for you accordinlgy later.