Offer Turnkey Vegetable Oil Production Business Plan
(customized factory layout, process design, equipment manufacturing, onsite project installation and commissioning)
Start Successful Edible Oil Mill Business in India
Here is a brief project report of 5ton/day edible oil mill setup in Manipur, India. This project is a small scale complete oil production including oil pressing and oil refining process, designed and built for processing mustard seeds. If you are about to open cooking oil factory or invest in oilseeds milling project, take this project for reference.
Photo Display: 5TPD Vegetable Seed Oil Mill Plant in Manipur, India


5ton/d Mustard Oil Plant in India



Oil Filtering and Bottling Section
Almost each oil production project plan is customized based on each clients' raw material and other requirements such as production output, investment budget, and factory situation, etc. Feel free to contact us! We will do our best to help you on the success of your edible oil business. (Other Project: 10ton/day Soybean and Groundnut Oil Producing Factory in Africa)
Small Scale Oil Production Unit [HOT Sale]
Mini oil mill or small size oil mill are the BEST choice to start the oil mill business in India. It requires relatively simple business plan and will also be a successful business plan. Here are advantages of mini or small scale oil mill business.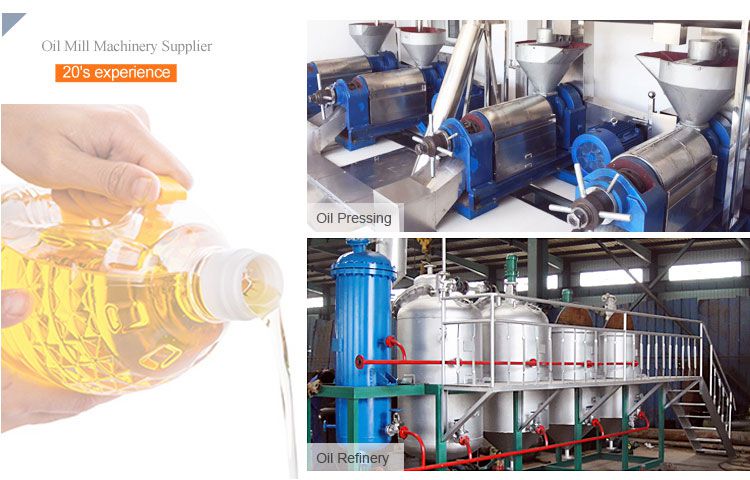 Requires relative low investment cost since it only needs small factory areas, relatively simple oil processing equipment, less labors and less consumption of energy.
Suitable for various oil crops to produce high quality edible vegetable oils, including mustard oil, cottonseed oil, soybean oil, palm kernel oil, peanut oil and more.
Relatively simple oil processing technology is easy to operate and maintenances.
Ensure high quality oil for its full complete oil manufacturing process.
If you are really interested in start oil mill business in India, please contact us for complete professional information to fulfill your business plan so as to make it success.
Great Potential of Edible Oil Making Business in India
Based on India's demographic dividend and good economic development, demand for commodities, including cooking oil, looks promising as people's living standards continue to rise. Due to low productivity and low planting profits, India's domestic vegetable oil production stagnated. In order to meet the continuous growth of demand, the import volume of vegetable oil in India increased by 45% in the past five years, and the import dependence reached 70%.
Supply and Demand of Vegetable Oil Production in India
Palm oil is India's main import oil, averaging 9 million tons a year, followed by soybean and sunflower oil. If the consumption of vegetable oil in India increases by 4% in the future, it will increase the consumption of oil by 900,000 to 1 million tons per year. Although the Indian government has raised import tariffs on vegetable oils, oil consumption in India is still to be expected due to the limited growth of oil seed production in the country.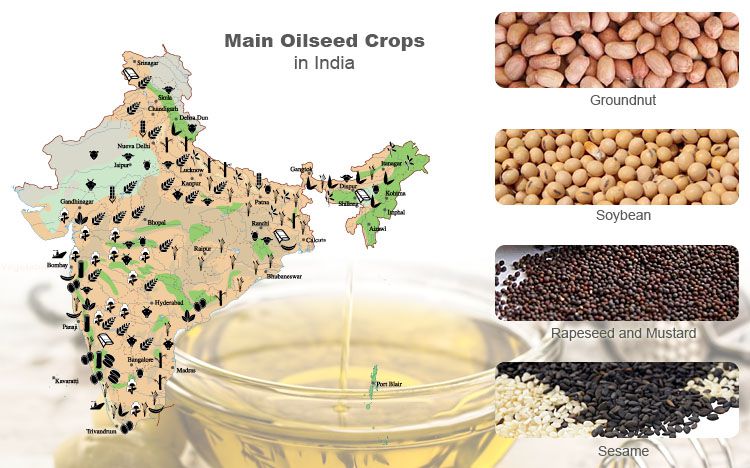 Vegetable Oil Production in India
Rapeseed oil/mustard oil, soybean oil, cottonseed oil and peanut oil/groundnut oil account for nearly 85% of the total vegetable oil production in India. Actually, India has unique natural conditions for the growth of various oil crops, including cotton, soybean, soybean, peanut, mustard and more. Therefore, starting an oil mill business is one of the best profitable business ideas for vegetable oil production would be profitable. (Related post: Small Scale Soybean Oil Plant Project Report >>)
India: Oilseeds and Vegetable Oil Production Targets by 2021/12 (MMT)
Crops
Oilseeds
Oil
Groundnut
10.75
2.47
Soybean
16.50
2.64
Rapeseed and Mustard
9.75
3.02
Sesame
1.10
0.33
Others
4.00
1.50
Total
42.1
9.96
Source: NMOOP
Make Your Own Vegetable Oil Production Business Plan - TOP10 Steps
How to make your tailor-made business plan for establishing oil mill plant in India? Before you start an oil extraction or refinery business you need to work out a good customized business plan. Below you will see a plan for oil milling plant that could become your draft to use with some minor necessary changes. (Read more about Mustard Oil Business>>)

Study the demand for edible oils in various parts of India, as it greatly depends on population and income in this or that region. (Latest Article: Edible Oil Processing Plant)
Create Business Project Report
Preparing the project report will be of great help if you want to get finance from banks and other financial institutions (One Belt One Road Policy Loan). Such a project report should include technical analysis and financial aspects. Creating the technical part, think about the plant capacity, manufacturing technologies and raw materials you will use and the entire organization of the production process. Present your business objective clearly. Working on the financial aspects, including the fixed cost, your working capital, the expected sales revenue and ROI.
It's great if you can start the business with your own funds. But if it's not the case, you'll need to get funds from the banks or the local venture capital firms.
Location for your oil mill plant is also important for your success of the oil mill business. Turn to experts for consultation as it is not wise to invest in a business in the wrong place. Oil mills don't need much space. An average unit will need about 1000 sq meters, half of which could be used as a production area, and the other half can be used for packaging, storing and office work. If you have a factory land that is enough for establish your oil mil plant, which would be great. But, if not, it is also a good idea to start your business in a rented place in some industrial zone.
Decide Oil Production Process
There are many oil production technology available today to maximize the oil out for various oil seeds. If the oilseeds with high oil content, mechanical pressing will allow you to extract about 85% of the oil. To extract the most of it, use solvent extraction method for oil cake residual. Consult your machinery manufacturing or supplying company to understand how to build the extraction process correctly, they often will offer you complete oil production process that fits your demands mostly.
Get Oil Mill Processing Machinery
Machinery is the main requirement in this business. There are lots of companies in the world that supply oil extraction machinery. Make your own research, read the reviews and choose the most reliable one. Contact their specialists to learn what types of machines you will need and how to use them.
Install the Machinery and Establish Your Oil Mill Plant
When all the required oil processing machinery is purchased, it is time to install them and complete the oil mill plant. Usually, the oil mill machinery supplier will be in charge of the installation and commissioning of the equipment, but the electricity, water and other utilities should be prepared by you.
Make sure you find the regular source of the raw materials you are going to choose for your business, as well as the packaging (glass or plastic bottles, poly pouch).
Business registration is obligatory for this type of business. After you finish your registration, you are allowed to get the trade license, as well as Business PAN Card. At this point, you should open a bank account for the necessary transactions.
Oil production requires workers for working with the machinery as well and distributing the product itself. You will need to hire at least such positions as a production head, an accountant, machine operators, store workers.
If you dream to build a business in India that can earn long-term revenue, then starting oil mill plant is the best choice for you. It has a reduced entry, requires low investment cost, easy to operate and has large profits.