Vegetable oils are extracted from plant seeds such as palm,olive ,corn and soya beans.The oils are generally classified according to their use and source from which they are obtained. The edible oils are extracted from the seeds by using machines that put pressure on it to produce oil or by dissolving them in a solvent.This article will offer information that you need to know about refining edible oils and the edible oil processing plant. The followings are the benefits of using vegetable oil.
The use of edible vegetable oil increases the metabolic rate of the body particularly for the obese;
Reduce chance of cardiovascular attacks;
Unlike fats,vegetable oils have a low cholesterol content and thus cannot clot in heart arteries and veins;
This greatly reduces the chances of people getting heart and other related diseases;
Decrease the risk of breast cancer;
Research has shown that daily use of olive oil can greatly reduce the spread of breast cancer in women.
Small Edible Oil Pressing Line


Mini Oil Milling Plant
Oil pressing is the first part of edible oil processing plant. This small oil pressing line is fully mechanical which is designed for manufacturing crude cooking oil from various of vegetable seeds and nuts. It is featured of low cost, easy operation, high oil yield and low labor needs. Only 2~3 worker is enough for running the whole line.
The small edible oil pressing line is widely applied to making oil from various vegetable oil seeds, such as sunflower seeds, coconut, palm kernel, sesame seeds, soybeans, cotton seeds, peanuts etic. Affordable price, fewer land space, wide application and labor saving, this small unit is the ideal choice for those who want to start a mini or small scale oil processing plant in the early investment.
Advantages of The Small Cooking Oil Pressing Line
Wide application for a great number of oil bearing materials.
The semi- continuous can avoid the unstable material feeding caused by manual and make the worker safety more under the higher temperature working situation.
Small investment, fewer land space, but with the complete function of oil mill plant to get higher oil yield.
Need fewer labor than single oil press machine, with considerable design.
Easier to operate, easier to install and commissioning.
Small Edible Oil Refinery Line
This is the equipment that is used in the refining process of edible oil processing plant. Small edible oil refinery line has several pots where the crude oil passes until it reaches full purification.The small oil refinery line can be applied to all types of oil bearing seeds. It is light in weight, which makes it easy to move.lt requires low capital investment as it is cheap compared to other oil refining machines.The machine has the ability to change various types of oils easily. (Related projects: 5TPD fish oil refining line established in Pakistan)


Machinery for Mini Oil Refinery Plant
The Process of Refining Vegetable Oils
The vegetable oil extracted from the seeds contains many impurities which need to be removed for it to be used.The process of removing impurities is known as refining.There are
various stages that are involved in refining crude edible oil using the edible oil processing plant as discussed below.
This is the first stage in the refinery process where all the gums and other impurities are removed completely from the oil.This stage is meant to enhance the edibility as well enhance neutralization in the next stage of refining.
This is the second stage in the refining process,where all the fatty acids are removed with the help of caustic soda.After neutralization,the impurities obtained can be used later in the soap manufacture.
This stage is meant to remove any color pigments that may be present in the oil.
This is the last step in the refinery process where all the undesired odors are removed from the oil.
Basic Parts of Small Oil Refinery
The small oil refinery has several parts that make it function efficiently as discussed below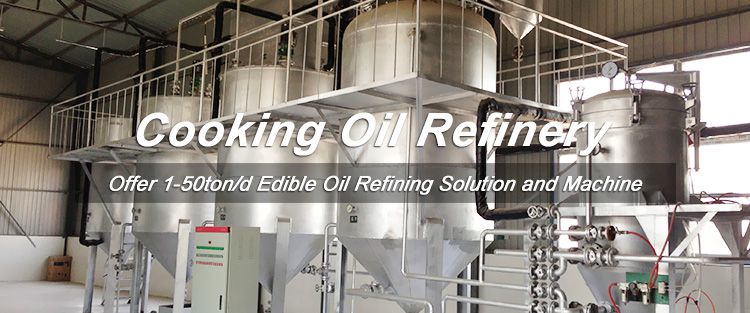 Steam generator —this is used to generate heat to be used in the refining process.
Deodorizing pot- this is where unpleasant odors are removed.
Decolorizing pot- this is meant to remove all the color pigments in the oil.
Other accessories include;bleaching tank,compressors and pumps and water tanks.
---


Our Clients
If you are thinking about investing in the edible oil processing business,we have the BEST edible oil processing plant including oil pressing and refinery that are highly economical. Why don't you contact us NOW to learn more about how to go about the oil refining business and get the latest price of a complete and automatic oil extraction plant.
Dear Sir,We are interested in setting up a small edible oil production line in Mauritius.I'm thinking about setting up a simple setup for producing around 1TB of refined edible oil. I'm also planning to start producing biodiesel out of my crude oil.
Dear, Tks so much for your enquiry to our products.
Usually the customer use rapeseed for producing biodiesel, because it's cheaper. However, we don't have equipments for producing biodiesel, except edible oil.
As for edible oil, you need to find the favorite oil your customer request in your market first, then decide which kind of oil to refine. while we could design and quote for you the refining system accordingly.
Good afternoon, we are planning to set up a similar plant with capacity of 50 TPD in Zambia. how much, in general terms could such a plant had cost? And what are the specific process? Did you also install a solvent extraction unit for the plant you did in Zambia? Do you manufacture these units?
Hi, Thanks so much for your inquiry of our product. The detailed cost budget has been sent to you. However, as for your request, it's too small to have a solvent extraction, only pretreatment, pressing and refinery work shop. Also the capacity could be around 20TPD, not 50TPD.
Besides, as for raw material soya and sunflower, could you advise what's the proportion for them. Because the process way is a little different for the two raw materials. Sure, we manufacture these units, the project in Zambia not only includes pretreatment, solvent extraction, refinery, oil filling workshop.
but also includes feed mill plant, silo, boiler and steel structure.