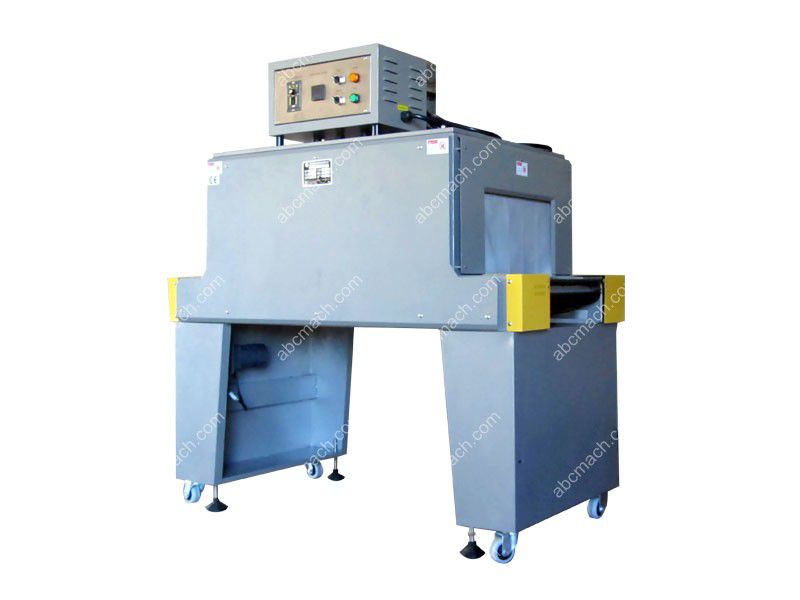 This heat shrink packaging machine is designed for packing wood briquettes, which is widely used in briquette plant. There is an oven chamber inside the machine which can generate heat. In conjunction with the internal fan, oven chamber will full of hot air with uniform temperature. And by temperature control instrument, the temperature inside the oven chamber can be kept at constant. When running, the wood briquettes will be sent into the oven chamber by belt conveyor. Then under high temperature, the heat shrinkable film (PVC, PP, PE, POF) will shrinking and wrapping the briquettes tightly.
Yes! I am Interested!
Ask for Price
Details:
The Main Technical Parameters:
| | |
| --- | --- |
| Voltage | 220V |
| Max Power | 5kw |
| Max Packing Size | W×H (400×200) c |
| Loading Weight | 5kg |
| Conveying Speed | 0-10m/min |
| Size of The Profile | L×H×W (1200×630×520) cm |
| Weight | 60kg |
The temperature and the time of the pellicle:
| Pellicle | Name | Thickness (mm) | Heating-time (S) | Temperature in contraction-room (℃) |
| --- | --- | --- | --- | --- |
| Polyvinyl Choride | PVC | 0.02-0.06 | 5--10 | 110--130 |
| Polypropylene | PP | 0.02-0.04 | 6--12 | 130--170 |
| Polyethylene | PE | 0.12-0.20 | 30--60 | 150--180 |
| Plastic Optical Fiber | POF | 0.03-0.10 | 8--16 | 130--170 |
Packing machine is also called sealing equipment or wrapping machine. If you need to buy a heat shrinkable packaging machine for biomass briquettes, you are recommended to learn about hot shrink machine. So what aspects should be considered? Now, we will introduce for you.
First of all, choose the packaging film for briquettes packing. There are three kinds of packaging film: POF, PE and PVC. PE film is the thickest, POF and PVC is relatively thinner. PE film shrinking machine price is higher, the other is cheaper. PE film shrinking machine can shrink other film, but it is not established in return. Because when PE film shrinking other films, you can lower the temperature and higher the speed to achieve good effects. But the in return, both the efficiency and performance are bad.
Secondly, make sure the form of packaging you need. In general, shrink packaging machine is divided into fully enclosed type and sleeve type.

Determine your packing size based on the size of biomass briquettes. Different machine has different size of shrink oven. So make sure your size and choose the most suitable one.

Consider the load-bearing of the packing equipment. If the bearing is low, the service life of the machine can greatly be shorted.

Semi-automatic or fully automatic? Fully-automatic type is suitable for large scale briquetting production. For small or medium scale production, semi-automatic type is ok.

Heating mode. The heating mode of shrinking machine is different. Some adopt silica tube (quartz tube) heating. Some adopt steel tube heating. The former is cheaper. But quartz tube is quick-wear part in the shrinking machine, while the steel tube is not easy to be damaged.