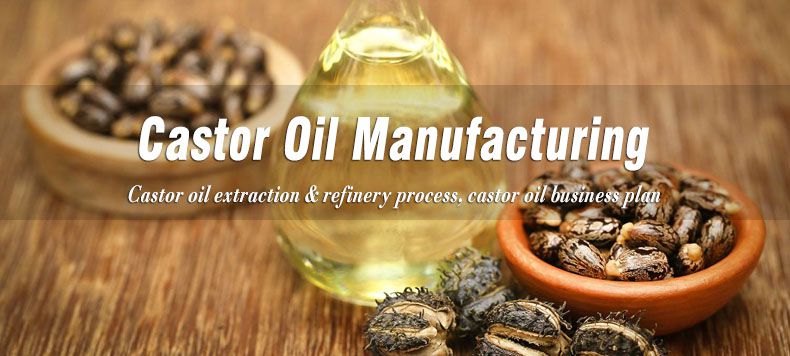 Castor Oil Business Plan
Castor oil is one of the main materials for manufacturing lubricating oils and biofuel, with its emissions of gases complying with international environmental standards. It is also widely applied to production of Turkish Red Oil, soap, plastic, daily cosmetics, shoe polish and pharmaceutical ointment. In recent years, buoyed by a new wave of worldwide demand for castor oil, castor cultivation and its downstream industries such as castor oil extraction shows great economic potential and tremendous opportunities. If you are planning for starting a castor oil manufacturing business and need a full plan for the oil extraction and refinery. You are in the right place.
ABC Machinery is a famous seeds oil mill machine manufacturer in China, dedicated in cooking oil processing equipment including small oil presses, integrated oil press and filter machine, small scale oil manufacturing unit and industrial scale oil mill plant including complete castor oil manufacturing plant.
Establish Castor Oil Manufacturing Plant
Castor Bean Size can be divided into three level: large grain (15-20mm), medium grain (9-14mm) and small grain (5-8mm). The bulk density of castor seeds is 500-560kg/m3. The shell proportion of castor bean is 20%-30%. The oil content of whole castor bean is to 45%-56%, while the oil content of kernel can be up to 65%-80%. The protein content is about 15%-28%. Castor oil has the reputation of "renewable oil". It contains 85%-90% ricinoleic acid, so that it has high application value in both industrial and medical field.
Oil pressing & refinery unit for small castor oil business


Mini Castor Oil Making Machine Set for Sale
This is one of our HOT Sale castor oil making machines - Small Vegetable Oil Manufacturing Plant. Some clients prefer to call it mini oil mill unit. The capacity of this small oil making unit is 100kg/h ~ 250kg/h. Feel free to send an inquiry about this facility if you are interested in start a small scale seed oil producing business.
Castor Oil Refinery Machine


Small Edible Oil Refinery Machine
Crude castor oil is sent to the refinery plant to make high quality refined oil. The main crude oil refining process include settling and degumming, bleaching, neutralization and deodorization.
Settling and Degumming

: Castor oil contains gum material that affect utilization of the oil as a lubricant. Degumming is done to remove any aqueous appearances from the lipids and remove phospholipids from the oil.

Bleaching

: Bleaching is then done which helps in removal of coloring materials,phospholipids and oxidation products.

Neutralization

: Neutralization is necessary in order to remove any free fatty acids from the oil and can be done by use of chemicals or steam stripping also as physical means.

Deodorization

: Finally, deodorization is done in order to remove any odor from the oil.
Starting Complete Castor Oil Manufacturing Plant
Here are some photos of plant oil manufacturing factory we built before for our clients. Welcome to contact us for equipment details, cost, and other project information for reference.
Cost of Setting Up a Complete Castor Oil Plant
There are various processes that are carried out in a castor oil manufacturing plant. To ensure the lowest production cost and highest production production, each project of our castor oil processing plant was designed and built according the specific situation and requirements of our clients. Here are some project reports of oil mill plant we built for our clients. Since each plan is designed depanding on the specific situation and needs of each client, the process design, equipment layout and cost is more or less different from one to another. Tell us your needs to get customized manufacturing plan for FREE!
Castor Oil Processing Method
How is Castor Oil Extracted? Castor bean is a kind of soft oilseeds with high oil content. Extraction of oil from castor seeds is similar to sesame, rapeseeds, cotton seeds, sunflower seeds and other seeds. Traditional screw pressing process can be adopted for industrial oil production. The following two common kinds of castor oil extraction process.

Complete Castor Oil Production Process
01. Twice pressing process
02. Pre-pressing and solvent extraction process
If you plan to start castor oil business for medicinal application, it is better to adopt cold pressing method. Cold pressed oil has low acid value (<1.5) and light color (Y10, R1). It can meet the international medical standard (PP grade). However, the oil rate of cold pressing is low, sot the best process is to combine cold pressing with pre-pressing & extrusion and solvent extraction, so that to get both cold pressed castor oils and industrial oil.
The first stage involves
oil pressing
which is done using using screw oil expeller. The
expeller
breaks up the seed by high pressure and therefore extract oil from it. The extracted oil is then filtered. The castor oil cake is then crushed and sent to
solvent extraction
section. After oil extraction, the impurities in extracted oil will be removed by filter press.
Application of Castor Oil Cake in Feed Processing Industry
The oil cake or meal is the main by-product of vegetable seed oil production. Castor seed oil cake contain small content of poisonous substance such as ricinine, ricin and idiotoxin CB-1A. So detoxification is needed before apply these oil cakes in feed production. Detoxified castor seed oil cake can also be used in a variety of feed formulations. In duck, pig and fish feed production, the dosage of castor oil cakes can be 15%~20%, and the feeding effect is very good.
Overview of Global Castor Oil Production Market


Castor Seed Oil Business
Strong export demand internationally lifted castor future and made as one of the high demand cash crops in recent years. According to the statistics, there are currently 3 million hectares of land for planting castor in the world, with 1.5 million tons of castor nuts harvested annually.Castor plant is native to Egypt, Ethiopia and India. It is one of the world's TOP 10 oil crops. It is therophyte in variable zone and perennial in torrid zone, featured of well-adapted, drought-resistant and easy planting techniques. The major producers of castor seeds are India, Brazil, China, Thailand, the Philippines, Pakistan and the former Soviet Union. The production of these countries account for more than 96.2% of total global production.
| Country | Production (Tonnes) |
| --- | --- |
| India | 830000 |
| China | 210000 |
| Brazil | 91510 |
| Ethiopia | 15000 |
| Paraguay | 12000 |
| Thailand | 11052 |
| Vietnam | 5000 |
| South Africa | 4900 |
| Philippines | 4500 |
| Angola | 3500 |
| World | 1209756 |
Castor bean is high oil content oilseed. It has a worldwide demand that is rising 3%~5% per annum. The major castor importing markets are the European Union, the United States, Japan, Thailand and China.
ABOUT CASTOR SEED: The castor seed is obtained from castor plantations but can also be harvested from wild plants such as 'Ricinus communis'. Castor plant is easy to grow and is resistant to drought, which makes it an ideal crop for the extensive semi-arid regions globally. Castor oil is an all purpose oil which is extracted from the seeds of castor plant. It has various uses including manufacturing of brake fluids,adhesives, paints and pigments. lt is also used for making soaps, inks, washing powders and textiles. It is also used for flavoring food in the food industry. Castor oil is extracted from castor oil seeds by either mechanical pressing or solvent extraction.
Video: Wide Application & Benefits of Castor Oil
Give details of castor oil press,including freight to Kenya.would you also buy the oil.
Kindly let me know castor oil manufacturing capacity you need? How many castor seed do you need to press per hour?
Exact for the oil press machine, do you need the oil filter machine together?
How much does this item sell for including shipping to jamaica? Is this item suitable for pressing oil from castor beans?
Yes, we can provide oil manufacturing plant for castor beans. Please find attached the quotation including the shipping cost to your country.
I own a castor oil plant in India. I need your help!
How to identify the quality of castor bean easily when purchasing castor seeds? And what do I need to pay attention to in seed storage?
Look at the appearance: good castor seeds are featured of full, smooth and shiny. Bite the seeds, you can hear crispy sound and the kernel is white. Low quality seeds are generally dark, yellow or have spot, some even smells like rotten oil. Grasp tightly, if there is no cracking sound, it indicates that the castor bean is full with no empty grain.

Here are the main the storage characteristics of castor bean: Castor seeds are large, and the shell is easy to break, easy to absorb moisture, rancidit and mildew. So pay attention to moisture-proof and shatterproof in storage. Dry the seeds outdoor regularly in the air, especially in the summer. Besides, avoid direct sunlight under high temperature, to prevent oil and rancidity.