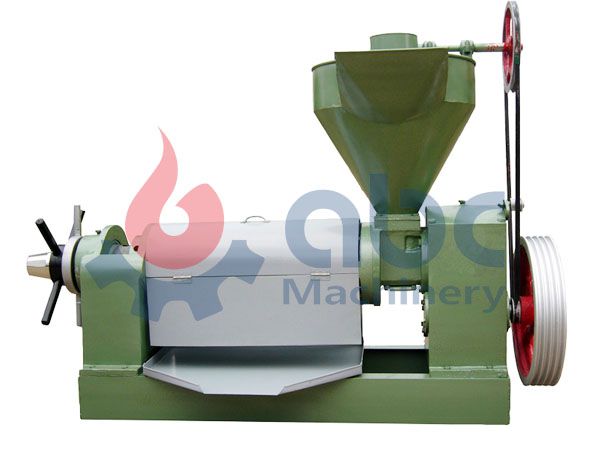 Model: YZS-130 Jatropha, Canola Bean, Palm Kernel Oil Expeller
Capacity: 9-12T per 24Hours
Power: 18.5kW/3-phase/1440rpm
Size: 2320 x 700 x 780mm
Weight: 820kg

YZS-130 plant seed oil expeller is widely used to press oil from a great variety of raw material seeds, including peanuts, soybeans, rape seeds, sesames seeds, palm kernel seeds, jatropha, canola seeds, sunflower seeds, and more.

With advanced technology, YZS-130 not only keeps all the advantages of traditional oil expeller, but also adds an automatic heater to increase the oil output rate by hot extrusion. Equipped with large capacity and reliable functional features, YZS-130 small screw oil expeller is the ideal jatropha oil expeller and canola oil expeller from small oil pressing workshops to large-scale oil extrusion factory. Besides, it can be customized into D series or A series for customer convenience. We are specialized in providing YZS series small screw oil expeller at the affordable price for the global market. (Related Product: Jatropha Oil Extraction Machine)

Full Parameter of YZS Series Oil Press
Here is all models of YZS Series oil press machines, choose the most suitable one depending on your capacity needs or you are welcome to contact us for suggesting you the best choice based on your specific situation and requirements!
| Model | Capacity(T/24H) | Power(KW) | Dimensions(MM) | Weight(KG) |
| --- | --- | --- | --- | --- |
| YZS-68 | 0.8-1 | 5.5 | 920*390*750 | 150 |
| YZS-80 | 2-3 | 5.5 | 1540*540*620 | 370 |
| YZS-95 | 5 | 11 | 1920*550*765 | 480 |
| YZS-100 | 4-5 | 7.5 | 1910*610*765 | 550 |
| YZS-120 | 6 | 15 | 1970*700*780 | 680 |
| YZS-130 | 9-12 | 18.5 | 2320 *700 *780 | 820 |
| YZS-165 | 15-20 | 22-30 | 2290*750*1020 | 1600 |
Highlights of The Seed / Kernel Oil Expeller
Durability: built with cast iron base;
Cost saving: reduce up to 40% of electrical power with the same oil output and reduce up to 60% of labor cost;
Great versatility: it can be used to press a number of oil seeds, such as peanuts, sesame, soybeans and more;
Compact design: it small size won't take too much space for working;
High quality oil: vacuum filter residues for pure oil;
Stable pressing performance: special gear box structure ensure averaged rotating speed;
Maybe you are also interested in how to set up a Canola Oil Manufacturing Plant?
Steps to Extract Oil with Seed & Kernel Oil Expeller
Palm Kernel Oil: Palm kernel is a kind of edible seed from oil palm tree - a native tree widely planted in Africa and parts of Asia. Normally, palm fruit can produce two distinct oil, palm oil and palm kernel oil. Palm oil is extracted from the outer part of palm fruit while palm kernel oil is obtained from the palm kernel seeds.

---
The extraction of Jatropha, Canola Bean / seed and Palm Kernel oil can be finished through mechanical oil pressing plant. The basic steps to extract plant seed and kernel oil is as following:
Pre-treatment of seed & kernels: firstly clean the oil-bearing seeds and separate it from foreign materials, proper kernel pre-treatment is necessary to improve extraction efficiency;
Extraction by seed & kernel oil expeller: feed the seeds into the screw expeller to extract oil;
Clarification of crude oil in edible oil refinery machine: pressed crude oil generally contains certain impurities, so it is necessary to remove them for edibility through clarification or filteration;