Canola Oil Production Technology and Equipment
Canola oil is not only one of the safest forms plant-derived oils on the planet, but is also one of the oldest forms of fuel agents used by human civilization. The legacy of canola oil dates back approximately 4,000 years, when the first known accounts of rapeseed use emerged in lndia. The cultures of China and Japan were also early adopters of rapeseed roughly 2,000 years ago before the oil began turning up in lamps in Northern Europe in the 13th century. Jump ahead 700 years, canola plays a role in the life of billions of people, increasingly as an edible oil.

If you are looking of premiun canola oil manufacturing plant, ABC machinery who can garantee Top Quality, Timely Delivery and the Lowest Price should be your first choice! Contact us to get more information about our canola oil machines and turnkey edible oil manufacturing projects!
Canola Oil Manufacturing Process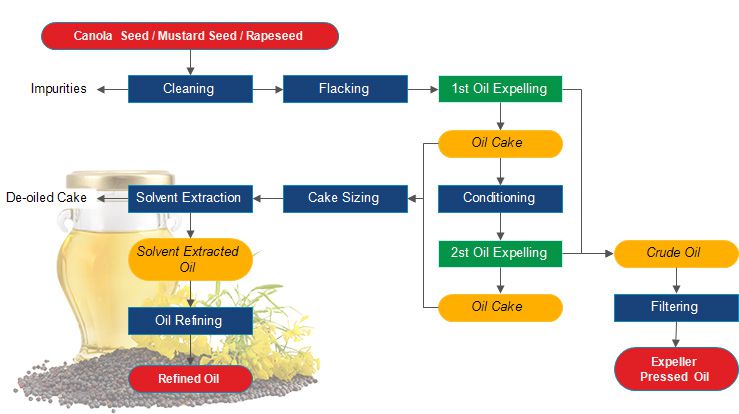 Medium to Large Scale Edible Oil Manufacturing System
The first step in the process of manufacturing canola oil is rolling and flaking the rapeseed, which streamlines the process of extracting the oil. Seeds are then cooked and pressed at a plant through a process that removes some elements of the oil and compresses the seeds into large chunks known as cake fragments. Further processing removes most of the remaining oil primarily through a process known as pre-press solvent extracting. To complete the process, the oil and meal are then processed separately, according to the end product requirements.


Mechanical Oil Milling Machine
However, with advances in technology, different treatments are now used at canola manufacturing plants to process salad oils, margarine and shortenings. Inspired by the highest standards of health and hygiene, modern day processing remove unattractive colour compounds. Edible oil manufacturers increasingly use the process of bleaching, whereby the oil is moved through a natural clay. Bleaching also provides the added benefit to consumers in the fact that it doesn't involve any harsh chemicals.
More specific to edible oils and indicative of the evolution of canola oil manufacturing, the final step in oil refining any type of vegetable oil is deodorization. Newer technologies such as steam distillation also removes any compounds that could give the oil an unpleasant odour or taste.
Cold-pressing has become more common in the manufacturing of canola oil processing, which follows the same general steps outlined above but does not involve hexanes extraction.
Canola Oil Manufacturing Business

The future of canola oil manufacturing continues to move in more sustainable directions. The Canola Council of Canada (CCC) has set a new target of 26 million MT bv 2025, the majority of which will come from genetic improvements and enhancements to legacy manufacturing plant production techniques. A move towards a biorefining model for canola and increased investment in processes that rely on co-streams and waste streams from processing oil and meal will become essential to achieving this achievable and
sustainable goal.
Canola is a Low-acid Cultivar of Rapeseed Oil
Rapeseed oil extracts were first put on the market in 1956-1957 as food products. And by the 1970s, in Canada, traditional plant breeding techniques were introduced to remove the anti-nutritional components (erucic acid and glucosinolates) from rapeseed. This innovative was essential to ensuring the safety of canola oil for human and animal consumption, impacting the life of billions in the process. The name itself is testament to this fact, combining the "Can" (for Canada) and "ola" (for oil low acid).
Read about detailed differences between mustard oil, rapeseed oil and canola oil >>
With scientific breakthroughs and investment in technology, the manufacturing of canola oil has continued to evolve in sophistication and sustainability, while remaining true to the processing principles forged in the middle part of the 20th century by planters in Canada.
Our company is interested to build a canola crushing plant for oil extraction . our project has provided pressing 1500 Kg / Hrs initially and reach 3000 Kg / hrs the third year. I apply contacted to propose flowchart and other equipment needed for this line .
According to your message, you alreay have the plant with 1500kg/h capacity, right? May we know what exactly the machines you have, oil press machine, oil refinery machine?
For other machines needed for this line, you mean oil filling machines, bottle blowing machines, labelling machine, ink-jet printer machine? So, pls tell us what you have, then I will know what you need now.
We are interested in setting up a canola oil production facility in USA. Please send us info on the machinery and equipment for a small economically feasible plant.
For the canola oil production plant, pls tell me the capacity you need, we mean how many tons canola seeds you want to press per day? Then we can equip the suitable machines for you.
Pls confirm what is your suitable 3phase voltage.
Any questions pls tell us freely.