The key step of starting edbile oil processing & refining plant is to get the most suitable process design, high quality equipment and good operation guidance from experienced and reliable vegetable oil refinery machinery suppliers or manufacturers. ABC Machinery is here to help you on your business!
How to Choose a Reliable Vegetable Oil Refinery Machinery Supplier?
The following photos are about a 10ton/day edible oil mill plant setup in Sri Lanka. It is a complete oil manufacturing project which includes th process of refining, bottle blowing and oil filling.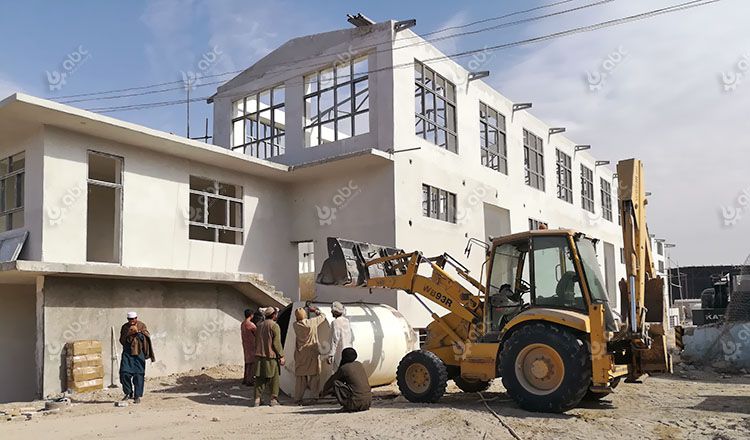 Edible Oil Processing & Refining Factory Construction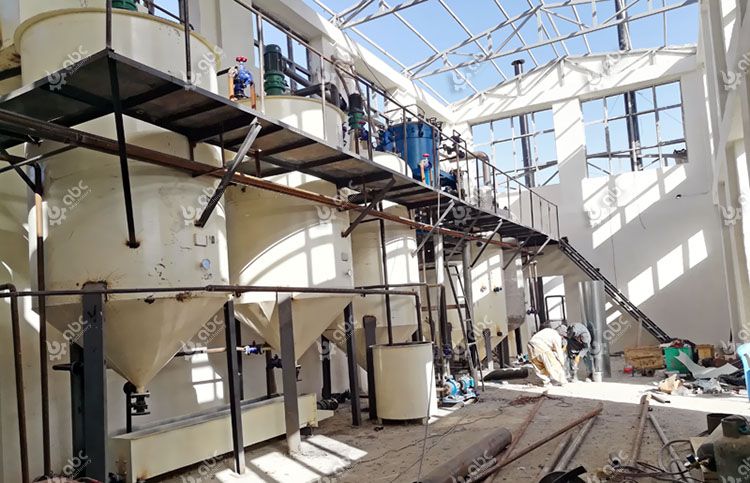 TOP Vegetable Oil Refinery Machine Supplier - ABC Machinery
Related Project: Coconut Oil Processing & Refining Plant Setup in Philippines (20ton/day)
If you are venturing in the business of vegetable oil production, you're probably wondering how to make the optimal purchase decision from various suppliers online and offline. Essentially, the quality and safety the produced vegetable oil is dependent on the type of oil press and oil refinery machinery used. Therefore, review of the machinery from multiple perspectives is paramount before making an order for edible oil refinery machine. The aspects to put into account includes economic efficiency, processing technology, machine parts and servicing, and life service.

Oil Refinery Economic Efficiency
Factors such as the processing capacity, maximization of yields per unit of raw materials and the multiplicity of the type of raw materials are the factors that determine the economic efficiency of a vegetable oil refinery. Vegetable oil is made from different type of resources including soybean, sunflower, corn, peanut, rice bran, corn germ, palm fruit, and more, hence reliable refinery machinery should be able to handle the different types of vegetable seeds or nuts.

Economic efficiency is as well determined by the resource consumption of the refined oil machine. Vegetable oil refining is an energy-intensive process that can significantly increase the unit cost of production. Particularly, steam consumption is a high driver of energy use in oil refining. One should, therefore, look out for the efficiency of the heating systems and the presence of electrical control box.

Reliable cooking oil refinery machine is defined by its advanced technology that ensures precision in water and enzyme degumming, deacidification, decolorization, and deodorization while maintaining minimum addition of bleaching agents and contaminants. Aspects, such as, automation of processes, safety operation specification, comprehensive use of raw materials, customization of refining solution and the consumption rate of auxiliary materials are some of the technical aspects that determine the reliability vegetable oil refinery machinery.

Machine Parts and Servicing
In an ideal world, machinery needs frequent servicing. In most cases, the servicing requires technicians will specific skill sets and specific parts for replacement. Buying refinery machinery where there is no local dealer for sourcing the machinery spare parts and technical services would imply excessive stalled time and excessive cost of machinery maintenance.

Oil refinery equipments are made of different machine life that determines the service life of the refinery. A majority of the oil refining machine are made of carbon steel plates due to its relatively lower cost. However, a stainless steel refinery plant has higher durability but it comes with a premium cost implication.
Cost Analysis of Starting Refined Oil Business
A rational cost analysis will ensure that you purchase the perfect vegetable oil refinery machine that yields economic efficiency over a longer time span!
Whatever size refinery you want to build, you need to consider the cost and output, even mini vegetable oil refinery. Here in this part, let's talk about vegetabl oil refinery plant cost.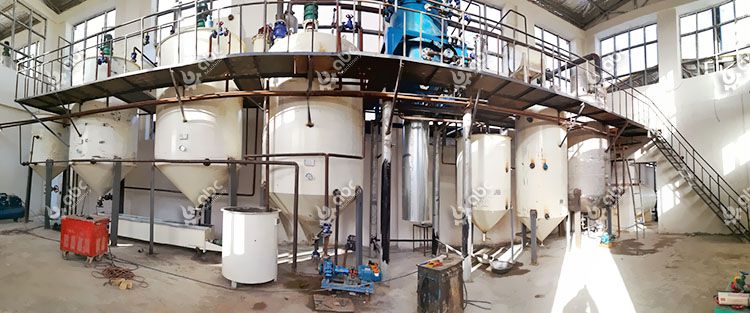 HOT Sale Small Vegetable Oil Refinery Machine
Choose the Most Suitbale Refining Process
There are there types of vegetable oil refinery process: batch refining, semi-continuous refining, and continuous refining process. It is important to choose the most suitable oil refining process basic on your capacity needs, budget, workshop size and other situations. For example, batch type is suitable for 1-20 ton/day small scale vegetable oil refinery plant. The setup cost ranges from 18,000USD to 80,000USD. While continuous processing type is recommended for commercial scale production with production output more than 30 ton/day, and the cost shoule be more than 130,000USD.
| Production Output | Investment Cost (Just for Referrence) |
| --- | --- |
| 1 ton/day Oil Refinery Plant | $18,000~$25,000 |
| 5 ton/day Oil Refinery Plant | $38,000~$45,000 |
| 10 ton/day Oil Refinery Plant | $57,000~$66,000 |
| 30 ton/day Oil Refinery Plant | $94,000~$100,000 |
Just feel free to send us an inquiry to get customized vegetable oil refining business plan and detailed cost list for FREE! (Read more about crude oil refining process)
Global Vegetable Oil Production Situation
Though the name itself refers to vegetables, vegetable oils are mostly extracted from seeds and less often from other parts of the fruit. Vegetable oils are a similar mixture of triglycerides like the animal fat. Vegetable oils have been a part of human civilization for more than 1000 years! But usage has never been more than modern times. As per the consumption, the productions of vegetable oil have risen equivalently.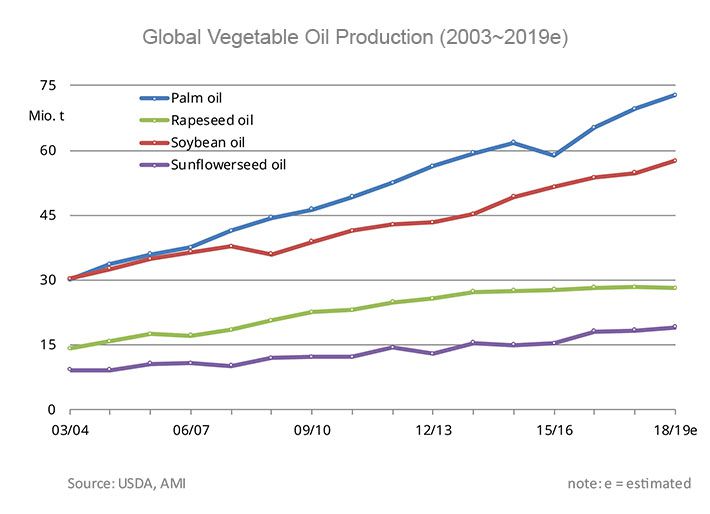 The common kinds of vegetable oil includes soybean oil, sunflower oil, peanut oil, coconut oil, cottonseed oil, avocado oil, corn oil, flaxseed oil, palm oil, canola oil and many others. Read more about production of refined cottonseed oil or corn oil refinery equipment list.
In the year 2016-2017, the consumption of vegetable oil amounted about 198 million metric tons, which is a vast quantity! Every year a considerable number of vegetable oil are produced to meet up the need. Vegetable oils are used mostly for edible purpose (cooking foods). But there are so many other uses of it. It is also used as direct fuel and in production of pet foods, soap, bio-diesel, cosmetics, detergent, etc. You maybe also interested in palm oil refinery plant setup.
The vegetable oils are extracted from seeds using various oil extraction techniques. The most applied techniques are hydrogenation, mechanical pressing, solvent extraction and refinery. The production of vegetable oil is rising every year. Most of the country of Asia, Europe and America prefer vegetable oil as food item over animal fat. The uses of vegetable oil are much more in a day to day life of people from every corner of the world. The markets of vegetable oils are yielding every day. More and more people are getting involved in this business every year.