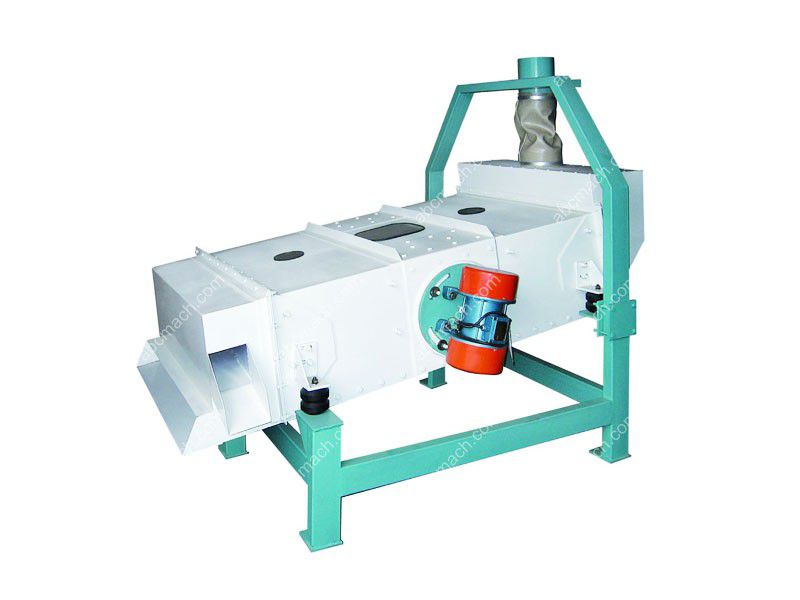 Oilseeds Cleaning Equipment: TQLZ Vibrating Sieve
The cleaning sieve machine is ideal choice for grain cleaning. It also widely applied in classifying system of oil seed processing, oil extraction, flour milling, feed production and other industries. This cleaning screen can clean different oil materials by changing different pore size screen and it is essential cleaning equipment in oil mill plant. 
Yes! I am Interested!
Ask for Price
Details:
Model
Screen cloth size
Capacity t/h
Power
(KW)
Weight
(Kg)
Size(L×W×H)(mm)
Precleaning
Cleaning
TQLZ80×100
80×100
20
6
2×0.25
360
1440×1610×1455
TQLZ100×100
100×100
30
8
2×0.25
420
1640×1610×1455
TQLZ100×150
100×150
50
12
2×0.37
520
2140×1610×1455
TQLZ100×200
100×200
60
16
2×0.37
540
2640×1610×1455
TQLZ150×150
150×150
75
18
2×0.55
630
2140×2160×1455
TQLZ150×200
150×200
100
24
2×0.75
650
2640×2160×1455
TQLZ180×200
180×200
120
26
2×1.1
1000
2700×2480×1830
Oil Seeds Cleaning Process
The cleaning machine is designed to remove the impurities in the raw materials, such as stones, irons, plant leafs, straws, dust, etc. It usually include cleaning sieve, destoning machine, magnetic selector and dust remover machines, etc. It could increase the oil yield, improve oil and cake quality, improve machines processing capacity, ensure machines safe working and clean working environment.
Pretreatment of Oilseed Processing for Soybeans
Soybean → Dosing → Magnetic Separation → Cleaning Separation → Gravity De-stoning → Conditioning → Cracking → De-Hulling → Flaking → Expansion → Cooling & Drying → Cake to be extracted
Brief Instructions of Oil Seed Cleaning Process (Soybean)
Dosing: The Dosing weigher is adopted for adjusting and measuring the soybean flow as well as controlling the processing capacity.
Magnetic Separation: The Magnetic Separator, equipped with buffer soybean feeder, is adopted for separating out metallic impurities.
Cleaning and Impurities Separation: The multiple effective Vibrating Screens are used to separate large-size and small-size impurities out from soybean.
Gravity De-stoning: By means of De-stoners, the heavy impurities such as stone, glass are separated out.
Dust Separation: By means of dust cleaning system composed by Cyclones and Centrifugal Fans, light impurities are separated and the workshop environment is assured clean.
Conditioning: First heat the soybean to 55-60℃ to soften it for downstream flaking easier. Meanwhile, the soybean is uniform in texture and moisture content. Reduce moisture content by 1-2% to promote de-hulling efficient. So the conditioner has two functions: drying and softening the soybean.
Cracking: The soybean is cracked into 6-8 parts twice by The Teeth-roller Crackers for downstream hull-kernel separation and flaking.
Soybean Hulling: In this proposal, advanced Twice De-hulling technology is adopted. The separated soybean kernel under the screen is sent to Flake Roller to be flaked.
Flaking: The de-hulled soybean kernel is flaked by Flake Rollers.
Expansion: In Expander, the Soya Flake Heat is produced with the functions of kneading, friction between the spiral shaft and inner wall of expander, meanwhile eject in steam to increase flake temperature.
For more details of this seeds cleaning sieve or other oilseeds processing equipment, please write to us in the following contact form. You are also welcomed to inquire for complete oil seed processing projects.