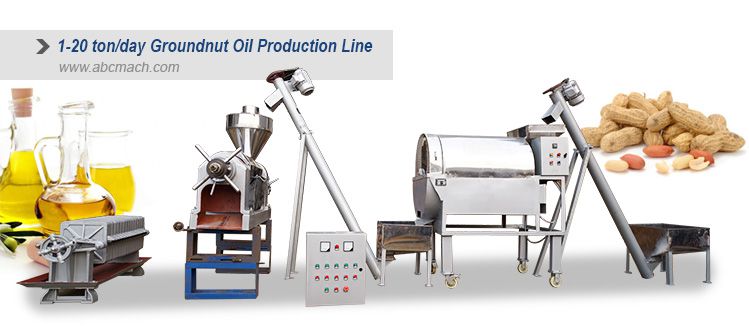 Equipment for Small Scale Groundnut Oil Production (1-10ton/day)
This complete set of groundnut oil production machine connects a series of small oilseeds processing equipment, using mechanical drive to achieve efficient and continuous production. It is featured of easier operation and affordable price. The mini groundnut oil production plant unit is suitable for vegetable oil extraction from many different oil-bearing materials as soybeans, peanuts, cotton seeds, sunflower seeds, sesame seeds, palm kernel, coconut etc.
Cost of Groundnut O​il Production Machine: $5000~$15000 (Reference Price)
The investment in equipment is closely related to production output and type selection of groundnut oil producing machine. Feel free to contact us and tell us your needs and requirements, then we can offer the best cutomized business plan and help on process design, equipment selection, factory layout, cost details and profitability of groundnut oil production.

Start Industrial Scale Groundnut Oil Production Business
Groundnut oil, which is also referred to as peanut oil or Arachis oil, is a common vegetable oil resulting from the compression of groundnut kernels. Groundnuts are native to tropical regions and its uses are very popular especially in Asian cuisines. This type of vegetable oil is used for various uses in cooking, including basting or frying for instance. (Read more about how to start groundnut oil mill business in India >>)
What are Main Machinery Involved in the production of Groundnut Oil?
In most peanut oil mill plant, the processing of raw peanuts can be grouped into three main stages: Preparation of the Seeds; Oil Pressing and Oil Refining. Each phase will include many activities all for the creation and distribution of the final product to final customers.
The Preparation of the Seeds
The extraction of groundnut oil starts with the shelling (also called dehulling). The nuts are generally purchased and stored inside their shells, which have to be removed for the production of oil. Shelling can be done either by hand or by machine processing. To evaluate a sheller machine, the features observed include the percentage of broken kernels which should be minimized. However, when the kernels are used for oil-production, the percentage of broken seeds is not as relevant as the nuts will be broken down during the process anyway.


Groundnut Oil Mill under Construction (preprocessing section)
Any sand, stalk, stones, plant material or other impurities also need to be removed before moving to the next stage. No foreign material can contaminate the oil as it will not only affect quality but also the safety of the final product. Dry screening techniques might be used to remove over or undersized raw material. The shelling and cleaning also usually involve the size-reduction of the nuts, which are breaking them and adjusted in terms of moisture content and temperature by heating the seeds for some minutes. The reduction of seed-size is beneficial to increase the efficiency and effectiveness of the following phases.
Grinding is the process involving the reduction of the size of the groundnuts and it also involves further checking for damaged and moldy seeds which should be discarded and appropriately treated or destroyed. Losses that are higher than 5% are not acceptable in an efficient business model.
The grinding process should be carried only for "graded" nuts. The groundnuts are crushed to reduce their size for better and more efficient pressing for the production of the vegetable oil. The smaller size increases surface area for optimizing oil extraction. Grinding can be done either by hand (with mortar and pestle) or through the use of a crushing machine.
Groundnut Oil Pressing Process
Heating / Cooking Machine
Heating is an important part of vegetable seed oil production process as it helps in breaking down the cell walls of the nuts and the enzymes responsible for the deterioration of the seed and thus facilitating the oil extraction production and increasing the overall quality of the final oil product.


10ton/day Groundnut Oil Production Plant under Construction
Screw oil pressing machine is suitable for both small scale and medium scale peanut oil production line. Through strong friction, high temperatures and high pressure, oil is finally pressed out from the nut. The oil is released through small openings at the bottom of the pressing chamber.
According to the oil content of the seeds, the yield per batch might vary. Keeping a record of the amount of oil expressed by each batch is highly beneficial to any type of producer or business. It helps to assess the efficiency and uncover any potentials for improvement. Don't hesitate to contact for details and cost of our groundnut oil machine.
Groundnut Oil Refining Process
The crude oil that has been pressed will come out in a slightly cloudy version due to the presence of air and small particles. This is why filtering is an essential phase of the refining process. The filtered oil will be pumped to the refinery for neutralization, bleaching, and deodorization of the crude oil for edible consumption. (Related Post: Cost of Setting Up Edible Oil Plant)


Cooking Oil Refinery Plant under Constrcution
Together with all the activities involved in the production of the groundnut oil, It is essential to properly store the refined oil after production until delivery to the final customers.
Storage should happen in an environment with the right temperature and humidity level. Any contact with air and or water should be avoided or at least minimized to avoid the effects of rancidity on the oil.
Organizing the Sale of Groundnut Oil
The industry of groundnut oil is profitable and entails great export potential. Groundnuts are popular sources of food and their oil is popular in the cooking industry. Not only for individual uses but also as a base for confectionaries in the industrial food industry. Additionally, it might be used to make peanut butter. One of the major world exporters in India, for which groundnut oil ranks the top of edible oils exported goods.
Organizing the Sale of the Oil
Depending on the size of the business processing groundnuts for oil production and on the market environment, some selling strategies might be more suitable than others.
Some selling strategies include:
Bulk Sales involve lowering the selling price and focus on high-volume sales where package material is minimized

Wholesale Bottled Sales; involve a higher selling price but additional costs include bottling and higher labor costs. A brand name can be established and included in the bottle for marketing purposes.

Direct Retailing; this option allows a business to have control of the selling price of the oil, and maybe lower the price for loyal customers.
To identify an appropriate sale strategy, a market survey is essential, to investigate the potential customers, the selling price, the size of the market and the likely demand as well as the distribution methods.
Pricing the Groundnut Oil
Setting a price for a final product can be a tricky cost. Direct costs should be included (such as production costs, packaging, labor) as well as the cost of promotion and transportation.
There should be a market investigation and an analysis of the competition to specify a price that is in line with the market expectations and makes the product a competitive choice.
TOP 10 Countries in Groundnut Oil Production (1000 MT)
China
2,944
India
1,125
Myanmar
270
Nigeria
265
Sudan
230
Tanzania, United Republic Of
138
United States
106
Argentina
106
Burkina Faso
80
Senegal
72
(Sourcing: indexmundi.com)
Being able to market the final product efficiently is essential for any successful business. The process should start before production begins. The marketing strategy should be adapted, depending on the uses intended for the oil.
We are interested in a small scale 20-30MT/Day Groundnut oil production process, based on mechanical pressing technology for Guinea, West Africa.
As for your reqeust, is your peanut seed dehulled or not...
Could you kindly spare a little time to fill in the form in the email attachment, so we could design and quote for you more specific.
Kindly give me a quotation of a full medium capacity sunflower and groundnuts cooking oil processing plants including refining and packaging.
Thanks for your enquiry to our products. As for your request, could you kindly inform us more info by filling in the form in the email attachment. So we could know your demands in details, thus desing and quote for you accordingly.

By the way, where're you located in Zambia, we've built a 100TPD soybean oil production plant there in 2012. Sincerely hope we could cooperate with your company also. Awaiting for your comments
Thanks for your mail,I would like to setup the plant in the eastern part of Zambia,Chipata to be precise i am a start up company so i need a 2 to 5 T/D plant them upgrade as the bussiness grows.
Tks so much for your prompt response. 2~5TPD is no problem for start up, as for your request, we suggest the following processing method for your reference.

A. 5TPD Oil Pressing section: Sunflower/peanut - Dehulling - Cleaning - Cooking - Pressing - Filtering - Crude oil

B. 1TPD Oil Refinery (the smallest model): Crude oil - Degumming - Deacidification - Decolouring - Deodorization - Refined oil

As for the investment, the cost of A section is around $12,000.00/set, and B is $27,000.00/set. Pls kindly confirm the above technology and budget. Will design and quote for you accordingly soon.
Thanks so much for your information, I am happy with the price it will be within my budget, i should be able to have my funds ready by end of September.I also need packging line for 750ml and 2.5l plastic containers which can also print and possibly label.
Appreciate your prompt response. I'm glad that you like my suggestions. Two more questions:
i) Pls send us some photos of the 750ml and 2L bottle, so we could recommand the oil filling machine accordingly.
ii) As for label of bottol, pls kindly show a picture of your bottle, also
iii) As for the bottle lid, is it screw type or gland type, pls clarify also
Awaiting for your comments.
As for the pics of container i dont have one yet but they are commonly used by most companies here they are plastic.. But since mine shall be a new product on the market,i would not mind a a new unique design for the market as long as one is 750ml and other is a 2 or 2.5l. The lid is better screw type.As for the label i have not yet designed but it will be a color water proof paper glued to the side.
Tks so much for you explaination. We'll make a proposal for you according to your special request. While at the same time, pls feel free to let me know your other requests.

Tks and rgds.