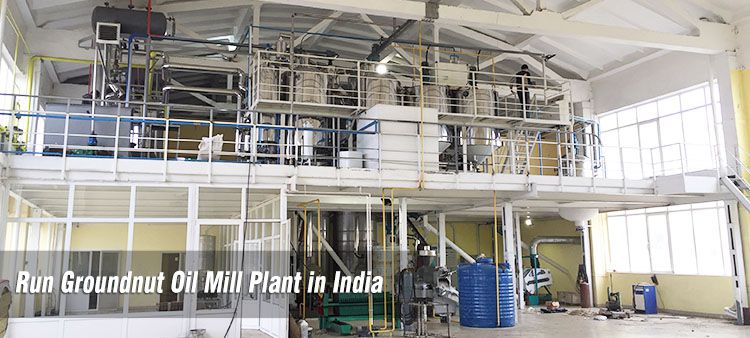 Setting Up A Grounnut Oil Mill Plant in India
ABC Machinery is a reliable manufacturer of vegetable oil extraction and ediblel oil refinery machine, possessing professional oil mill plant designers, skilled technicians and rich experience of the construction team.
Here in this page, let's talk about the peanut / groundnut oil milling industry in India, how to run your own groundnut oil processing plant in India and what's the project cost.
Set Up a Groundnut Processing Plant for Vegetable Oil Production
Groundnut Oil Production Process: The process of obtaining oil from the groundnut / peanut involves three main steps which include seeds preparation, nuts pressing and oil refining.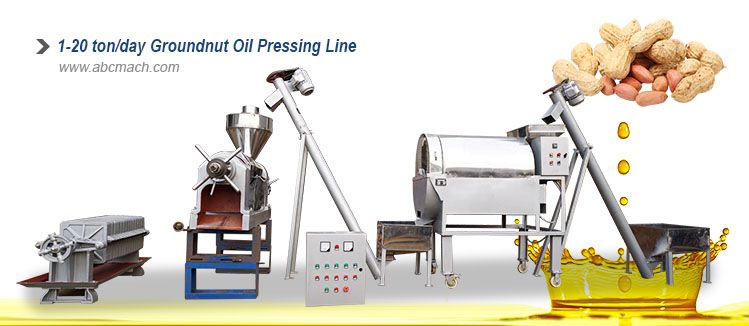 Mini Groundnut Oil Processing Unit for Sale
Mini Groundnut Oil Processing Unit
If you just want to start small scale grounnut oil oil business, our mini vegetable seed oil processing unit should be your best choice! It is very popular for farmers, self-employed entrepreneurs, and individual household. (Related Product: Groundnut Oil Extraction Machine for Home)
Groundnut Oil Processing Machine for Large Oil Mill Project
The following pictures show about one of project - groundnut oil mill plant in Togo, Africa. It is designed and built for 10 ton/day groundnut oil extraction and 3 ton/d refining plant.


Groundnut Oil Mill Plant in West Africa



Fully Automatic Groundnut Oil Mill Project
Groundnut or peanut oil is vegetable oil which is used for cooking and also used for manufacturing of margarine and shortening. Groundnut oil comes from groundnut kernels, and it is used all over the world as people prefer peanut oil over other seed oil. In India groundnut is one of the main oilseed that the country produces and its productions take about 5.8 million hectares. The state of Gujarat takes the first position in groundnut oil productions which is nine percent of world production as the raw groundnut production is high in this area.
Project Test Run: Groundnut Oil Processing Video
Business Potential of Starting a Groundnut Oil Processing Plant in India
As per the market statics, groundnut oil demand is still very high in India and another part of the world and the growth of groundnut processing industry comes with opportunities of investing in the sector. It is possible to venture into small-scale groundnut oil production and tap on the potential of the market.
The most important thing to do before getting started is carrying out a good market analysis to ascertain the needs of the consumers.
The next vital issue is to mobilize finances to raise enough capital to cater to all the machinery, labor and raw materials needed.
Selecting the location of setting the manufacturing plant is very vital.
Business registration is vital before getting started, and one should ensure the fulfillment of all the government requirements.
Marketing of the products is essential, and an investor should ensure consumers preference is the critical guide to marketing strategy.
Investing in groundnut is an excellent opportunity for any person wishing to gain from the fastest growing oil manufacturing industry.
India's Position in the Global Groundnut Oil Market
Groundnut Oil Production by Country
Tonnes (Metric Tons)
No.01 - China, mainland
1,876,300
No.02 - India
1,250,000
No.03 - Nigeria
272,500
No.04 - Myanmar
219,500
No.05 - Sudan
156,300
No.06 - Senegal
134,400
No.07 - United States of America
95,000
No.08 - Netherlands
84,218
No.09 - Guinea
68,393
No.10 - Chad
65,102
Data from the Food and Agriculture Organization of the United Nations
The groundnut processing industry is on steady growth and is rapidly expanding as the demand for the oil is increasing each day. The price for the peanut oil is higher than other seed oil which guarantees a higher return to the investors in the groundnut oil processing industry. The demand for groundnut oil increases more as more people all over the globe prefer oil due to its nutrition value. Groundnut oil supplies the body with minerals, vitamins and controls the level of cholesterol to the amount that is needed. India is currently among the top groundnut oil producers after the United States, and the growth of this sector is eminent as the demand increase.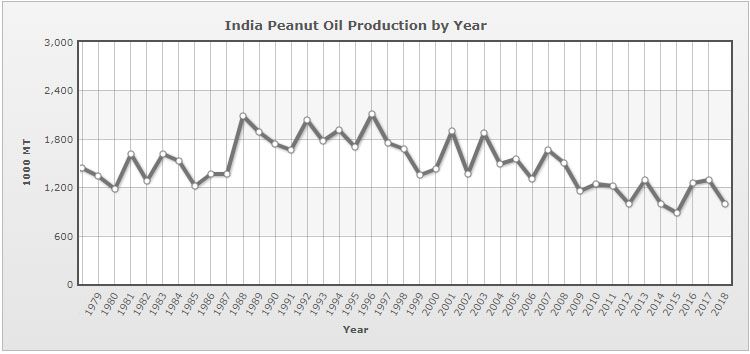 India Peanut Oil Production by Year
Groundnut oil processing industry is well sustained by a steady supply of raw groundnuts from areas across India who are motivated by good returns. However, the quantity of natural peanut faces a challenge as farmers are shifting to growing other income commercial crops like cotton which also fetch good prices in the market. Competition in the groundnut oil processing industry is as well increasing by the day, and this is good as the excellent quality of oil is produced. Farmers in groundnut growing areas are shifting from traditional method of farming to modern way which boosts their yields, and this ensures the supply of raw material is stable.