Project Name: Toasted / Roasted Sesame Oil Plant
Oil Mill Location: Thailand
Production Output: 1ton/h
Final Oil Products: Main product is roasted sesame oil
Sesame Oil Production Process: Sesame seeds cleaning, washing, roasting, cooling, oil expelling / pressing, bottling.

This edible oil mill project is designed and built for a sesame oil company in Thailand. It is a turnkey customized sesame oil processing project which is designed with toasted sesame oil mill, screw sesame oil press and hydraulic oil press. The mail product is toasted sesame oil, and the by-products are expeller pressed oil, blend oil.
Photo Display: Small Toasted Sesame Oil Plant Established in Thainland

If you are planning to invest in a toasted sesame oil mill plant and are working on the cost analysis, process design or factory layout, this project can be a good reference. View to photos below to see more about the sesame oil company layout design. You are welcome to contact us to get more details of this sesame processing project such as equipment price list and production cost details.
Sesame Oil Production Project Construction Details
The followings show about the construction details of this oil mill plant.
Thai Market of Sesame Oil Production
Thailand is the main country for sesame oil production in the world. Sesame oil production in Thailand is ranked 16th and produce about 11.19k tons, out of which 23.6% is exported and brings Thailand $2.68M a year. The main countries that imports sesame oil from Thailand include America, Europe, and some of the Asian countries, even though those have their own sesame oil processing industry.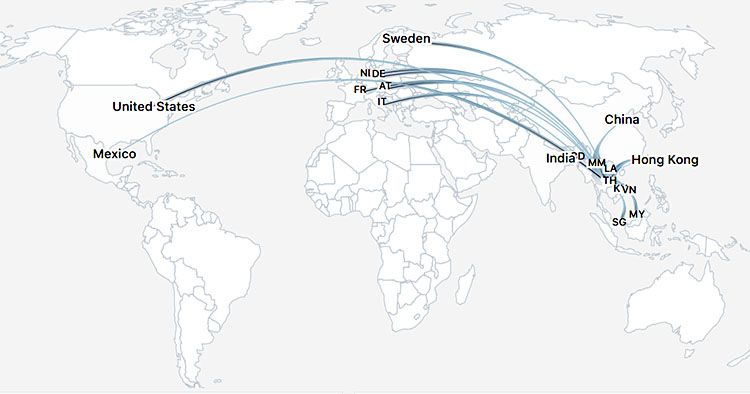 Sesame Oil Production in Thailand
Because the natural climate, hot and rainy, in Thailand is very suitable for the growth of sesame. The sesame oil produced in Thailand is main for the use in cuisine, especially for the Chinese food, and other uses, like supplements, cosmetics, beverages, massages and more.
How Much Does it Cost to Setup a Roasted Sesame Oil Manufacturing Plant?
The cost for setting up your own oil mill plant for producing roasted sesame oil is greatly related to capacity needs and automation degree.
Here is a reference for you: the investment cost of a 10-20ton/day complete roasted sesame seed oil production line is about $100,000~$200,000.
It is a lot of money for beginers. So you are suggested to start a mini scale or small scale business which needs lower capital input as a trial period or trial production. Don't hesitate to contact us to get your customized project plan with detaile cost analysis for FREE!
Video: Sesame Oil Processing Plant Layout Design
How to Setup a Toasted Sesame Oil Mill Plant in Thailand?


Sesame Oil Manufacturing Business Plan
Although sesame oil production is flourishing in Thailand, the sesame oil processing technology and machinery is a little backward. So, how to setup an advanced sesame oil factory to produce the pure and aroma sesame oil to help maintain the advantages in the fiercely competitive market.
Scientific Market Research is Required
It is very necessary to have a close look about the whole sesame oil production industry in Thailand or in your local place, which will cover the market size, trends, competitions, possibility and more.
Have Enough Capital Support
Any business can't be success without the support of capitals. Therefore, before entering into the sesame oil production industry, please ensure you have or you can get the enough financial supports.
Have Overall Business Plan
If you are going to buy sesame oil extraction machine for setting up a cooking oil factory to produce sesame oil, it is sure you want to gain profits from it. Therefore, make a business plan that covers all the aspects involved in sesame oil production business, which will help you aim at the target, control the cost and get possible solutions and more. As a reliable and experienced sesame oil press factory, we not only offer high quality sesame processing equipment, but also can guide you to make your business plan step by step.
Obtain the Necessary Certificates and Qualifications
The sesame oil production belongs to food processing industry, there are strict standards for it in Thailand, so make sure you are able to get the required qualifications that accord with the government regulations.
Select the Right Sesame Oil Processing Technology and Equipment
This would be the key step before building the sesame oil factory, since it not only plays a very important role on the final produced sesame oil, but also can decide the investment. Actually, the sesame oil processing technology is a little complicated compared to other ordinary oil-bearing seeds. Strict sesame seeds cleaning process is required for high quality sesame oil. Therefore, this selection of sesame oil production machine is very important. You should take it serious and take more time and efforts to choose a BEST supplier of your sesame oil processing machines.
Recruit and Train the Employees
Prepare the employees with experiences in sesame oil processing machine operation by recruiting or special training. After the completion of the sesame oil processing plant. The operator is very important to get the aroma and high quality sesame oil. So, do not overlook this step.