We are one of the leading manufacturers and suppliers of oil mill machines including sesame oil press machine which is made of best quality raw materials and produced by our expert technocrats at par with set industry norms and standards, under our well-established production unit. Besides, we have a group of quality inspectors to examine each machine ordered by our clients methodically and seriously before shipping, to ensure long service life, reliability and durability.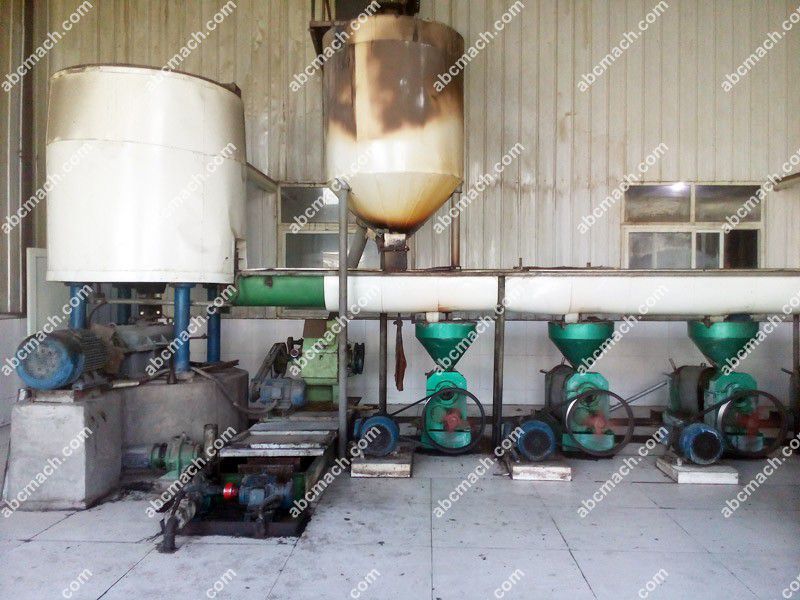 Customized Small Sesame Oil Pressing Line
You are welcomed to inquire about the cost and more details of our sesame seed oil press machine. We are always at your services!
---
The Values of Sesame Oil Press Machine
There are so many types of oil products from farm produce in the market. What makes all the different is the quality of the oil which is directly contributed by the type of machine one uses to process the oil. Our Sesame oil press machine is designed with the intention of giving you the best oil product. It has all features that will ensure that the final product is fine and of high quality.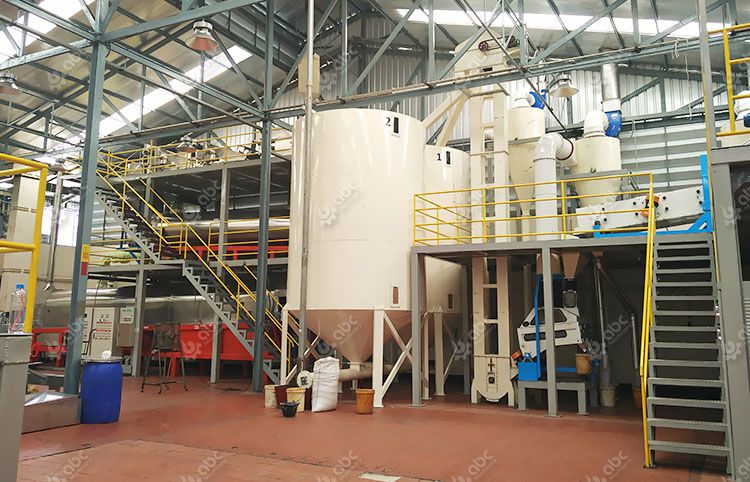 Small Scale Oil Mill Plant
Above is 2016 hot sale small scale seed oil mill plant for manufacturing mini scale or small scale vegetable seeds. This small unit is the ideal choice for those who want to start a small oil mill factory with limited cost. If this small oil plant interests you, welcome inquiring more details!
Screw Sesame Oil Press Machine for Sale
There are so many types of sesame oil press machines but all of them have almost same features but slightly different in the way they function. Some of the most common features in them are gearbox, feeder, machine stand, and the screw shaft. The major part of this machine is the processing cage which also includes the rotating screw shaft. For easy operation of the machine, you can give the expeller some extra energy by fixing a motor.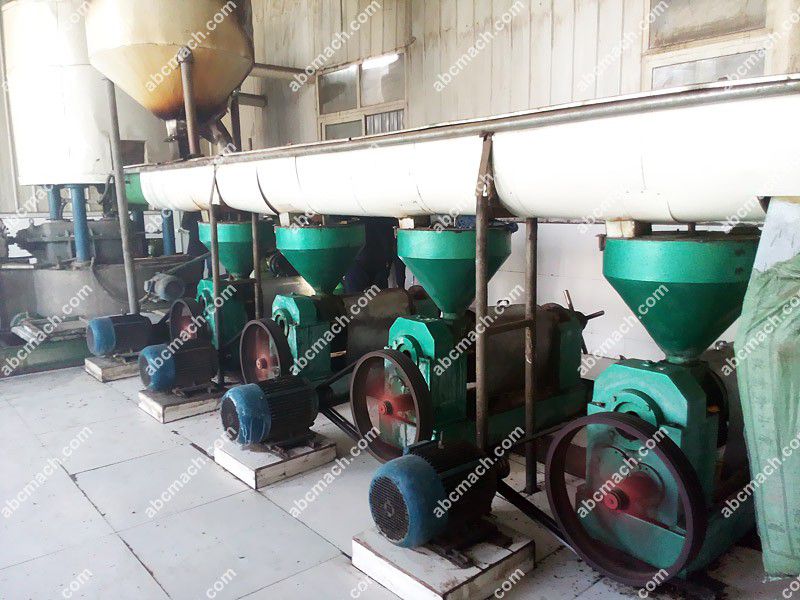 Small Sesame Oil Plant
How the sesame oil press / screw expeller works?
The structure of the machine allows raw materials to enter it through one point, and the waste product to exit through the other. The presence of screw drives in the machine ensures that the seed materials are in continues pressure and motion as they are pressed. This process leads to the oil seeping through very small holes that cannot allow solid materials like seed fibers to go through. The sesame oil which comes out at the end of the process is totally pure oil which has no preservative or additive added to it.
If you are searching for cheap oil press (screw oil expeller) for making small scale sesame oil for cooking purpose, our screw type oil preeses should be your first choice. For the ones who want to start a their own mini oil mill for making money, we suggest our small vegetable oil production line. It is a kind of small scale oil manufacturing unit. Don't hesitate to get in touch with us if you have any questions about the small production line or interested to know the price of the equipment! We will do our best to serve you!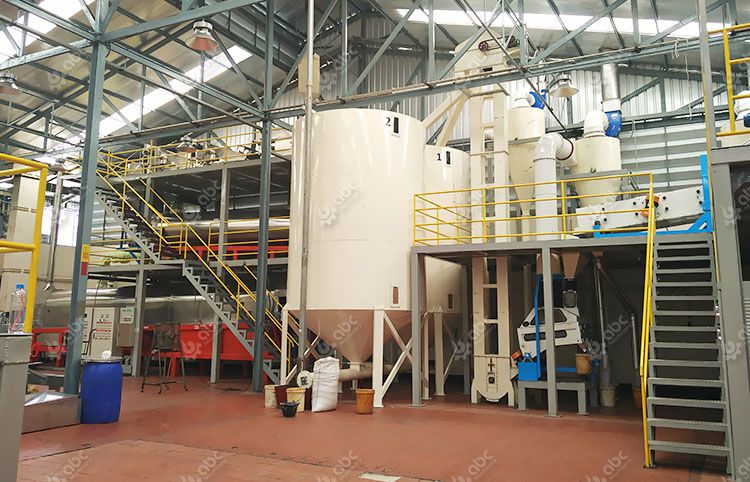 Small Sesame Oil Pressing Line
You maybe also interested in the following machinery:
The World Sesame Oil Market
Sesame oil had a very wide usage range and that makes it a very popular product. Asia has the highest rate in sesame consumption; they majorly use it for cooking. The Japanese do toast the seed before extraction, these results to toasted oil that adds a lot of flavor to the food. Sesame oil can also be used to make margarine and soap.

Some people also find it pleasurable to use sesame to as a flavoring agent just as pepper and salt depending on its nature. Beauty products should also to be mentioned when talking about sesame oil; the refined sesame oil is used as one of the ingredients in certain cosmetics. Even though the price of sesame products is much higher than the other product of the same category in the market, it's still preferred because of its great value.
FAQs about Sesame Oil Presses
What are some of the vegetable seeds that you can press using this machine?
It can press many types of plant or vegetable seeds like corn germ, coconut, sesame seed, sunflower seed, soybean, rapeseed and much more.
The residue that you get from oil cake is very important because they have some nutrients and they can be used as animal feeds or even fertilizers by use of
pellet plant
or
pellet machine
.
How does the oil press machine work?
The seeds are placed in the feeder and then they go through pressure that will result in the breaking of the seeds and separation of oil from the husks.
How should I maintain the sesame seed oil press machine?
It only needs to be lubricated, tightening of the nuts and changing gearbox when worn out.

Our Clients and Factory
Hello,we are looking at a complete sesame oil processing plant with a capacity of 30 tons per day including packaging.What machines do you have for a project like this? Thank you.
Thanks for your enquiry to our products. As for your request,could u kindly advise the following questions
1. Do you want crude sasame oil, or refined?
2. what's the best economical fuel in your country, coal, gas or diesel?
3. Which country do you want to build this plant, what's your nearest port, three phase voltage/frequency?
4. Do you have plant already, what's the size?
FYI, i enclosed a flowchart drawings made before, pls kindly check it for further discussion.
Dear Sir or Madame, I am very interested in your production engineering of nut oils especially of walnut oil and sesame oil.
Please give me a not binding offer for a completely unit of production engineering to produce walnut oil and sesame oil.
And please inform me how many square meter and which ceiling height do you need to install the aforementionend production engineering.
Hi, thanks for your enquiry to our products. As for your request, pls advise what's your daily processing capacity? and how many hours do you work per day
Besides, is the walnut decorticated or not? could you show me some photos of your raw material.
Dear Sir, currently we are looking for full process of hot pressing system for sesame with capacity 6 tons per 24 hours. through the internet we know that your company specialized for this field. Could please kindly provide us a quotation for full process of sesame hot pressing system with capacity 6t per 24hrs?
Hi dear, thanks for your enquiry to our products. As for raw material sesame, pls advise the following questions
1. For hot pressing, do you want aroma sesame oil or refined oil, as for the former, the crude oil just need filtering, but the crude oil need refinery for common one.
2. For 6ton/24hrs, do you work 24hrs for such small capacity?
3. As for cooking, what's the best economical fuel in your country, coal, gas or diesel..?