We offer premium screw sunflower oil press with competitive price and reliable after services! Our seed oil presses are ideal equipment for small scale oil pressing production from 1TPD to 20TPD. It can process various oilseeds and nuts including sunflower seeds, ground nut, soya bean and so on. That is what we have and offering you our beloved customer. If you are want to start a small sunflower oil manufacturing plant. This mechanical oil press will be your best choice!
---
Premium Sunflower Oils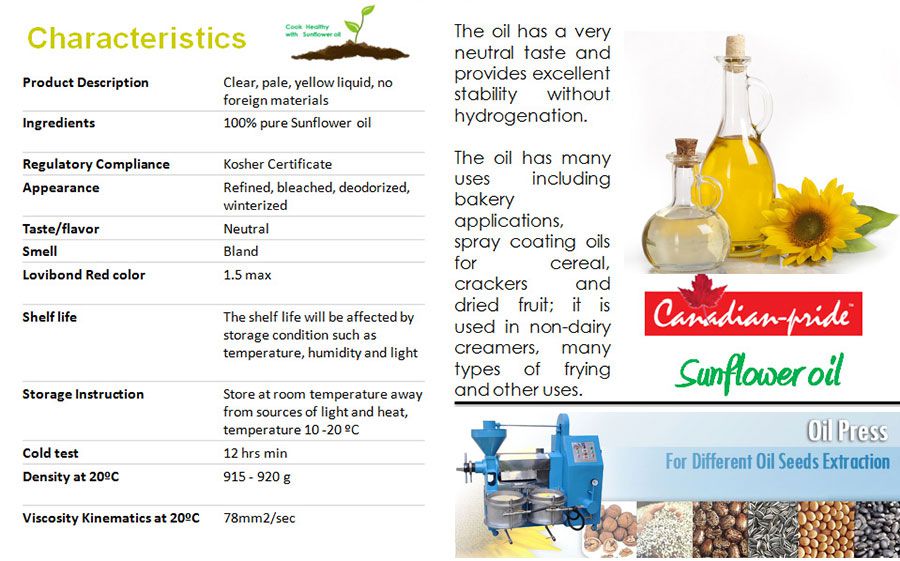 To start with, sunflower oil is non-volatile oil usually compressed from sunflowers' seeds. This oil is mostly used to fry food and also as moisturizers. High quality sunflower oil is of light amber color with a mild and pleasant flavor. Highly refined oil is yellow in color. Good sunflower oil is from hybrid which means it has the essential nutrients you need with a vitamin E for an example to ensure efficiency.
Sunflower Oil Press for Sale
Parameters of this type of oil press:
Model
Capacity(T/24H)
Power(KW)
Dimensions(MM)
Weight(KG)
YZS-80A
2-3 ton/day
5.5+0.75 kw
1860*670*1680 mm
1060*590*600 mm
780 kg
YZS-95A
5 ton/day
7.5+1.5 kw
2250*890*1820 mm
1230*640*570 mm
900 kg
YZS-100A
5 ton/day
7.5+1.1 kw
2270*750*1820 mm
1220*590*600 mm
900 kg
YZS-120A
6 ton/day
15+1.1 kw
2280*890*1775 mm
1350*700*600 mm
1000 kg
YZS-130A
10 ton/day
18.5+1.5 kw
2350*810*2000 mm
1350*700*570 mm
1000 kg
Note: YZS-30, YZS-60, YZS-70 multi-function oil presses are specially designed for manufacturing sesame oil, but they also suitable to extract oil from groundnut, sunflower seeds and rape seeds.
Complete Oil Pressing Process
Sunflower seeds are of two types. One the non-oil seed which is usually eaten as confectionery just after being roasted with or without the shell. The other one is oil type seeds which is used for extracting oil. Below is a basic process of sunflower oil pressing. If you are looking for customized business plan for both small scale and large scale sunflower seed oil processing, don't hesitate to contact us and inquire for the most suitable equipment list and cost!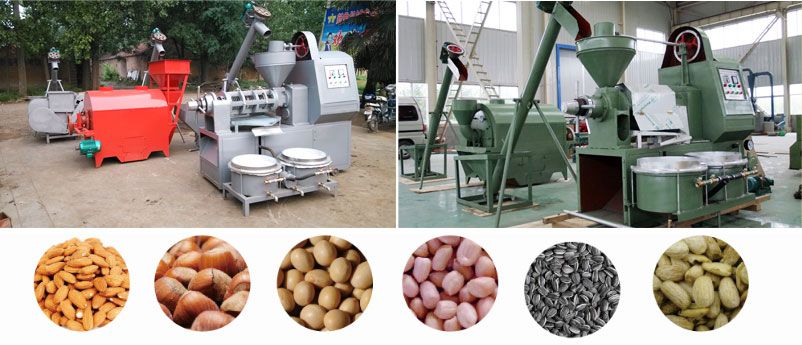 Mini Oil Pressing Unit / Line
Seeds Cleanning: The processing starts with cleaning which is done by passing the oil seed over magnets to remove metal traces. Then those seeds are passed through a special machine to remove others matters (dirt).
Seeds De-hulling: The other step is de-hulling though it optional. Here, seeds contain a given percentage of hulls which are sometimes removed right before oil pressing. This is done by cracking the seeds then the resulting content winnowed to separate the hulls. (Read more: oilseeds pretreatment >>)
Grinding: The other step is grinding. The de-hulled seed is then grounded to a meal by mechanized grooved rollers.
Cooking: The resulting meal is then heated (steam cooker) to enhance extraction of oil.
Oil Pressing: Then the meal is processed by sunflower seed oil mill. The meal heated previously is the then fed to sunflower oil press that increase the pressure as the meal moved through the slotted barrel.
Solvent Extracting: Then extraction of additional oil with solvent is done in solvent extraction plant. The initial oil is usually recovered from the screw press, but the oil remaining is extracted here with a solvent, to maximize the yield. Here, the traces of solvent are removed by the use of stripping column. Oil is boiled, solvent floats as it condenses thus removed.
Crude Sunflower Oil Refining: The oil is the refined by heating and mixing it with an alkaline. Though soap forms, the oil is further cleaned to remove traces of soap and then dried. (Read more: Oil Refinery Plant >>)
Oil Packing: Here is where packing is done. lt's done after completing all the other processing. Now that the oil is pure it's the measured and packed in clean containers of different sizes.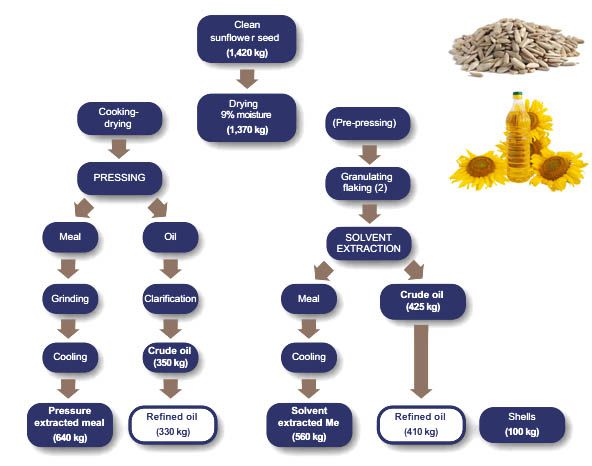 Sunflower Oil Manufacturing Process
International Market of Sunflower Oil Production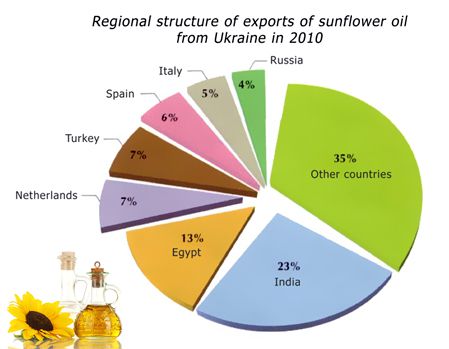 The international trade of sunflower oil is great and still expected to extend further due to the reduction of trade this is of sunflower seeds which are caused by the growth of transport charges. Though like any other market, the prices will usually fall and later rise according to the forces of demand and supply. Our dear customer, people have tried our sunflower oil press and they have been returning testimonials on how effective the oil milling plant is. Why don't you be one of those who enjoy such? Try us now! (info@abcmach.com)
Please send me the Information about Sunflower Oil press machine and a Quotation for the complete Automatic Machine. Please let me also know how much oil liters can be extracted by every 100 kg of sunflower kernels or what percent of oil is extracted. Thank you. (Germeny)
Generally, the oil content rate of the sunflower kernel is 45%-54%, the oil yield of the sunflower kernel will be 35%-37%, so if you press 100kg sunflower kernel, you will get near 35-37kg oil.
What's the capacity of the oil expeller you need please?
I'm interst of that but dont now how can made good sunflower oil can you learn me or can you help to learn thanks (Syria)
We can offer the equipments and the process you need to extract the oil from the sunflower seeds. But to offer the most suitable suggestions pls tell me the capacity you need.
I am interested in sunflower and soyabeans oil extraction or Expellant plant. 20 tonnes capacity.
Whether you need oil refinery equipments and the filling machine? Where this oil plant will be established? In Tanzania? We have projects in Tanzania.
I would like to know the price of a small sunflower oil mill plant.
Nice to get yoru inquiry. Your needs: Small sunflower oil plant.
Pls confirm: 1: The capacity?
Send you our smallest YZS68 oil press quotation. Pls check the attachment.