If you are planning to buy grape seed oil extraction equipment to start your own cooking oil making business, you are in the right place. We offer a wide range of high-grade cooking oil making machine to both small scale and large scale business of edible grape seed oil production. Our advanced oil extraction machines are extensively used for extracting oil from various oilseeds including grape seeds or grapestone. (Read more: Rice Bran Oil Business Plan >>)


Start Grape Seed Oil Manufacturing Business
Our grape seed oil extraction machines are designed as per the requirements of each client, so as to maximum level of customer satisfaction. Besides, as a reliable seed oil extraction equipment manufacturer, we check each unit on certain quality parameters to ensure the defect-free nature of our machines. Contact us now to get detailed information about our equipment, latest promotion and cost of setting a small complete oil milling plant!
Set Up a Small Grape Seed Oil Mill Plant
For the ones who want to start their own cooking oil manufacturing business but don't know much about oil extraction process and grape seed oil production global market, purchasing a small scale grape seed oil extraction assembly unit to set up a mini oil mill is the wisest plan.


Small Grape Seed Oil Mill Plant
Our small seed oil extraction unit is fully adopted screw pressing method. It includes a series small scale oil processing equipment to realize continuous oil production. It is easy to build with low investment cost. More importantly, this small scale oil produciton line is also able to extract oil from a great many of oilseeds, such as grape stones (grape seeds), sunflower seeds, coconut/copra, peanuts/groundnut, soybeans, sesame seeds, mustard seeds, etc.
Steps of Grapeseed Oil Extraction Process by Mechanical Pressing Method
The grape seeds should be screened by wind power or manpower, so that there are no impurities in grape seeds, such as skin residue and fruit residue.
Adopts crusher to crush all the grape seeds
Then, the broken grape seeds are loaded into the softening machine, put 15% of soft water with the grape seeds, then heat the temperature to 65℃-70℃ and keep it for 40 minutes to completely soften all the broken grape seeds.
The softened broken grapeseed are transferred into the frying pan. During the frying process, the temperature must be uniform. The temperature is up to 110℃, and the moisture is about 8%~10%, the time is about 20 minutes.
After frying, the raw materials directly are poured into the pressing circle to press the cake, making the middle thick and the sides slightly thin
Now, it is time to load all the grapeseed cake into grapeseed oil press machine to extract oil out. It is better to keep oil flow line when oil extracting and the workshop temperature is better at 35℃ or so.
A complete grape seed oil milling plant is featured of low price, higher rate of oil yield and easier operation. With the advantages of labor saving, fewer land space, small investment and wide oilseeds adaptability, it is the best choice for initial investment in vegetable oil processing business. Professional service, quality assurance, affordable price, welcome to contact to get the latest cost report, we will serve you wholeheartedly!

Features of Our Small Seed Oil Extraction Machinery
Grape Seed Oil Extraction Machinery for Sale
Low cost;
Fewer land space;
Easy operations;
Wide oilseeds adaptability;
Longer service life;
Robust construction;
Small Screw Oil Press for Seeds Oil Extraction
Planning to Buy Grape Seed Oil Extraction Equipment to Start Oil Making Business: HOT Sale grape seed oil extraction machines offered by cooking oil machinery manufacturer or supplier, guide on process of grape seed oil production and how to start grape seed oil extraction business with limited cost in Tanzania, Egypt, Morocco, Ghana, South Korea, etc.
How to Make Grape Seed Oil?
Grape fruits are highly praised for their nutritional value in human bodies. They are also used in making wines and other juice extracts that are highly marketable in the market. Research shows that grapes are very healthy and nutritious in treating many diseases. For a long time in the history of humanity, grapes were used to make different beverages. The process involves, harvesting, preparations and extraction of the grape juice. The main challenge is that in the oil extraction process of grape seeds / stones are smaller and hard to remove. Thanks to technology, there is a better way to perfectly remove the seeds effortlessly without any problem. (Rlated products: Small Sunflower Oil Production Plant or Soybean Oil Production Plant >>)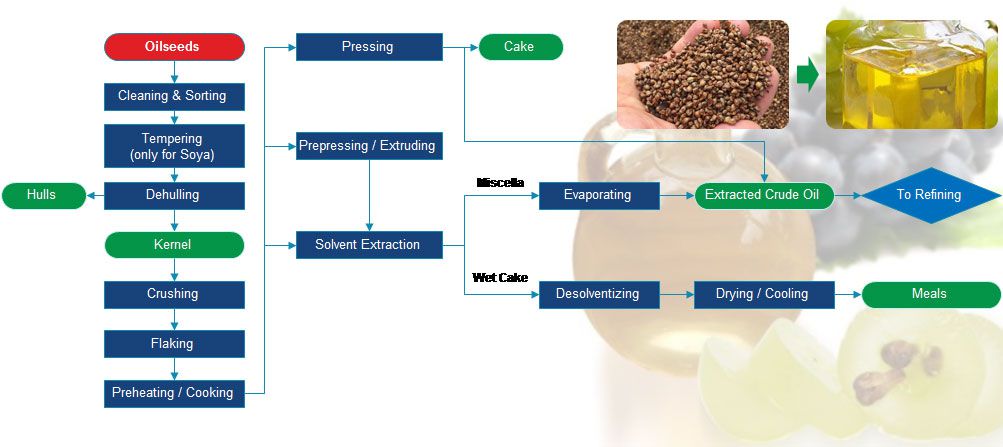 Common Vegetable Seed Oil Extraction Process / Methods
(Since the oil content of grape seeds is normally around 15% which is not very high, prepressing is not needed. For greapseed oil extraction, multiple screw pressing plant or solvent extraction plant is suggested.) The grape seed oil extraction equipment is one of a kind unique and quality machine that performs an excellent job in the process of extracting oil from these seeds. The extracted grape seed oil is used in cooking foods. (Read more: Coconut Oil Making Machine >>)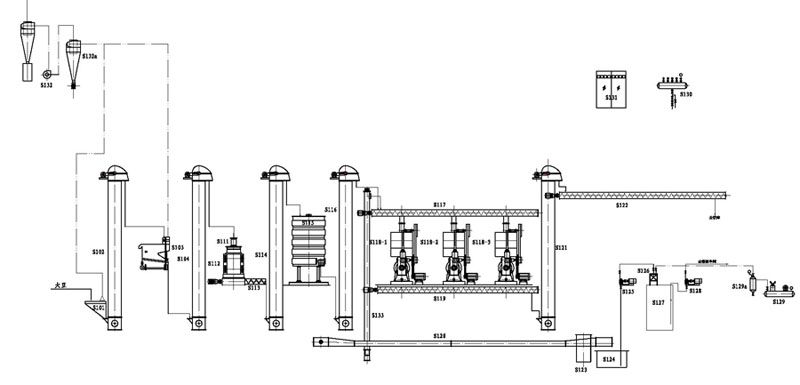 10Ton per Day Grape Seed Oil Mill Plant Process Flow

Word Market of Grapestone Oil
The seed oil has a high smoke point of about 216A Celsius. It is used as an ingredient in salads and mayonnaise. Grape seed oil extraction machine is now gaining popularity in the world market as many people begin to admire its use, operations, and the perfect outcome it offers. It is the most cost-effective way to get oil from grapestone.
Typical Fatty Acid Composition of Grape Seed Oil
| Acid | Percentage |
| --- | --- |
| Linoleic acid | 69.6% |
| Oleic acid | 15.8% |
| Palmitic acid | 7% |
| Stearic acid | 4% |
| Alpha-linolenic acid | 0.1% |
| Palmitoleic acid | less than 1% |
The following is some of small oil mill plant we built for our customers around the world. Feel free to contact us if you feel interested in knowing more about the cost of edible oil mill project report!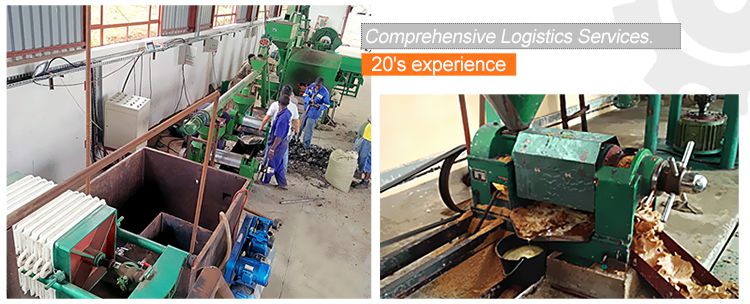 Small Grape Stone Oil Extraction Production Line (Mechanical Screw Pressing)
Our grape seed oil extraction equipment is a professional machine for small scale oil mill plant in the world market. It is a quality machine with excellent results. You can always use it and you will enjoy the outcome it offers you. Feel free to contact us for details of the vegetable oil extraction equipment and costs of complete grapeseed oil processing plant. We are always at your sevices!
Hi,Good morning! I'm searching for a grape seed oil processing plant and I'm interested in some products of the website. Could you please be so kind to send me a quotation of the machines you sell and that can be used for pressing grape seed and for the whole process? I'm looking forward to hearing from you soon.
Hi,Sorry for replying you late.As for grapeseed, it's no problem to provide pressing and refienry equipments.Pls kindly advise what's your desired processing capacity per day, so we could suggest and design for you accordingly.