Soybean oil production plant for sale, supplied by BEST ABC Machinery - famous oil mill machinery manufacturer in Asia. We can offer both soybean oil pressing plant and solvent extraction machinery. Feel free to contact us for detailed information!


Turnkey Projects of Soybean Oil Production - Oil Pressing Section
---
Data from the US Department of Agriculture states that soybean oil is the most popular and commonly used cooking oils throughout the world. As per a study by University of California – Riverside, this oil accounts for more than 90% of all seed oil produced in America. Reasons behind its increased popularity include its health benefits and price. This oil is rich in Omega-3, Omega-6 and Vitamin E.


Small Scale Soybean Oil Production Plant

Have you ever wondered what's a soybean oil mill is about and how to set up a small scale soybean oil production plant? If so, this article will is for you. In this article, we will discuss the activities in a soybean production. Don't worry this article will not be too technical, we have made it easy for you to understand without using much of technical jargon.
Soybean Oil Production Process
Production of high soybean oil is the main objective of a soybean oil production plant. Thorough knowledge of the technical system of the plant and disciplined operation are must to produce quality soybean oil.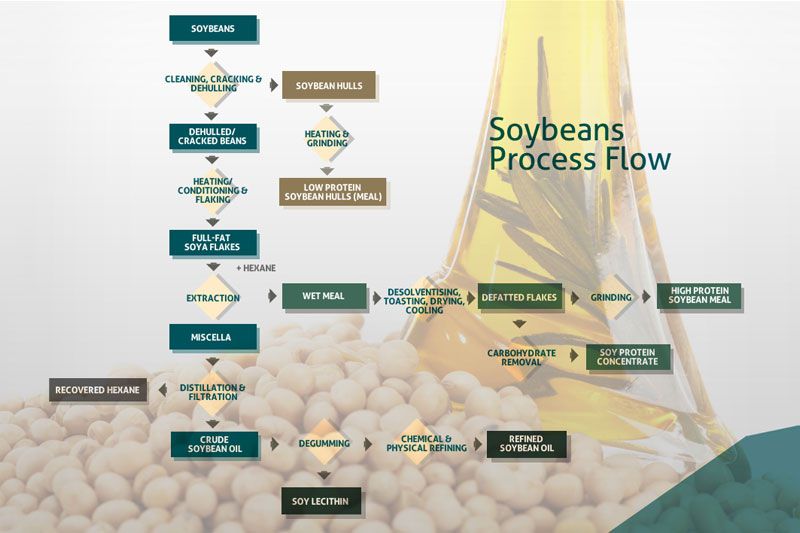 Storage and Crushing
As with any other seed oil processing plant, storage is a very crucial aspect. Soybeans are received and stored in specially prepared silos in the soybean oil mill plant. Before they are stored, they are thoroughly cleaned and dried. Stray metallic particles are then removed from the beans using "Tramp Iron Removal" where magnets are placed strategically to remove materials such as nails, staples, baling wire, etc. Apart from this, other methods are used to remove the foreign material. Soybeans are then stored under necessary temperature and moisture.
Dehulling
Dehulling the soybeans is the next step and some common types of dehulling methods include:
Conventional Dehulling - soybean tempering followed by cracking and screening;
Hot Dehulling - a fluidized bed is used to achieve the desired moisture level before cracking;
Esher Wyss Dehulling – here soybeans are first cracked into two pieces and then required moisture is attained using a fluidized bed;
The main purpose of cracking is to get the right sized flakes for oil extraction. After dehulling, the hulls are separated from the meats.
Conditioning and Oil Extraction
In order to effectively extract the oil, conditioning is used to soften the meats. The conditioned flakes are fed through a pair of smooth surface rolls, where they get crushed and the crude soybean oil drains out.
The soy meal is collected separately and toasted to deactivate urease and trypsin inhibitor. Subjecting the meat to appropriate temperature gives a good quality soy meal. This meal is stored separately and used for various purposes and most importantly for animal feeding.


Soybean Oil Production Plant (left: small scale unit; right: medium scale plan)
Once the crude oil is collected, it is set to cool at 65℃ before exposing it to air as at high temperature, oxidative degradation will occur. Then the oil is sent for refining where this crude oil will be converted to usable cooking oil.
Soybean Oil Refining
The first step of refining is called as Degumming where soybean oil which has high amount of hydratable phosphatides are neutralized. Then caustic refining is done to remove fatty acids, phosphatides and other materials. The next step involves removing oxidation products, triglycerides and reducing color pigments. Finally deodorization is done where volatile components such as pesticides, glycerol and free fatty acids are removed.


Small Soybean Oil Refinery Plant / Unit

We can supply customized business plan for both mini scale, small scale, medium scale and full scale seed oil production. Just contact us and tell us your needs. We are always at your services!
The quality of the oil depends on the quality of the refinery process. Many contaminants may occur and trans fatty formation may occur during the refining process. So to prevent such kind of issues proper maintenance and professionalism is very important at the soybean oil production plant.
Hi,
I have just seen the article on your website on mini soyabean oil production. I am interested to know on this project and just for your information I am from Bangladesh. Could you kindly give a detailed specification regarding this project. I am also interested to visit your factory (if possible) to get a clear and better idea. I hope to get a reply from you guys regarding my concern. it would be nice of you if you could send me the specifications for 10T/P.
Thanks for your attention to our product. Email attachment is the quotation of 10TPD soya oil proeuction line for your reference.
We welcome your visit very much. Feel free to tell us when will you plan to come and we will arrange reception in advance.
We are a company based in Cape Verde and we are looking for quotes for a complete line equipment for production and bottling of soybean oil for human consumption. We need a production capacity around 15.000 tons of oil yearly.
Thanks for your enquiry to our products.
It's so glad to learn that you speak English so well except for Portuguese.
As for your request, the processing capacity is 50TPD, is it correct.
Besides, we'd like you to confirm the following questions, also
1. Is the soybean from your country, what's the oil content?
2. Do you prefer pressing only OR want solvent extraction plant also?
3. What's your current business, can you provide steam local
FYI, the quote of 50TPD pressing plant and refinery excluded the boiler and bottling line yet has been sent to your email, look forward to further discussion with you.
I want to establish soyabean oil extrusion plant in India.
Thanks for your enquiry.
Could you advise us how much do you want to process per day?
So we will design and quote for you according to your capacity.
Good morning Sir, we are interested in setting up a 100TPD soybean solvent plant, please tell me what's equipment it needed and how much it will cost?
Hi dear, thanks for your inquiry. As for 100TPD solvent extraction plant, could you kindly advise the following questions
1. What's the status of the pressed cake, could you show us some photos?
2. What's the building structure of your current workshop, concret or steel structure? which do you prefer for the next solvent extraction plant?
3. Do you have steam boiler in your factory now, if yes, what's the capacity?
4. How do you process the pressed crude oil now, do you need oil refinery together with the solvent extraction plant , or will have it later?
I am a General Director of a cooking oil processing company which is done production oil in different seeds, as sunflowers, soybeans ; maracuje grain, maize. we want to know that if you have the convoyer of machines for those seed, and all implantation for the small industry , if you have it, send me tha proforma invoice incluse transport and taxes and installation,i want this in fews day because i want confirm if you have all machine and the best cost.send me the photos , for the convoy machines , power ellecricity, weiht etc......
Thanks for your inquiry about our product.
About business, I still need more detailed information about this project in order to serve well. I put Questionnaire Oil Plant as an email attachment. Please fill it and send back to us. We will design a suitable Proposal according what you fill. Thanks for your cooperation in advance. Besides, what do you do wity finished oil? For biodiesel or edible oil? Looking forward to your reply!