Undertake 1-100TPD Coconut Oil Processing Project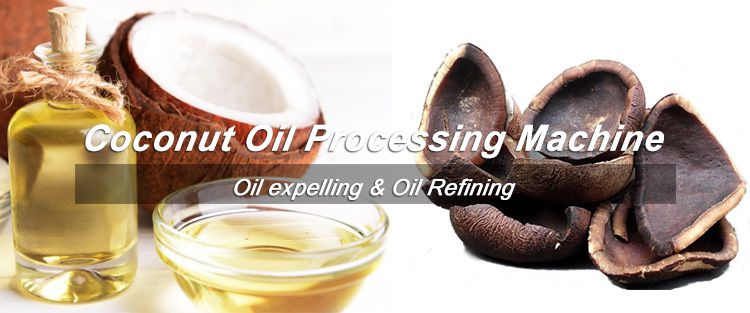 Offer turnkey coconut oil mill project plant (customized business plan, process design, equipment manufacturing, factory construction, and operation training )
Coconut Oil Processing Machines / Units for Sale
Capacity: 1-20ton/day (oil pressing), 1-5ton/d (oil refining)
Suitable Raw Material: Copra (Dired Coconut)
Oil Manufacturing Process: Cleaning, cooking, oil pressing, filtering, oil refining.
This unit of coconut oil machine is hot sale in recent years, expecially for small scale edible oil manufacturing business. It is a semi-automatic oil production machine set which connects each coconut processing equipment including sieving machine, cooker, oil press and filter, and conveyors. It is an efficient assembly unit to extract coconut oil from copra.
This is a small complete oil refining unit for edible oil production, based on batch type refining process. The main components includes heat conduction oil furnace, steam generator, deodorizing pot, decoloring pot, refining pot and leaf filter. It is suitable for 1-5TPD Refinery Plant.
[Project Display] Coconut Oil Processing Plant
ABC Machinery offers high quality coconut oil making machine and complete processing plant, capacity ranging from 1 TPD to 20 TPD. Just contact and tell us your situation and needs! We can always satisfy your oil processing needs! Easy to operate, low cost and high profit!


Oil Extraction Workshop



Oil Refining Workshop
You maybe also interested: 1500 bottles/hour coconut oil filling machine in Sri Lanka >>
Hot sale coconut oil processing machines supplied by ABC Machinery - Reliable and Professinal oil mill manufacturer. Offer customized oil pressing/extraction, refinery plan for both small and full scale oil production plant. Low Price! Premium Quality!
What kinds of Coconut Oil do You Want to Produce?
The world's coconut oil production has been over 3.2 million tons. The Philippines is the world's largest supplier of coconut oil, followed by Indonesia, Malaysia, and Papua New Guinea. There are two common types of coconut oils:
Refined Coconut Oil (RBD) - Made from Copra - Dry Processing

: Extracted(expelled) from dried coconut meat - copra. Before oil pressing, the coconuts are cracked open and then dried in the sun or in a drying machine. The copra is then sent to coconut expeller machine to get crude oil. The curde oil will then go through oil refining process (refining、bleaching、deodorizing) to get final refined coconut / copra oil.

Virgin Coconut Oil (VCO) - Made from Fresh Coconut Meat - Wet Processing

: It is extracted from fresh coconut meat. No high temperature, no hemical solvents, maintain the natural flavor and avoid nutrient loss. The finished virgin coconut oil retains a light coconut aroma. So it is also known as cold pressed coconut oil.
Coconut Oil Production Process (Copra)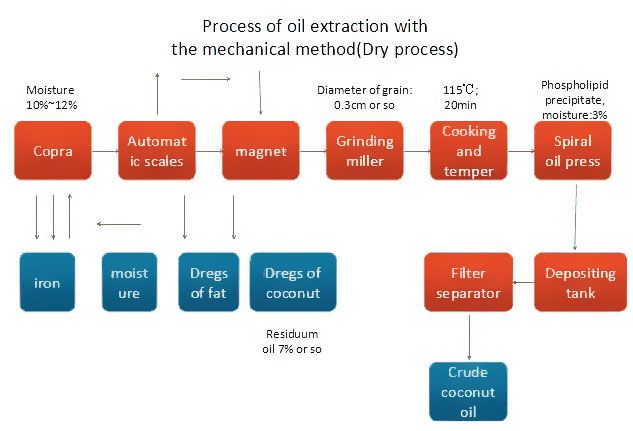 Complete process of making coconut oil:
crushing section, steaming / cooking section, oil pressing section, dugumming section, deacidifying section, decolorizing section, deodorizing section.
Coconut is a kind of tropical woody oil plant, belong to palmae. Most coconut oil on the market is processed from dried coconut pulp (copra) by screw oil pressing process. Coconut cake meal after oil extraction can be used as animal feed.
| Content (%) | Fresh Coconut Meat | Dried Coconut Meat (copra) |
| --- | --- | --- |
| Oil Content | 30%~40% | 60%~70% |
| Water Content | 50% | 4%~7% |
PS: After drying, the water content is reduced to 4%~7% and the oil content is increased to 60%~70%.
---
Complete coconut oil processing line mainly includes 3 steps: pretreatment, oil extraction and refining.
Pretreatment: Dired Coconut (the moisture content should be controled 7%-10%) → Cleaning → Crushing
Oil Extraction Section: Pre-Pressing → Second Pressing → Crude Oil
Refining Section: Crude Coconut Oil → Filtration → Phosphoric Acid Degumming → Deacidification → Decolorization → Deodorization → Refined Oil (Related Project: 20ton/day Coconut Oil Refinery in Philippines)
Market Profile of Coconut Oil Processing Business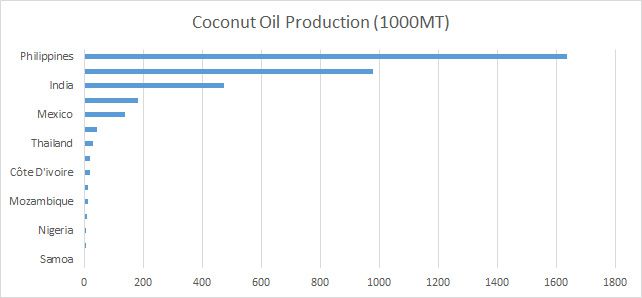 Coconut Oil Production by Country
For most tropical countries, coconut oil does not just provide food and other products but is a major source of export income. Some of the leading coconut oil producers in the world include the Phillippines, Indonesia, Sri Lanka, Thailand, and Malaysia (not in any order). For these countries, coconut oil was, and still a major source of their export income. The Philippines, which is a major producer employs close to 20 million people in the coconut sector.
Competitive Edge of Coconut Oil
For thousands of years, coconut oil has been consumed in most parts of the world. It has been used for different purposes. The use of this oil might depend on whether it is for personal use, industrial use or for food purposes. Studies have also shown that those who consume coconut oil are always in good health as a result of the myriad of health benefits that it offers. Though you might go by those saying that coconut oil is about 90 percent saturated fat, do remember, however, that not all saturated fats are created equal.


Refined Coconut Oil
Coconut oil is an oil that is extracted from the meat or kernel of mature coconuts from the coconut palm which is botanically referred to as "Cocos Nucifera". The extraction is done with the help of a coconut oil press machine, this oil can last up to six months as a result of its saturated content which makes it resistant to rancidification, and slow to oxidize.

Lauric acid is the saturated fat that is found in coconut oil. This acid is known to have more neutral and beneficial effects on the health of the heart than other long-chain saturated fats that can be found in dairy products or in meats. This goes to prove the fact that countries like Sri Lanka that rely mostly on coconut oil have low rates of heart diseases compared to people in other countries that do not eat coconut oil.
Deep Processing of Coconut Oil
Coconut Oil Type
Rating Scale 1 to 10
Hydrogenated Coconut Oil
0
Avoid
Liquid Coconut Oil
1
Missing Lauric Acid
Refined Solvent Extract Coconut Oil
4
Chemical Residue Possible
Refined Physical Coconut Oil
6
Good
Fresh Pressed Virgin Coconut Oil
8
Very Good
Wet-mill no-heat Virgin Coconut Oil
9
Excellent
Wet-mill Fermen-tation, heated Virgin Coconut Oil
10
the Best
Below are some main coconut oil types in the world market:
Hydrogenated coconut oil. This refined coconut oil can further be processed into hydrogenated oil in order toincrease its melting point.
Fractionated coconut oil. The hydrogenated oil can further be turned into fractionated oil. This is done toensure the separation of the different fatty acids for specific purposes.
Hi, can you please provide a quote for 5ton coconut oil processing/refining. thanks
Thank you for interested in our cooking oil processing machines. We will let the engineer design it for you. Pls confirm your voltage?
I am interested in Complete Fully Automatic Processing Plant of Coconut Copra with a capacity of 5000 to 10000 liters / day of high grade cooking Oil.
We advise you choose the 20TPD Copra oil press line+10TPD oil refinery plant. We have built the project in Philippines. It runs very well till now. The pictures of the projects are attached in the email for your reference:
I need to know the price of the coconut mill
Thanks for your attention to our product. Coconut mill plant is no problem.Pls confirm the following information then send you the quotation:
1: The capacity?
2: The local voltage?
Looking forward to your reply. Take care.
I am looking for a machine which can squeeze the oil from coconut. We need the machines which can handles 4 million coconut in a month. So if the machine can handles 1 million/month, we will need 4 machine. Please quote to me with FOB price and the products detail. Also provide the photo and the packing detail like the packing size and weight.
Thanks for your attention to our coconut oil plant.

We have learnt your website carefully. We noted that your main business scop is the building material and accessories. So the coconut oil plant is for your company new investment? Or you do for other company?
You get the coconut from?
Where you plan to set up the project?
The workshop is ready?

According to 4 million coconut to calcultae,
The copra to make oil: 4000000*0.18kg= 720000kg=720 tons.
The day capacity: 720/25 days=28.8 tons.
Pls confirm?

So the capacity of the project is: 30 tons.
Also the process technology: Because the coconut is high oil content oilseed. So normally we advise the customer takes double oil press technology.
First, we press the coconut, second we press the cake to get more oil.
I want to set up a Coconut Oil Plant that would produce 10 tons per day operation. What are the Machineries, can you recommend the machines. Please indicate the machines and the cost of every Machines. And please quote me Via Sea- CIF South Harbor Manila Philippines.
Thanks for your attention to our coconut oil plant.
Could you please inform 10 tons coconut per 8 hours or 24 hours? Then we can advise you the suitable oil press machine type.
Regarding to the coconut: Could you pls inform the moisture is? You get the coconut copra from? The requirements of final product?

Our engineer have been in Philippines for installing the copra oil project. This is really good investment in Philippines. Becuase the copra is rich and cheap.Also the copra oil content is high: 50% more or less. Could you please inform now your main business is? Company name is? Phone number is? Better for our communication about the oil plant. Looking forward to your reply.
We are looking both for copra and dessicated coconut for virgin coconut oil production.
As for two raw material, the processing method is totally different.
For the copra oil, the process method is as follows:
Cleaning->Crushing->Cooking->Pressing->Filtering-> Refinery

While as for the VCO, the process method is as follows
Cleaning->Grinding->Pressing(Juice pressing)-> separation-> Drying-> polish filtering

Pls kindly advise how much dry copra and dessicated coconut do you want to process per day separately
So we could suggest and quote for you accordingly soon
I am interested in buying cold press oil machines to produce virgin coconut oil. The oil temperature should not exceed 50C and we need a processing capacity of 100- 120 kg per hour.
Hi, Thanks for your enquiry to our products. As for your request, the capacity is too small to equip big equipments.
FYI, for VCO production line, we use the following process flowchart
Coconut fruit-> Grinding-> Pressing-> Sepration-> VCO
Pls kindly show us some photo of your raw material, and confirm whether the flowchart is ok . Will check and suggest for you accordingly.