As a reliable and key oil production equipment factory in China, we have bean awarded by the goverment many times. Our cooking oil pressing machines including Copra Oil Expeller Machine are welcomed by all of our clients. Do not hesitate to contact us if you want more info about copra oil expeller , we are ready to serve you anytime anywhere!
---
There are several highlights that makes the copra oil expeller machines distinct from the rest of the oil production machines and traditional oil extraction methods. They include; Copra and coconuts are pressed and crushed before oil is produced using the same machine but in the later stages.
Small Copra Oil Expeller Machine


Best Oil Manufacturing Business Plan for Mini Copra Oil Mill Plant
You can also call it copra oil processing assembling unit or plant unit. The entire oil extraction process of the small compete unit is automatic. There is no transfer of semi processed products to any other machines for completion.
Factors to consider when choosing oil expeller machines
Quality of the output: During oil production, the output oil is either as a result of pressing expelling or refining. Copra oil expeller machines processes oil at a very low temperature that enhances quality. This results into very high quality oil produced as compared to refined oil. Refined oil is produced at a very high temperature that completely tempers with the quality of the output. In that case, oil produced by our small oil expeller machines does not require further bleaching and deodorizing.

The ultimate taste desire: The high temperature at which copra or coconut are pressed may affect the achievement of final taste desired. Different machines may claim to produce oil perfectly but oil press expeller are a cut edge above them. They have precise dimension and the format in which each screw part is constructed guarantees the best final performance of the expellers.

Operational costs: Better oil expellers should pose low maintenance costs and consume the smallest space as possible. The way the screw parts of the copra oil expeller machine are compacted ensures minimal levels of repairs while consuming very small part of your space. Moreover, the machine easily fuses with other equipment that may be present in your factory. Very huge machine tend to be boring to deal with and also consumes much of your space. Technology too is evolving rapidly from the use of very large machine to relatively smaller but complex ones. (Related equipment: Small Sunflower Oil Production Equipment)
In conclusion the temperature in which oil is produced may affect the quality of the final product. Furthermore personal preference makes one to make harsh judgement on the type of oil to purchase. However, from a health personnel's point of view, oil produced by copra oil expeller machines is highly preferred. This is because health of your body is assured. The moderate conditions that the copra oil machines operate does not negatively affect the taste and nutritional components of the oil. (Related Article: run your own small cooking oil business)
---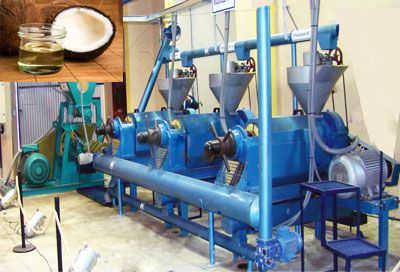 In the recent days, oil usage has run completely versatile. There are many home based areas and industrial based areas where oil is the turning point of every task that goes on. Nothing can go on in these areas without oil being mentioned. Therefore, the quality of the oil used is highly emphasized. In order to attain quality oil, copra oil press is considered to be of perfect use. Our seed oil expeller machine uses the screw press processing technology that makes sure that the output is of the desired quality. The current technology that is employed by the copra oil expeller machine enables it to crush and press the copra or coconuts leading to the production of the desired oil during the final stages.
With professinal copra oil expelling technology and good reputation across the globe, ABC Machinery is world leading oil mill designing and manufacturing company. We offer quality oil expeller especially for vegetable seeds and nuts. We supply both small copra oil expeller machine and complete copra oil extraction plant.
Dear Sir/Madame, I would like to inquire the price range for copra extraction machine using hexane for 50tons/ day capacity and copra refinery set for 60 tons/day capacity. How big is plant dimension for each machine set?
Hi, is your raw material dry copra or coconut fruit? Usually we using oil expeller to press the raw material to get most of the oil. Then use solvent(hexane) to extract the rest of the oil in the cake. The copra couldnt not be extract by solvent directly, because the oil content is very high.
Besides, why do you want 60TPD refinery, since the extraction capacity is only 50TPD?
Hello, we are looking for oil expellers for our plant.Could you send us a price quotation? please include automation and filter press.
In order to give you better suggestion and offer, could you kindly retell us your request in details, such as raw material, daily processing capacity, with refining or not, etc..
Hi, dear, Thank you for your prompt answer. My raw material will be dry copra for which I will need the oil screw press. As I told you before, to star we will need one of the smallest presses that you have.
Dear, thanks for your quick confirmation.
Pls see our quotation below:
Model: YZS-68 Small Oil Expeller
Capacity: 1~1.5T/D.
Power: 5.5 kw
Packing dimensions (mm): 1280*400*780
Weight: 210kg
Packing: Plywood case
Delivery: 20 days after receiving down payment
Valid : One month
The price detail has been sent to your email.
By the way, what's your three phase voltage and frequency in your country. will check whether you need a special motor.
I am interested in copra oil mill. Do you have the complete machine from copra to cooking oil? Maybe the capacity is 20 tons of copra per day. By the way, did you set-up an oil mill from copra to cooking oil before?
As for 20TPD line, it's a good processing capacity for starters, so we suggest 20TPD pressing+10TPD refining.
Besides, as this plant may need steam for the equipments, could you kindly advise what's your current business? Do you have steam boiler and what's the fuel for the boiler, coal, gas or biodiesel?
If you could squeeze a little time to fill in the form in the attachment, that'll be better to do the designing and quotation. Also, we cold suggest and design for you as a whole. Sure, we've built a similar copra oil mill plant before, attached is some projects photos for your reference.